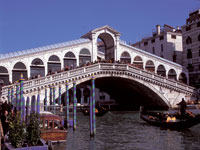 Venice Shopping
Venice still has a few residents who work in the non-tourism industries, but these are comparatively rare today. The city''s waterways can be difficult to navigate so you should buy items you want immediately, rather than risk not being able to find the store later on. The Rialto is the commercial core of Venice, famous for being the site where the first bridge over the Grand Canal was built. Most shops in Venice are closed for an extended lunch hour.
Visit Venetia Studium on San Marco for fine velvets and silks, of every imaginable colour, woven into subtle scarves, delicate evening bags and luxurious pillows. You can buy unique costumes and masks at Atelier Marega, where you can often see the preparation and painting of the masks. Francis Model sells locally-crafted leather goods, and for gloves and accessories go to Fanny, on Calle dei Saoneri and Campo San Polo. Handmade paper and beautiful miniature buildings, made by Moro, can also be found in Venice. Look out for handmade examples of Venetian glass ( glass) and fine lace sold throughout the city.
VAT (IVA in Italy) of 20% is added on to the price of all consumer goods, and tourists can apply for a tax refund. Some shops participating in a Tax-free Shopping programme.