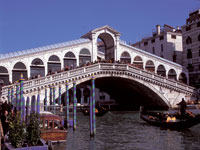 Venice Overview
Elegant Venetian buildings and palaces peer over the ancient maze of narrow streets and labyrinth of canals that make up this unique city. Tourists naturally flock to Venice to experience its inimitable charm. The downside of this can be felt in the narrow streets and cramped piazzas of its sought-after areas. A good way to get to know a more personal side of Venice is to saunter through its romantic back streets and residential quarters.
Venice rests on one of a series of 117 islands distributed throughout the Venetian lagoon, at the northern end of the Adriatic Sea. This strategic position conferred on Venice economic and defensive advantages over its trading rivals. As the wealth of the city increased and its population grew, the composition of the city grew ever more dense and today only a handful of the islets that constitute the historic centre are not entirely developed.
The historic centre is divided into six quarters ( ). These are: San Marco, Dorsoduro, San Polo, Santa Croce, Cannaregio and Castello. The city's main thoroughfare is the Grand Canal that intersects each district as it meanders through the length of Venice, from the railway station to San Marco. An alternative to walking the bewildering streets of Venice is to cruise the waterways onboard the motorboat buses known as . These are the less romantic but also less expensive substitutes for the famous gondolas.
Venice extends beyond its six to the islands of Murano, Burano and Torcello. These are known for glass and lace-making respectively, and Torcello is noted for the magnificent Byzantine Basilica of Santa Maria Assunta that rests on its soil. Trips by boat to the islands provide a pleasant diversion from the busier historic quarters.