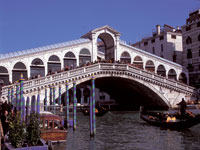 Venice Nightlife
Venice is not famed for a hectic nightlife but the persistent will persevere... Piazza San Marco has the most popular social venues, and the tourist information centres have current English-language schedules of special events. The guide is available in the more expensive hotels.
Cafés abound in Venice, one of the most popular being Taverna del Campiello Remer, near the Grand Canal''s Rialto bridge, which often has live music. Near San Marco, Caffè Lavena and Caffè Quadri (the first to serve coffee in Venice) are also worth visiting. In Campo Santo Stefano, the Paolin Bar and Gelateria serves the best ice-cream. The Devil''s Forest Pub sees patrons enjoying backgammon, chess and Trivial Pursuit, while Bacaro Jazz cocktail bar has great Bellinis. El Moro Pub boasts numerous beers on tap and a TV (smokers welcome!), and Torino@Notte offers live jazz performances and beer from Lapland.
Nightclubs are more limited: Piccolo Mondo, on Dorsoduro, has disco nights during summer; and Casanova on Lista di Spoagna is also quite popular. Visitors are better off trying their luck at one of the city''s casinos, the most acclaimed being Casino Municipale di Venezia (note: a passport and jacket are required for entry). Otherwise, there are regular classical-music concerts, with the Vivaldi Church, San Stefano, Chiesa di Vivaldi and the Scuola di San Giovanni Evangelista being popular venues.