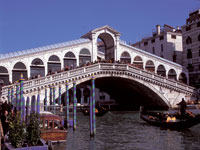 Best Restaurants in Venice
While Venice''s cuisine can''t compare with many other Italian destinations, it does have some wonderful restaurants featuring the cuisine of the . Near the Rialto Bridge, there is a string of restaurants with tables along the canal, where you can enjoy the quintessential Venetian practice of dining by the canal lights. The Dorsoduro area has the highest concentration of places where locals, especially students, go to eat.
One of Venetian cuisine''s most celebrated ingredients is cuttlefish, and its ink. This powerful black ink serves as an ingredient and a sauce in polenta (corn meal), risotto (rice), and pasta dishes. Despite the intensity in colour, the ink has an unexpectedly mild taste. Also popular in Venetian restaurants and bars is (Italian tapas), which is usually made up of small servings of fish, little sandwiches, plates of olives or even very small servings of regular full-course meals.
For fresh fruit, including chilled coconut, visit the street market stalls. If self-catering, the Rialto food markets are the best place to find fruit, vegetables and cheese; and a huge range of seafood, most of it fresh out of the lagoon.
Travellers looking for authentic Venetian cuisine and prices should avoid establishments with menus in six different languages displayed in the windows, and rather head away from the tourist centre to look for quaint and welcoming eateries tucked away in the city''s nooks and crannies.