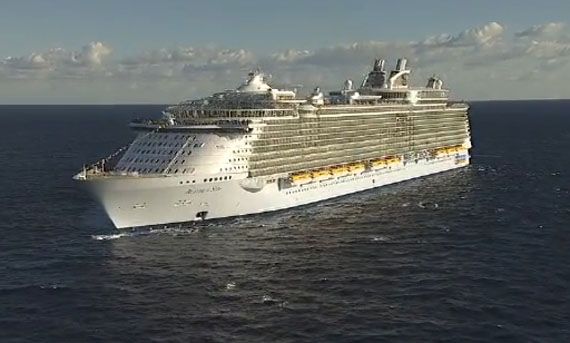 Luxury Cruises:
Set sail on an adventure of a lifetime upon the highly anticipated Allure of the Seas luxury cruise liner, the largest ever built and sister-ship to the
Oasis of the Seas
that launched last year.
Debuting on December 1, 2010, this revolutionary cruise ship is ready to welcome solo travelers, honeymooning couples, and families of all sizes to make some memories and enjoy endless activities on board.

Allure of the Seas is putting entertainment at the forefront in their 2011 cruises. Relax in the natural beauty of Central Park, climb atop a rock wall, or stroll through the charming Boardwalk neighborhood, all while floating seamlessly on the crystal blue water.
There are seven distinctly designed "neighborhoods" aboard the Allure of the Seas including an exciting Pool and Sports Zone complete with a water park, zip line, and multiple pools and whirlpools; the Vitality at Sea Spa and Fitness center will help your worries drift away with massages, hair and makeup services, a youth spa, and extensive workout equipment; the Entertainment Place has everything you need to dance the night away at their jazz bars and nightclubs, take some risks at the Casino Royale, or watch a show in the beautiful Opal Theater.


The new year will also bring a truly magical experience to the Allure of the Seas that the little ones, and the children at heart, will marvel in. Become part of your favorite animated feature film such as Kung Fu Panda, Shrek and Madagascar during the Dreamworks Experience.
Debuting on February 26, 2011, guests can sit down to meals with the characters, be able to watch Dreamworks programming on their stateroom television, screen upcoming Dreamworks films, and be surprised throughout the entire cruise with Dreamworks-themed activities that will no doubt bring out the kid in anyone.
Each stateroom is equipped with a TV, telephone, hair dryer, private bath, shower, vanity, hair dryer, and various available upgrades; however the impressive deluxe suites allow for spacious and stylish travel accommodations that will elevate the Allure of the Seas experience.

When guests book a stay in one of the many suites, they automatically receive access to priority boarding and departure privileges, and may even obtain complimentary concierge service, dedicated entertainment seating, full breakfast, lunch and dinner dining room menus available for room service dining.
For example, the amazing Sky Loft Suite offers two floors of extensive amenities including a master bedroom on the second level, shower for two, private balcony with panoramic views, large dining area, closets on each floor, and a dry bar. All of the Allure of the Seas suites can easily accommodate families of all sizes or smaller groups looking for a lavish living space during their cruise.
Because dining is such a large part of the cruise experience, the Allure of the Seas has numerous cafes on board for casual dining, a main dining room for daily meals, and specialty restaurants offering premium dining to guests who appreciate elegance and sophistication. Whether you're craving Italian, Asian, steak or seafood, the attentive staff at each location will make each moment memorable while the world class chefs prepare the meal of a lifetime.

Due to seating demands in the main dining room, this cruise ship allows guests to reserve their desired number of seats and reservation time well in advance. With the My Time Dining Program guests can know for certain that when they arrive at their preselected dining time a table will be waiting for them, they won't be waiting for a table.
Allure of the Seas cruises allow guests to experience everything a vacation should: Adventure, excitement, relaxation, priority accommodations, quality dining, spacious living areas, and impeccable customer service. For more information on how to make your next luxury getaway personalized and memorable visit Royal Caribbean's Website.