Steve Mirsky View Profile

Writer | Persuasive Type
Hotel Montana: Art Deco Flair Overlooking Switzerland
Jun. 5th, 2013 | Comments 0 | Make a Comment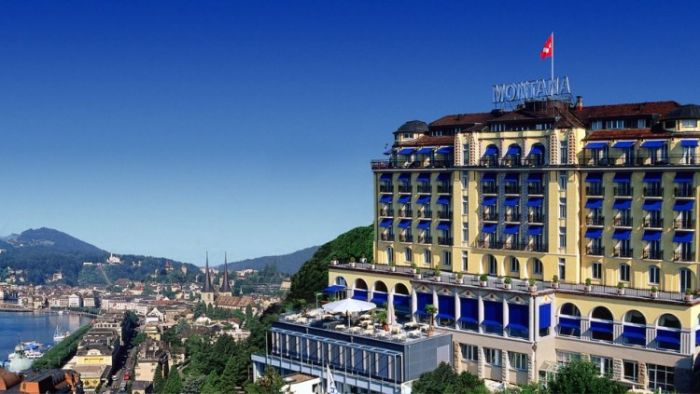 Photos Courtesy of Hotel Montana
High up on a hillside, perched in isolation, sweeping views overlook the waters of a silvery blue lake. Welcome to serene Montana—
Hotel Montana
in Switzerland. No more than a minute's ride via Switzerland's shortest funicular down to the bustling historic village of Luzern, located on a former dairy farm, this grand dame of hotels is one of the last of its kind.

4-Star Accommodations, Reborn: Built in 1910, Hotel Montana's solid construction and palatial style directly resulted from pre-World War I opulence, and still embody art deco magnificence today. Although key architectural highlights remained intact post war, the interior of Hotel Montana needed an upgrade. In 1975, a decade's long restoration process began.

From the grand lobby's towering marble pillars to the sweeping arches, star architect Pia Maria Schmid harmonized the hotel's original grandeur with art deco furnishings and luxury upgrades like Jacuzzi suites. The exterior façade was completely restored in 2000, just in time for Hotel Montana's 90th anniversary.

Eat Up the Views at Scala Restaurant: Onsite at the hotel's terrace, dining at Scala Restaurant is elevated into the clouds with a mesmerizing view of Lake Luzern. Scala's rising Swiss culinary star, Chef Johan Breedijk, works his magic on a menu inspired by the flavors of southern Switzerland, Italy, France and Greece that blend market-fresh seasonal ingredients, delicate spices, and carefully selected fresh herbs.

Switzerland…or Chicago? Welcome to the Whiskey Lounge: Entering the Whiskey Lounge off the hotel lobby has you pinching yourself to make sure you aren't really in a jazz bar in Chicago. Live piano and jazz, funk, and soul jam sessions keep the house rockin' Tuesday through Saturday evening.



General Manager Fritz Erni's passion for fine whiskeys is readily apparent in their signature classic Scottish single malt whiskey menu that lists a whopping 130 different varieties. Several samples reveal flavors ranging from peaty to pungent smoky reflect Scotland's distinct whiskey regions, Campbeltown, Islay, Speyside, the Lowlands and the Highlands.
You might like :
Le Blanc Spa Resort Cancun: All-Inclusive, Kid-Free & Romance Aplenty
Featured Luxury Hotels

Vieques, Puerto Rico
W Retreat and Spa Vieques Island
Surrender to your senses with W Retreat & Spa, Vieques Island, where the...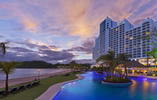 Panama City, Panama
The Westin Playa Bonita Panama
Discover complete rejuvenation at the natural refuge, where a serene beach...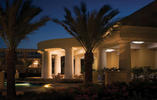 St. Maarten, Netherlands Antilles
The Westin Dawn Beach Resort and Spa, St. Maarten
The Westin Dawn Beach Resort & Spa, St. Maarten is an island treasure...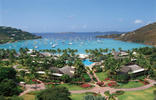 St. John, U.S. Virgin Islands
The Westin St. John Resort and Villas
Pure relaxation awaits you at The Westin St. John Resort & Villas, a refreshing...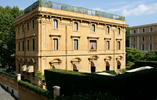 Rome, Italy
Villa Spalletti Trivelli
Of all the boutique hotels in Rome, Villa Spalletti Trivelli is the paradigm,...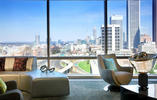 Atlanta, United States
W Atlanta - Downtown
Contemporary sophistication is all yours at this savvy southern W Atlanta...