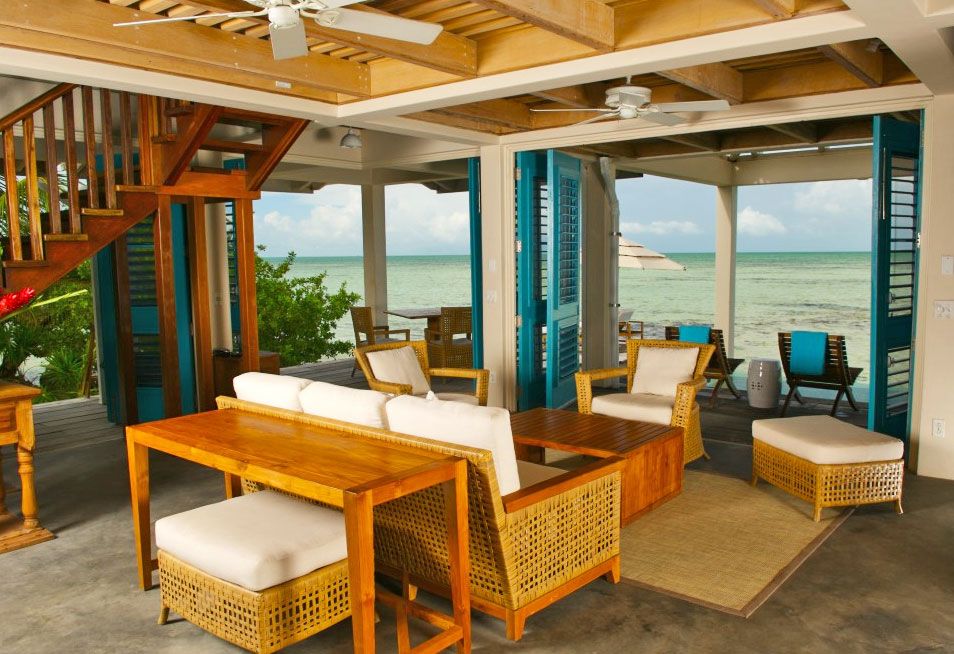 A combination of Caribbean beauty and rich Central American culture, Belize is home to lush jungles, Mayan Pyramids and the second largest barrier reef in the world. Known for its fascinating underwater playground of more than 500 species of fish and 100 different kinds of coral, the country is a scuba diver's dream. But above ground, Belize is just as beautiful; and with its laid-back Caribbean attitude, vast network of national parks and wildlife sanctuaries and friendly Spanish-speaking natives, there's not much not to love about the destination.
When it comes to accommodations, the country has no shortage of notable options. And tucked away in exclusive locations and on its sandy beaches are some of the most alluring boutique hotels in Belize. If privacy, natural beauty and high-end amenities are high on your list of requirements for your stay, these six hotels will be sure to meet your needs.
Photo Courtesy of Gaia Riverlodge
Gaïa Riverlodge — Cayo
A favorite among environmentalists, Gaïa Riverlodge is considered one of Belize's most celebrated eco-tourist destinations. Located on the central Pacific coast, the adults-only property offers picturesque views of lush green landscapes and the sparkling Five Sisters waterfalls. The hotel includes an on-site restaurant, spa, gym and pool, but with its close distance from many of the country's best attractions, you'll most likely be spending your days outside of the lodge. All 16 private cabanas and nine suites, are designed with traditional bay leaf thatched roofs, Belizean hardwoods and varnished mahogany interiors. Some include private verandas with hammocks and all are fully screened.
Star Rating: 4
Suite Choice: Waterfall View
Rate: Starting at USD $250/night (low season)
Photo Courtesy of Ka'ana Resort
Ka'ana Resort — San Ignacio
Located in Western Belize, Ka'ana Resort sits just down the way from the Mayan ruins at Xunantunich and the Guatemalan border. A little bit larger than its sister boutique properties, Ka'ana holds five Balam rooms and suites in the main hacienda as well as 15 semi-independent casitas. Each room comes individually designed and decorated and villas include their own private pools and 1,250 to 2,500 square feet of space. La Ceiba Restaurant on property is inspired by the classic farmhouse in Belize and serves local and seasonal dishes, many of which come from the on-site organic garden. Guests can also book a culinary class which includes a tour of the local farmers' market and the hotel's organic garden. As an added bonus, the infinity swimming pool with waterfall avoids harsh chemicals with its saltwater filtration system.
Star Rating: 4
Suite Choice: 1-Bedroom Private Pool Villa
Rate: $810 per night high season
Photo Courtesy of Cayo Espanto
Cayo Espanto — San Pedro
As its very own private island resort, the all-inclusive Cayo Espanto offers the luxury of miles of private beach access and only seven villas on the isle. Daily, guests are treated to fresh, home-cooked meals by in-house chefs who can prepare dishes to match your personal preferences. Featuring Caribbean architecture and a chic island vibe, accommodations also include a personal houseman, full service staff, private verandahs or sundecks, a hammock, yoga mat, Wi-Fi and complimentary laundry services. Don't miss out on the in-room spa services as well which can be arranged prior to your arrival or during your stay. If you're really looking to spend some quality time alone with friends and family, the entire island can also be rented for up to 18 guests.
Star Rating: 5
Suite Choice: Casa Solana
Rate: $1,595 per night (low season)
Photo Courtesy of Azul Resort
Azul Resort — San Pedro
If you're looking for privacy and spacious accommodations, Azul Resort's private villas could be the choice for you. With only two 3,000-square-foot villas available to book, guests are afforded an intimate setting for their Belize vacation. Combining both the country's natural elements and today's modern conveniences, the villas blur the lines between indoor and outdoor spaces. Showcasing open floor plans, the homes include 20-foot ceilings, dark zericote beds, hand-crafted Jabin wood doors and large bi-fold windows that allow the fresh breeze into both the living and dining areas. Among their premium amenities offered, guests can enjoy a full kitchen, 200 feet of private beachfront property, a rooftop living area with hot tub and queen size day bed, helipad and use of personal cell phones.
Star Rating: 4
Suite Choice: You get one of two choices, just close your eyes and point to one.
Rate: $500/night low season, based on double occupancy
Photo Courtesy of Blancaneaux Lodge
Blancaneaux Lodge — Cayo
After having fallen in love with Belize in the '80s, American film director, producer and screenwriter Francis Ford Coppola chose to purchase Blancaneaux Lodge as a family retreat. In 1993, Coppola opened its doors to the public and it has since been welcoming guests into its 20-room luxury resort. The tropical hideaway sits in the Maya Mountains and offers a number of Balinese-inspired cabañas, private villas and one secluded cottage. One thing to note about this property is that it is open to children and even features the Kid's Gelato bar where they can enjoy a locally-made cold treat and a supervised party atmosphere. Housing their own stables, guests are encouraged to explore the area on horseback through an equestrian sightseeing tour.
Star Rating: 4
Suite Choice: Delxue Cabaña
Rate: $279/night high season
Photo Courtesy of Turtle Inn
Turtle Inn — Placencia
Another of Francis Ford Coppola's retreats, Turtle Inn was built in 2001 but was swept out to see one year later during Hurricane Iris. Following a two-year renovation, the boutique property reopened and began gaining recognition as one of the Central and South America's best hotels. Boasting 25 individual thatched-roofed cottages, each accommodation comes with artisan-crafted furnishings, modern conveniences and broad-screened decks looking out onto the Caribbean ocean. Set in an open-air Balinese Rice House, Sunset Spa offers respite from a busy vacation with treatments utilizing only locally-sourced organic ingredients. Per Coppola's request, the spa also specializes in traditional Thai massage that has been perfected at the Sacred Wat Pho Temple in Bangkok. Located right on the beach, guests can enjoy a day of swimming, snorkeling or sunbathing on its sandy shores or relax poolside at one of two infinity pools.
Star Rating: 4
Suite Choice: Seafront Villa
Rate: $679/night high season