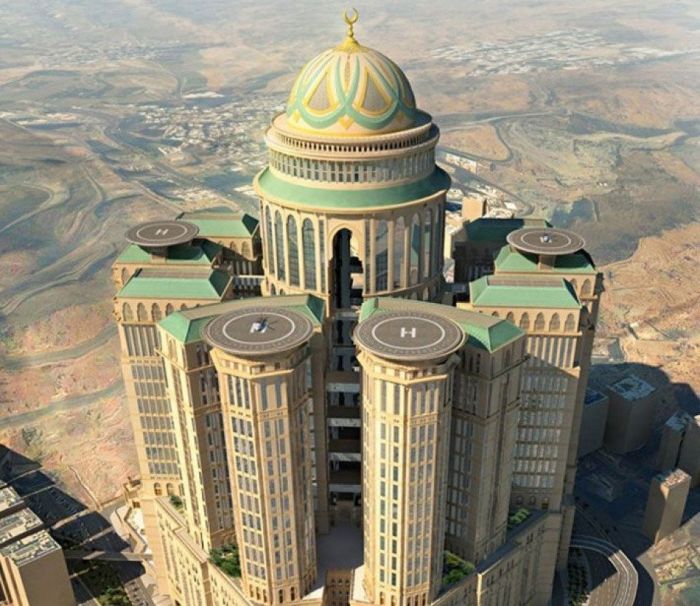 Photo Credit: Dar Al-Handasah
Often times when a hotel is described as "the world's…best, biggest, coolest, most luxurious, etc.," it's a pretty subjective statement. But when the Abraj Kudai opens in Mecca, Saudi Arabia, it will undeniably be the largest property in the world.
When all is said and done it will include 10,000 rooms, 12 towers, over 70 restaurants, helipads (plural) and a full-size convention center. Plus, the Saudi royal family will have five floors to call their own when they want a vacation. To give you an idea of its size, currently the MGM Grand in Las Vegas holds the most rooms with 6,198 and is followed by First World Hotel (6,118) in Malaysia and the Luxor Hotel (4,400), Mandalay Bay Resort (4,332) and The Venetian (4,049) in Vegas.
The $3.5 billion project and 1.4-million-square-meter building is currently under construction and is being designed by architectural firm Dar Al-Handasah. Within the 12 towers, 10 are said to offer four-star accommodations while the other two will feature five-star digs. According to Forbes, the property is expected to be completed in 2017. However, since Saudi Arabia's Ministry of Finance owns the project it may take a bit longer. Low oil prices have forced the Saudi Arabian government to cut back on many of the country's ventures. Until then, the MGM Grand can hold its place as the largest hotel in the world.