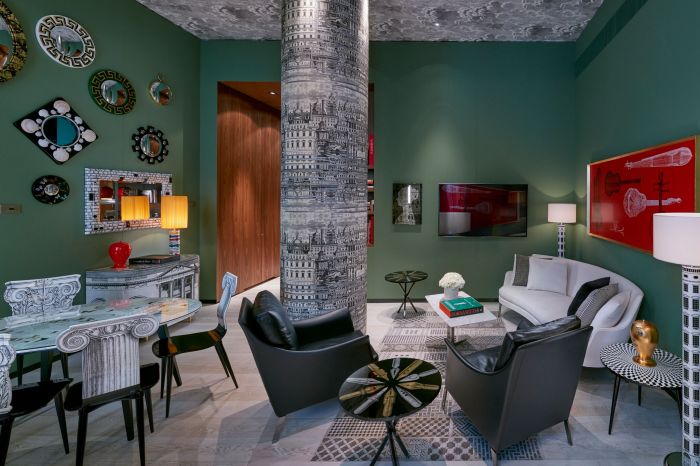 Image courtesy of Mandarin Oriental Milan
Long regarded as the epicenter of all things chic, the Italian fashion capital of Milan has also given rise to some of the world's most important aesthetic movements in architecture and design. Nowhere is the confluence of these creative microcosms more evident than in the artistry of Milan-born artist and designer, Piero Fornasetti (1913-1988). With an inimitable body of work spanning the worlds of decorative art, architecture, and interior design, the influence of Fornasetti's style is emblematic of a particular brand of Milanese chic that has influenced fashion and interior designs around the world. Perfectly timed for Milan Fashion Week, Fornasetti and Mandarin Oriental Milan have joined forces for an exciting and new kind of collaboration that brings the worlds of hospitality and design together under one particularly elegant roof. Aesthetes of all persuasions heading to Milan can now step into the world of Fornasetti—and stay for awhile—with the recently launched Fornasetti Designer Experience at the Mandarin Oriental Milan.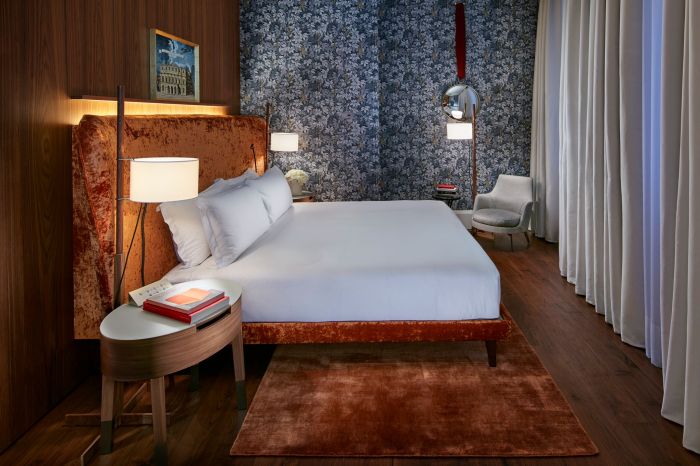 Image courtesy of Mandarin Oriental Milan
A worthy interpreter of Fornasetti's enduring ethos, the Mandarin Oriental Milan seamlessly blends traditional Milanese design with contemporary elements of luxury and careful attention to detail. Occupying four elegant 18th-century buildings steps away from La Scala, the Fornasetti experience finds its home in one of Mandarin Oriental's expansive townhouse-like suites. It is here that the experience truly begins. The palatial Fornasetti Suite has been exquisitely decorated and designed to showcase both original works by Piero Fornasetti himself and more recent works designed by the Fornasetti creative team and Piero's son, Barnaba Fornasetti—who as Fornasetti's current artistic director, has re-imagined the brand for a new generation of Fornasetti fans.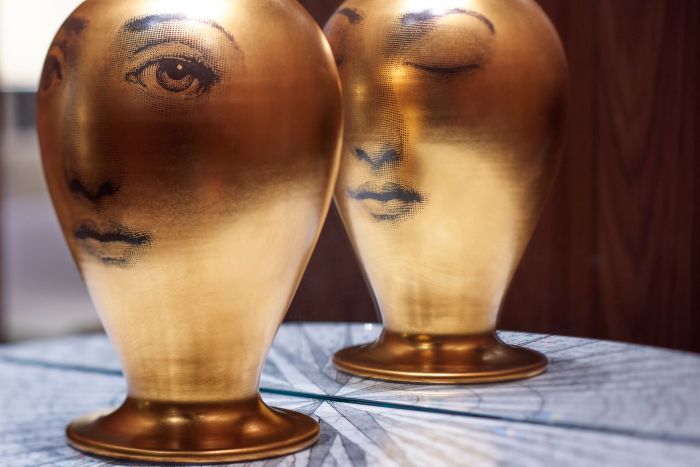 Image courtesy of Mandarin Oriental Milan
'It's a unique experience—the one and only Fornasetti suite in the world" says Roberta Amaro, assistant public relations manager for Mandarin Oriental Milan. The whimsical and surrealist space is truly one-of-a-kind, an exclusive and extraordinary sensory delight for lovers of 20th-century design, who will immediately recognize some of Fornasetti's most iconic works; including sculptural furniture pieces, wall coverings, and decorative art. Not to be confused with a look-but-don't-touch exhibition space, the Fornasetti Suite is designed to be experienced immersively—the entire multi-room dwelling is meant to be enjoyed to the fullest extent possible and comes complete with all of the modernities and luxurious creature comforts one would expect from the Mandarin Oriental. The suite features soaring ceilings, concealed LED mirror televisions, floor-to-ceiling windows, freestanding soaking tubs and locally produced personal care products by Dr. Vranjes fragrances.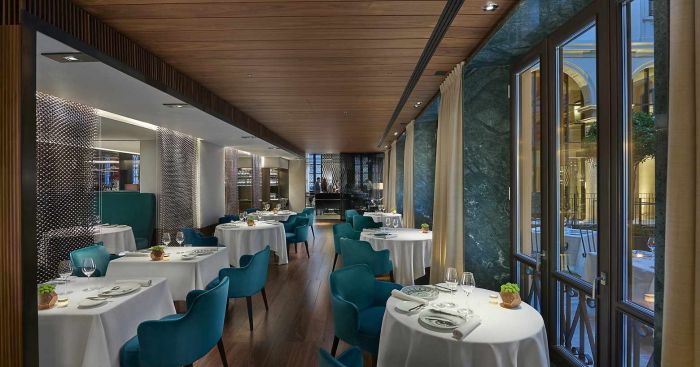 Image courtesy of Mandarin Oriental Milan
As tempting as it would be to never leave the opulence of your suite, the Fornasetti experience doesn't stop there. No trip to Milan would be complete without an Italian meal. In addition to a daily full breakfast, guests can look forward to a wine-paired, three-course lunch at Seta. Mandarin Oriental Milan's two-Michelin-starred restaurant helmed by renowned Chef Antonio Guida. Located in the hotel's courtyard and spread across two dining rooms, the restaurant is quintessential Milan at its most refined. The scene is set with minimal decor punctuated with flashes of jewel tones and warm hues throughout. If weather allows, a seat in the courtyard offers a fun peek at the Guida and his team making magic in the kitchen through windows facing the dining area. There are touches of Fornasetti's vision sprinkled throughout the space, most notably with signature Fornasetti dinner plates. Seta's dinner plates proudly feature the enigmatic face one of Fornasetti's muses, Lina Cavalieri, the 19th century Italian opera singer. As beautiful as the tableware is, in Italy, what's served on them is just as important. Guida's menu is comprised of classic Italian dishes inspired by his extensive travels and Mediterranean roots, with Tuscan and French influences evident throughout each one of Guida's inventive culinary creations. Expert wine pairings by Seta's well-versed sommelier add a welcome punctuation to a truly memorable meal that is sure to leave you both satiated and inspired.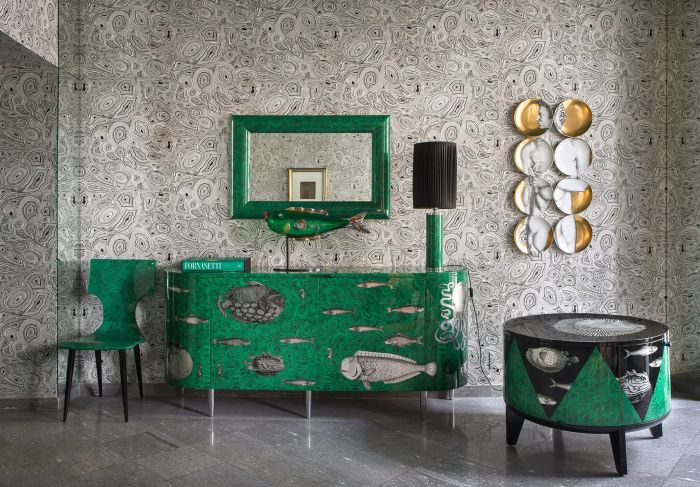 Image courtesy of Fornasetti
One cannot fully experience the fantastical world of Fornasetti without a peek into the mind of the man himself. Access is granted with a private, after-hours tour of the nearby Fornasetti flagship store led by a Fornasetti specialist. More treasure trove than a retail store, the Fornasetti shop is curatorial in its nature and houses not only Fornasetti's current collections but also museum-quality vintage pieces designed by Piero Fornasetti and works that remain part of the brand's archive. Artistic director, Barnaba Fornasetti calls the program 'a unique portal into the world of Fornasetti, through a privileged experience that is immersive and multi-sensory in nature.' This is no exaggeration. Spread across multiple floors, each room showcases a different artistic expression of the designer's esoteric decorative style and broad aesthetic vocabulary. The tour will guide you through the multi-layered creative process of the mastermind designer by way of anecdotes and insider secrets that give context to Fornasetti's wide range of materials, disciplines, motifs and historical references. This is underscored by an endless variety of furnishings, housewares and decorative goods, ranging from desks to dishes, tables to chairs, and even unexpected objects such as cushions, candles, and umbrella stands. Fornasetti's wit and sense of humor is woven throughout each of his designs, making them other-worldly and fun.
Last but certainly not least, the experience wraps up with something quite special, an exclusive and limited edition Fornasetti plate that is your gift to keep—a meaningful way to bring a bit of Fornasetti's world into your own. This bespoke porcelain plate features a unique hand-painted gold depiction of the nearby Galleria Vittorio Emanuele II—Milan's iconic shopping arcade. A design that was first introduced in 1979 and revived this year by the Fornasetti creative team to celebrate the Fornasetti Suite and pay tribute to Mandarin Oriental Milan's close ties to Milanese design. The Fornasetti Designer Experience succeeds in leaving guests with not only an expanded understanding of the man himself, but with new insight and an informed perspective on how Piero Fornasetti's beloved city of Milan shaped his work, and how his rich legacy continues to shape the design identity of Milan.
The Fornasetti Designer Experience at Mandarin Oriental Milan is priced from €6,500 per night, with a minimum two-night stay, and is available through December 31, 2018.
Mandarin Oriental Milan, Via Andegari 9. Tel: +39 2 8731 8888 www.mandarinoriental.com/milan
Fornasetti, Corso Venezia 21A (cnr Via Senato) 20121. Tel: +39 2 8416 1374 www.fornasetti.com