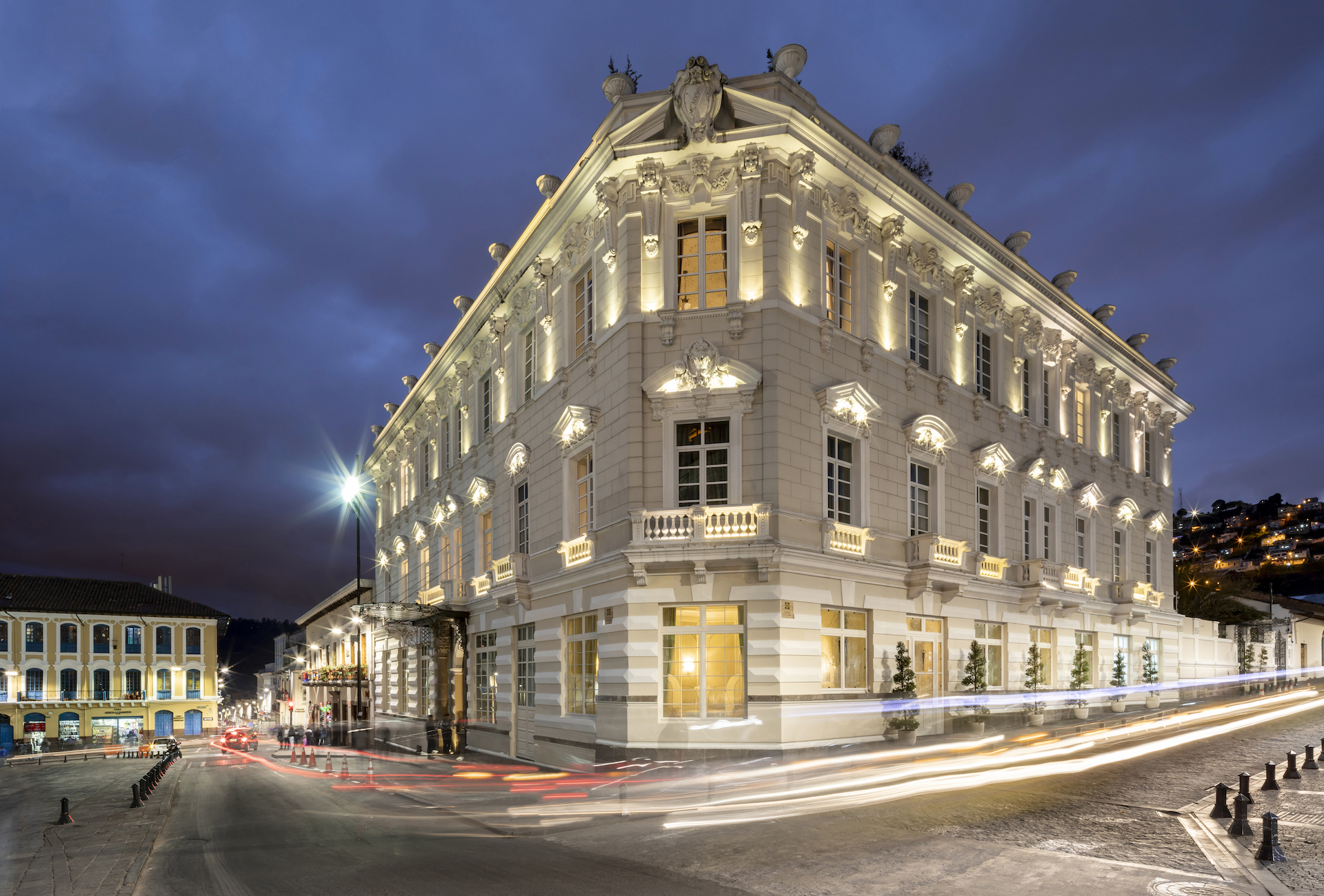 Casa Gangotena
Our first impressions of Quito were at night. We were going from the airport to the old town, and all that could be seen were old buildings, and winding streets. Then, a lighted building, white, almost-church-like, with huge, hand-carved wooden doors. "We have arrived," said the driver in a grandiose tone, "At Casa Gangotena."
When we walked in through those doors, we sensed we were walking into a slice of South American history we knew little about. But we learned during the days ahead more about this historic place high in the Andes, 9500 feet above sea level.
Casa Gangotena-The Palza and Cathedral of St Francis
The sense of antiquity was palpable at Casa Gangotena. Before becoming a luxury hotel in 2011, the Gangotena family mansion was already known, and located on an advantageous, unique corner, across from Quito's most recognized square is the 500-plus year-old Plaza de San Francisco, where the iconic Cathedral of St. Francis stands. The construction of the basilica and convent of the Cathedral San Francisco began around 1537, with the completion of a temporary church in 1550. Then, the new construction of the current cathedral was completed around 1680. The Cathedral and Plaza San Francisco are part of the UNESCO World Heritage Site. And Casa Gangotena is across the street.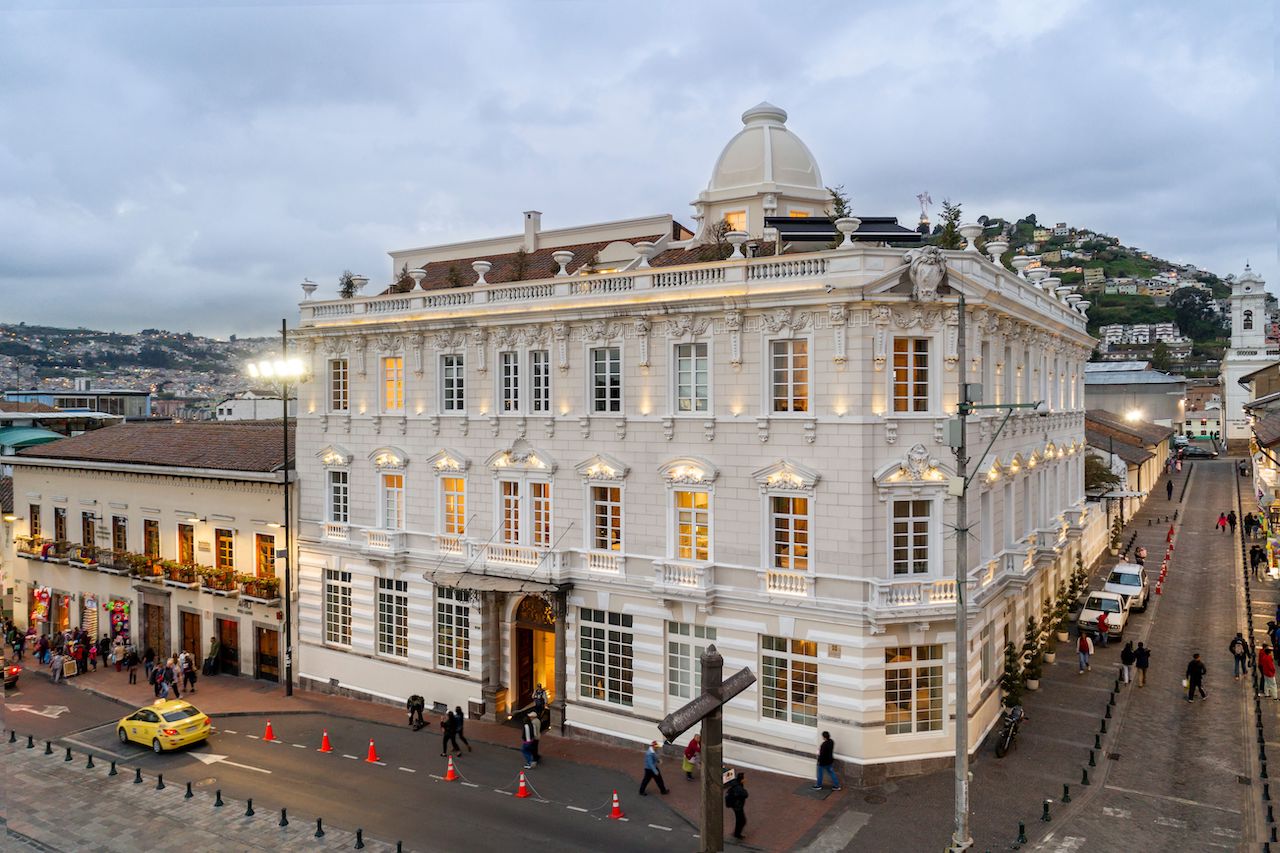 Casa Gangotena
The Casa Gangotena is referred to as the Gangotena Palace by many Quiteños, as the estate has existed for centuries, and remains an icon of Spanish architecture, with lavish interior décor reminiscent of Neo-Renaissance palaces in France and Italy. Historic accounts mention in the late 17th Century, the Spanish-descending Jijón and Gangotena families owned the mansion with several generations, even then, living in the home – and with the distinct advantage of being able to go to the Cathedral just steps away.
From the years 1880 to 1950, Don Enrique Gangotena y Jijón, one of the family patriarchs owned the mansion, brought it to heights of luxury -- both with its external architecture and facades as well as the spectacular interior décor-- French lamps, fine carpets, mirrors and art pieces from Europe and Asia along with paintings and sculptures of the famous Quiteño School of Religious Art.
The influence of the family—and the home-- during the early years of the Republic of Ecuador and into the twentieth century was considerable. It became the epicenter of important political encounters, and became the preferred venue of the emerging elite society of Quito, especially during the first half of the 1900's.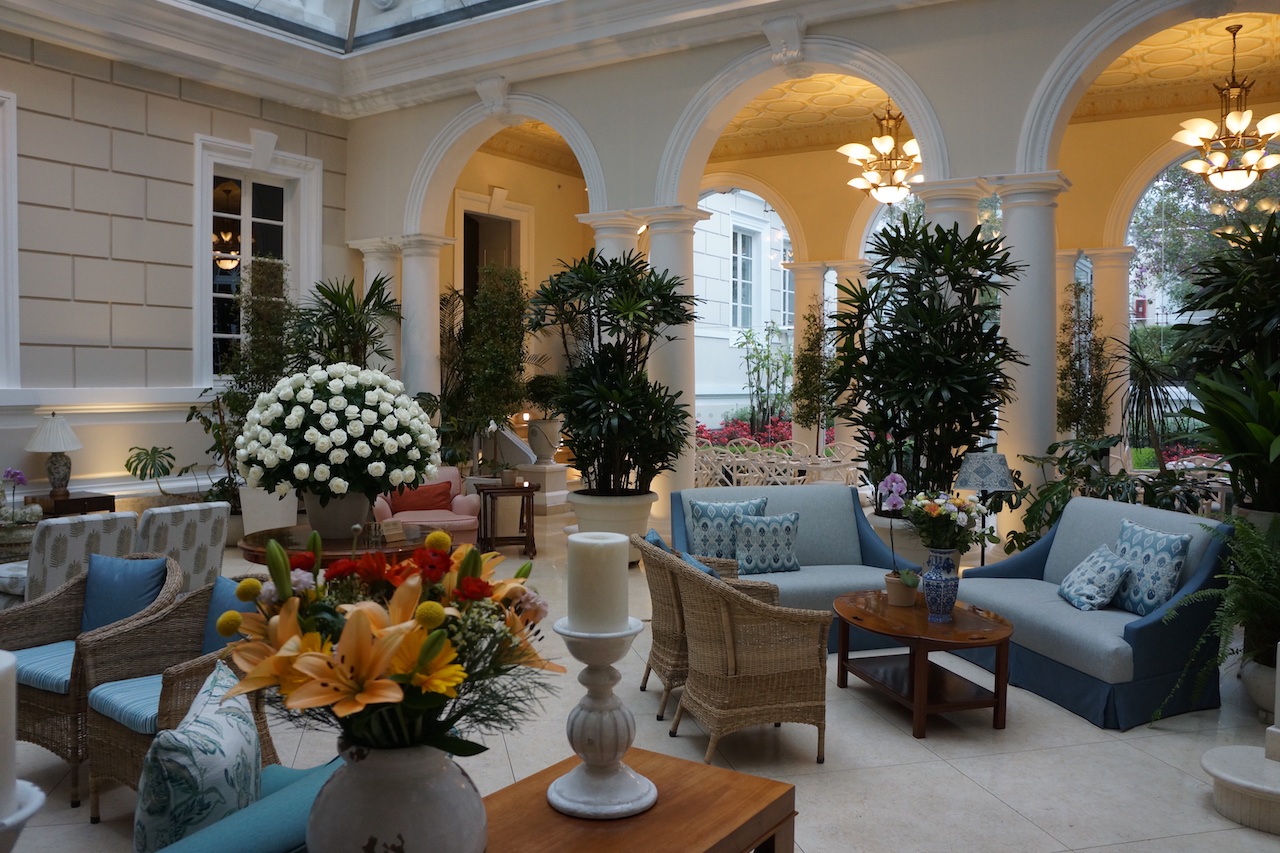 Susan Kime-Casa Gangotena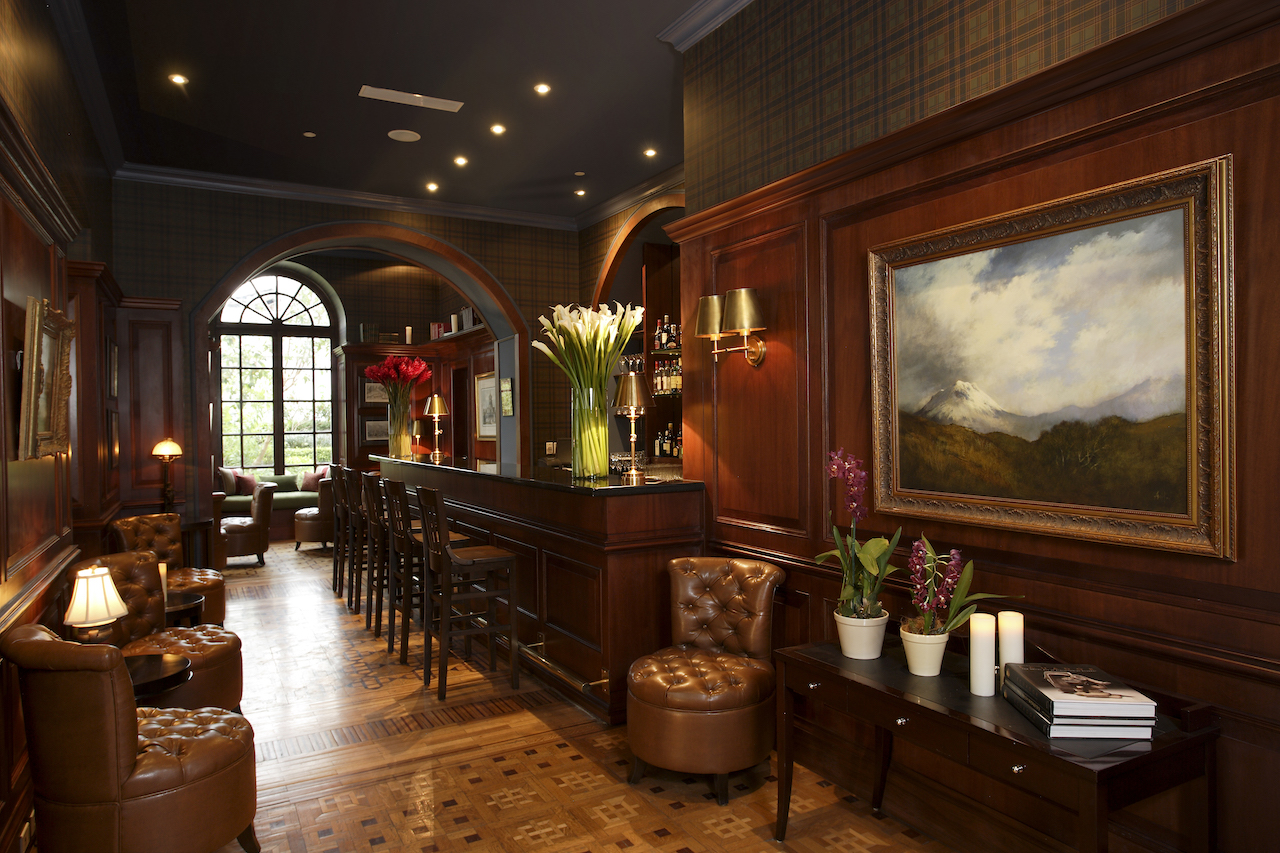 Casa Gangotena
This history is observable everywhere -- the paintings, the decorated ceilings, the covered lobby, and the fountains. And we were there – on the third floor—in the Terrace Suite. The large floor-to-ceiling window was open when we arrived, and we saw in direct view, a hill, and on top a statue – we discovered later it was the Virgen del Panecillo, Virgin of Quito, or Virgin of The Round Hill, visible from almost everywhere in the city. Not only is it the tallest aluminum statue in the world, it's also the world's tallest winged representation of the Virgin Mary. From our initial view in the dark, there was a luminous blue light around the statue, making it look surreal, but in the daytime, the status was still beautiful, shiny silver aluminum, and not as blue.
The next AM, at breakfast, we were given our first taste of Ecuadorian coffee, pumpkin-filled Empanadas, and chocolate – a gustatory experience! --before we went on our memorable Quiteño activities.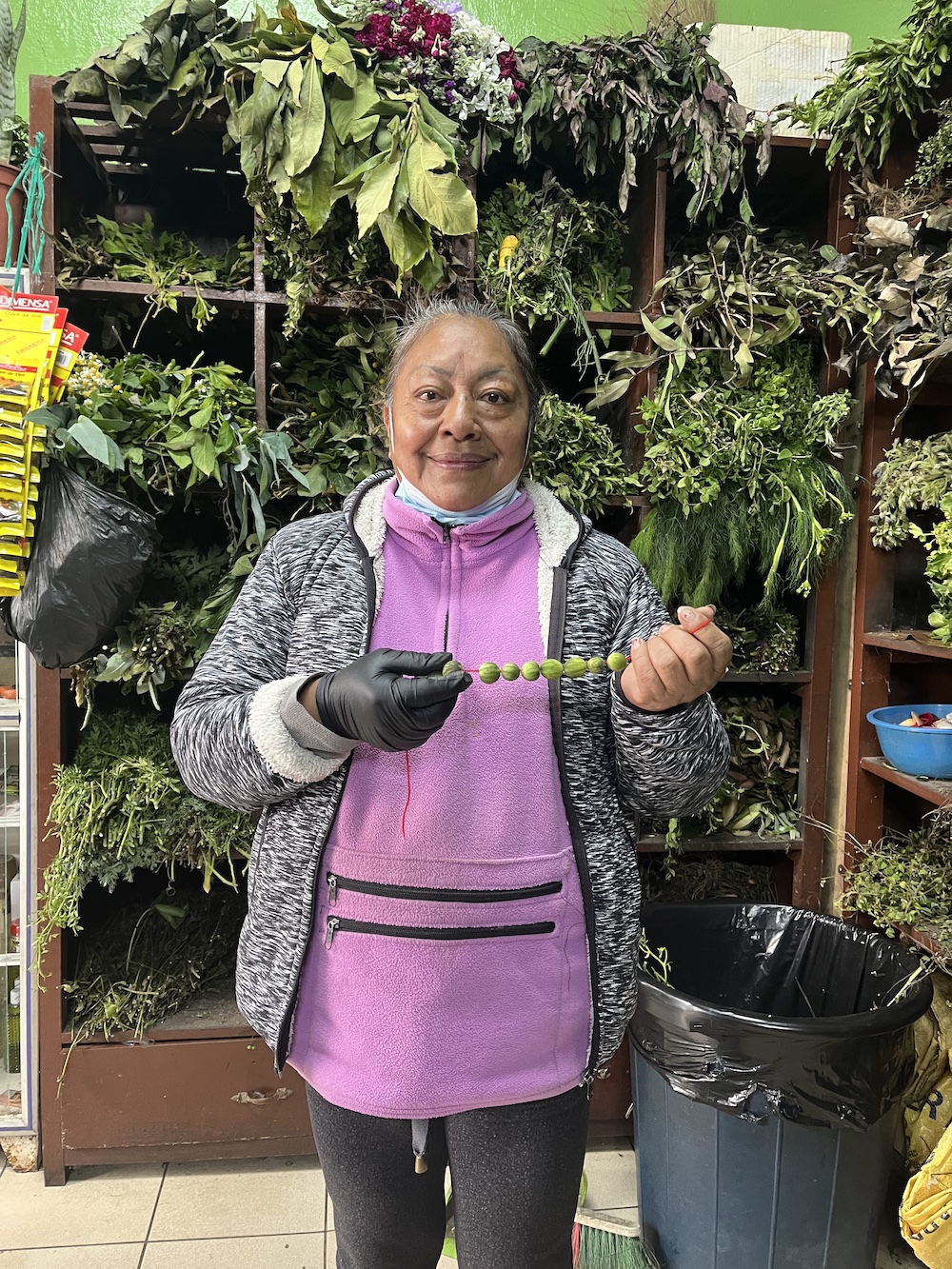 Susan Kime-Senora Emma Lagla, Herbalist
Our first experience was inside a small shop a few steps up the street from Casa Gangotena. It was as distant an environment from Casa Gangotena as it could have been, as it was owned and managed by an herbalist --Emma Lagla. She is a petite woman, who had garnered wellness knowledge from her ancient ancestry and local culture, about the herbs that helped pains of the stomach, the head, eyes, and of the skin. Her business is called Secretos de las Plantas -- and around her were shelves filled with bundles of leaves – fresh eucalyptus, sage aromatic pine, nettle, with herbs--rosemary, mint, lemongrass, and with flowers – wild and cultivated rose, daisy, lavender, and jasmine— all combined and tied with twine. What a customer was to do with this bundle, she explained, was to go home, boil the flower/leaf/herbs in water, put the boiled essence with the twined herb/leaf/flower combinations in the bathtub and soak in it. These are called Energy Baths, and on the wall of this small shop is a sign-- liberally translated, saying, "Come -- we will cure your fear, bad air, evil eyes, with energy baths to change your luck."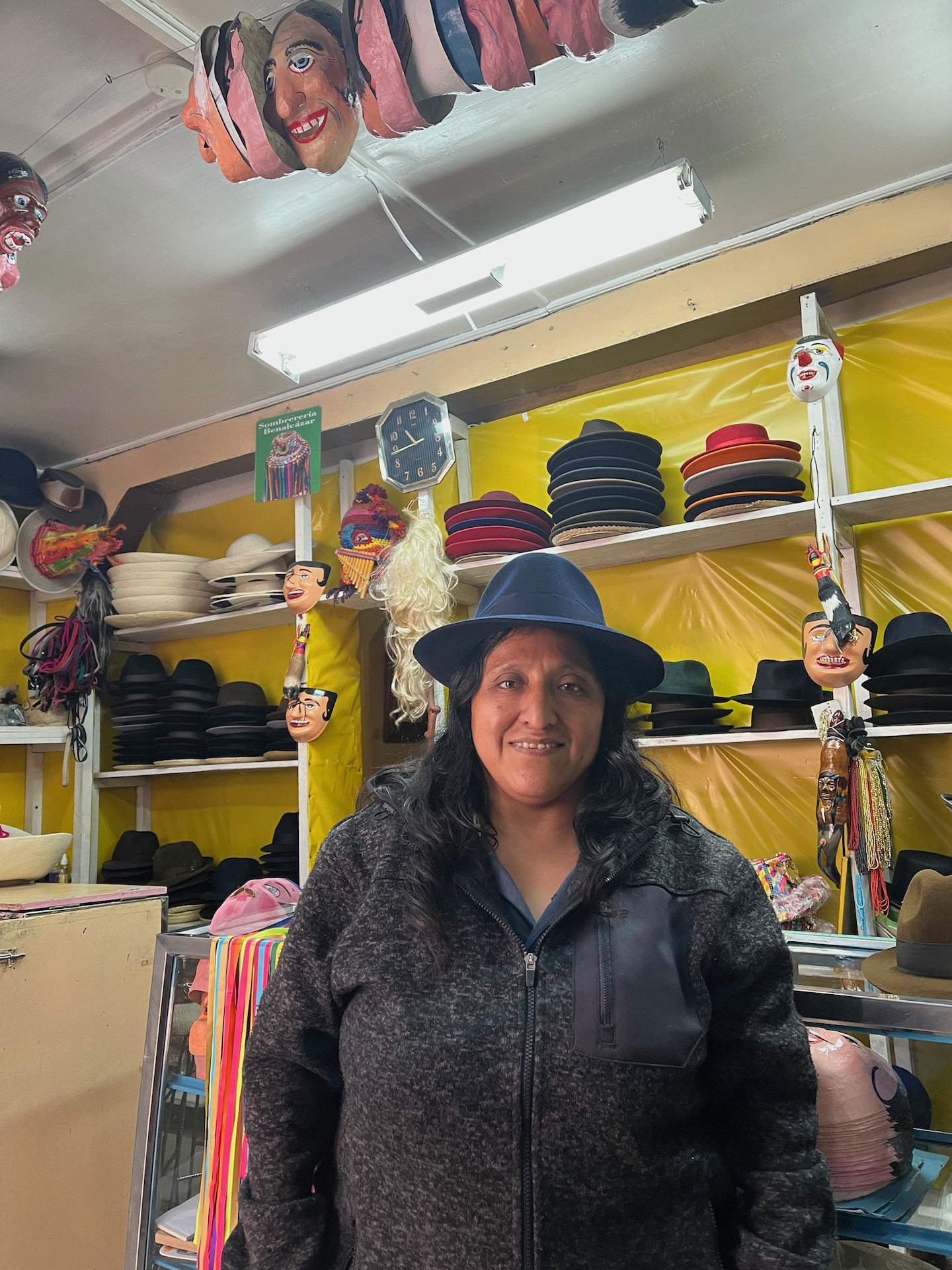 Susan Kime - Senora Lupita Faranango, Hatmaker
Our second activity was with a hatmaker – the business, Sombrerería Benalcázar – with señora Lupita Farinango teaching us. We learned that hat making is an ancient tradition in Ecuador, home of the world-renowned Panama Hat, which, she said, is 100% Ecuadorian! These hats were created because the sun is extremely strong, as the altitude of Quito is 9500 feet, and the use of a hat is essential. Her showroom area was fascinating, as we entered a world of hats, some with colored ribbons, others were Pith helmets, gaucho hats, American fedoras, cowboy hats, and Panama hats. Ms. Lupita said, "Panama un estilo, no una ubicación!" Meaning, again translating liberally, "Panama a style, not a location" Good to know!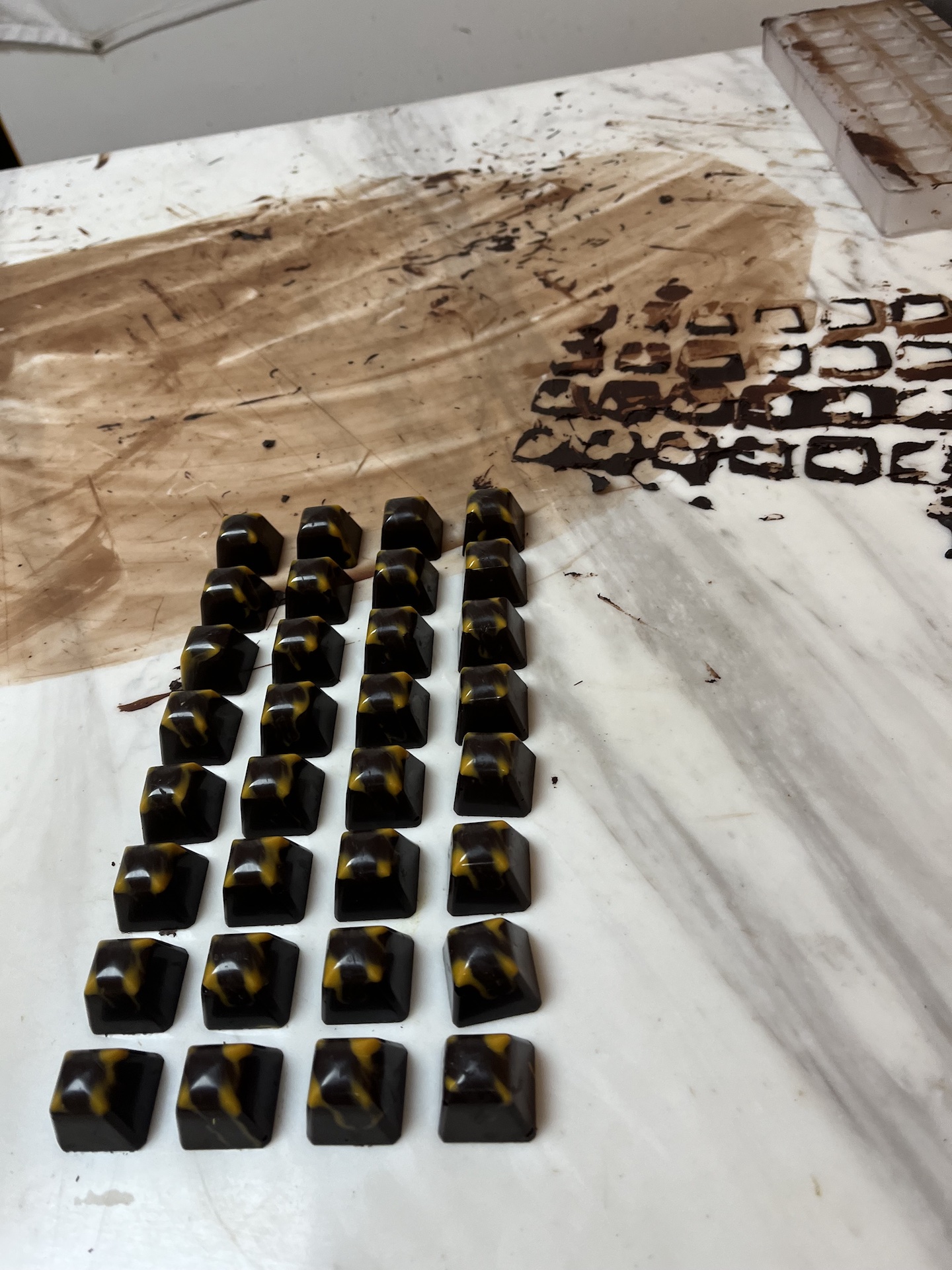 Susan Kime
The third activity was the experience of making Ecuadorian chocolate. It was at Chez Tiff, an artisanal Beans to Bar chocolate company that grinds its own cacao beans from pods hand- picked in the countryside. The owner is Bertrand Indemini, from Switzerland. He has been in Ecuador with his family for 22 years. He speaks Spanish, and French and we guess – though we do not know, some Swiss German also. What we do know is he is an exceptional chocolatier. He showed us how to make pieces of chocolate with passion fruit fillings. He questioned the validity of white chocolate but said his company does make one with barley essence that he said is quite good. We tasted a 100% chocolate bar and found it somewhat tart, and crunchy, due to the ground cacao beans in the bar. But we did look at their chocolate collection and bought some unusual ones: Mandarin, Inca Peanut, Amaranth, Ginger, and Macambo.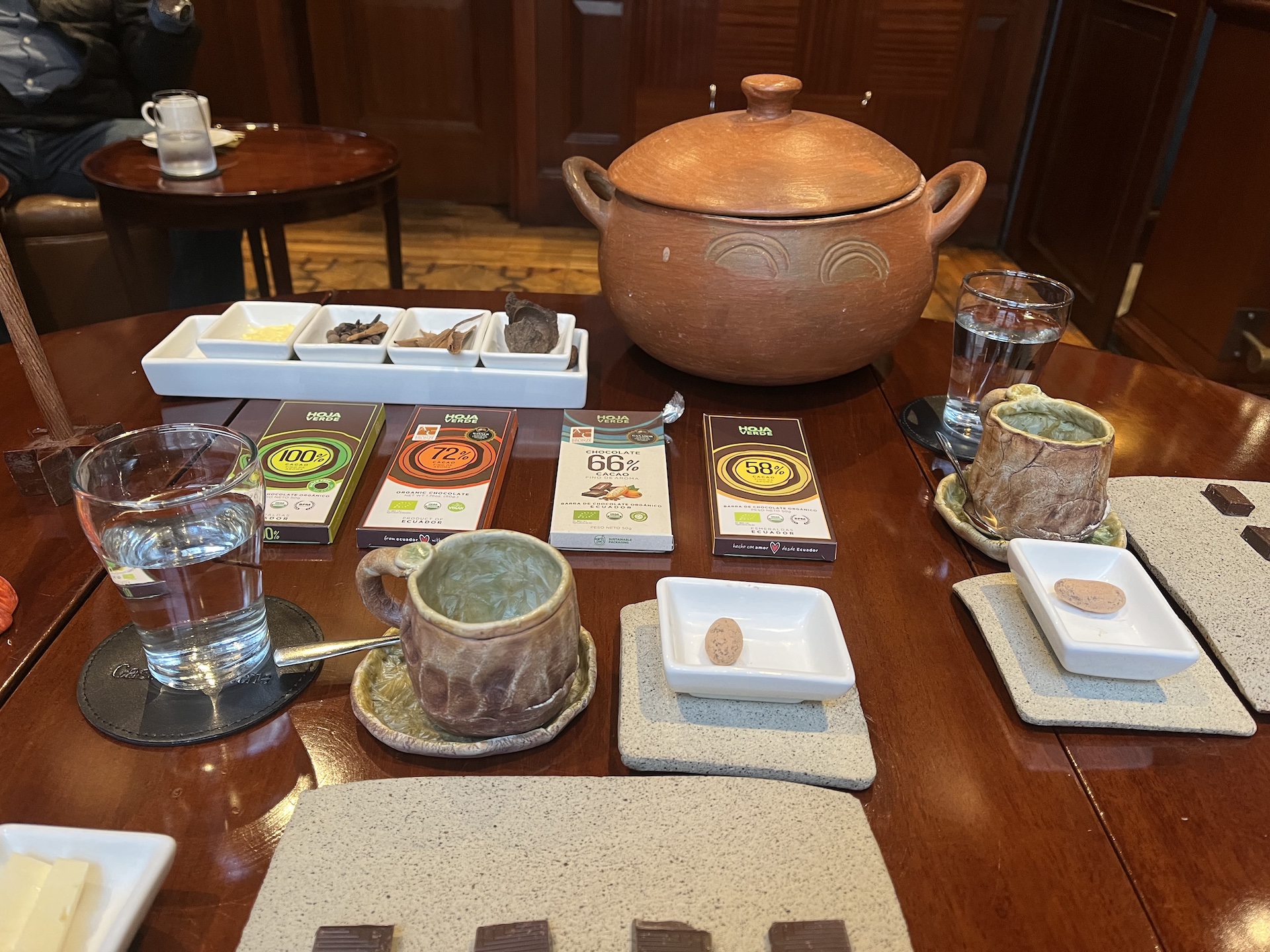 Susan Kime
We assumed we would be finished with our Ecuadorian chocolate education, but we were incorrect, as the Casa Gangotena had a new chocolate activity ready for us. This included the making of hot chocolate with an education of the elements found in chocolate pots, and then ground by a star shaped pestle by hand, very like, it was said, that the resident Gangotena Mixologist's abuela (grandmother) used.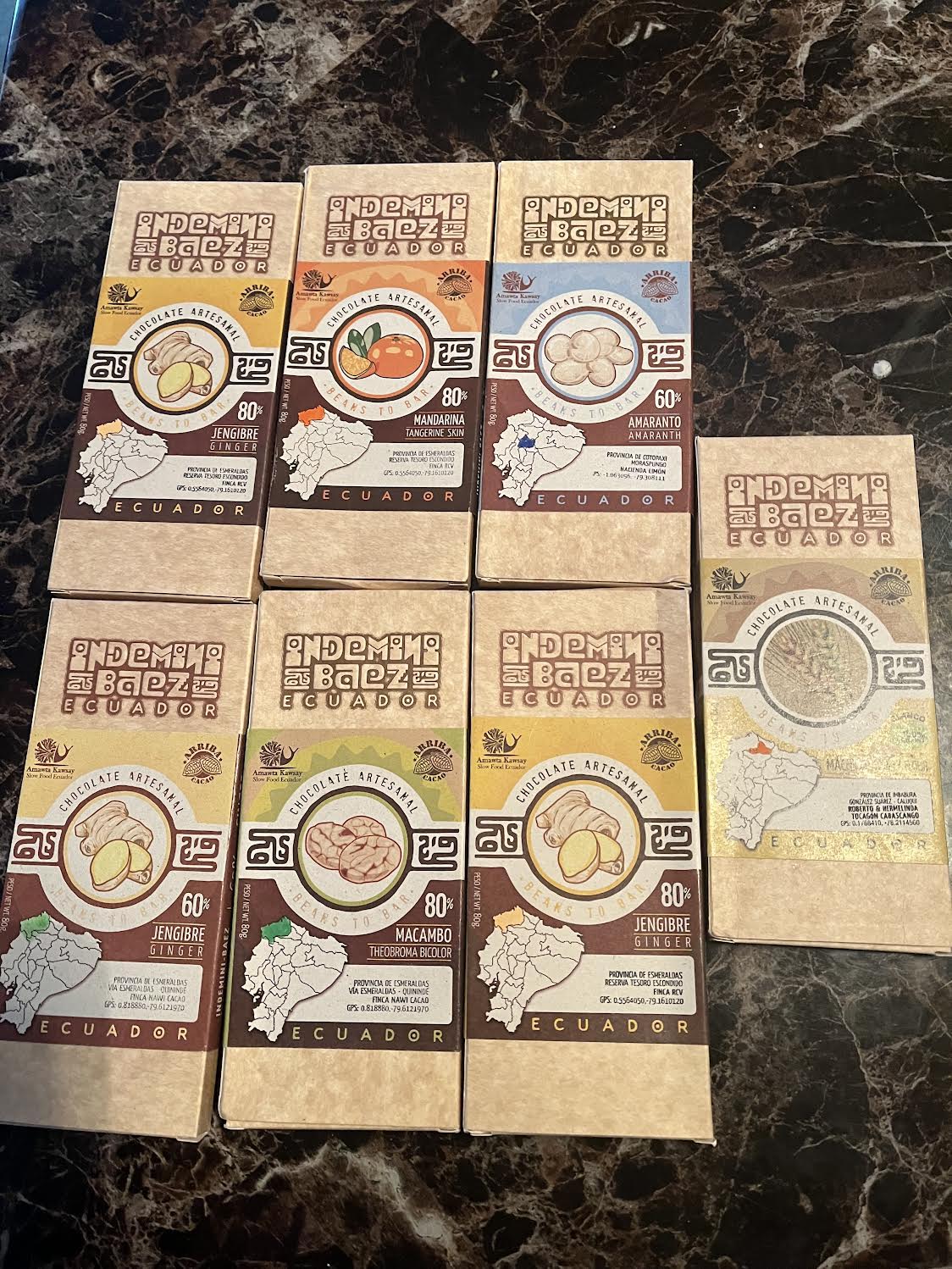 Susan Kime
We learned how to do hot chocolate in that way, with cinnamon, some anise, a little pepper, and a lot of chocolate. We tasted four types, one a little more intense than the other from 58% to 100% chocolate. Each was more intense than the other, but again, the 100% bar was the tartest and crunchiest. We were told that the 100% bars were sold to mainly to athletes and those who trained at high altitudes, to keep their strength and oxygen levels maintained.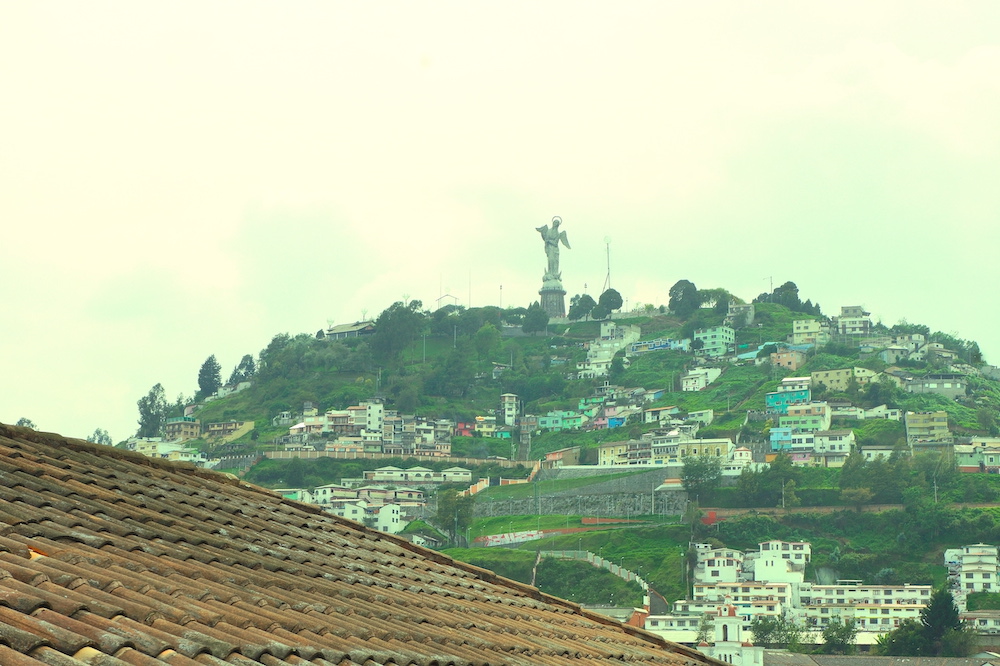 Susan Kime - Virgin Mary of Quito.
Our time at Casa Gangotena was limited, yet from this historic site, and with our travels near the hotel, we learned much about the cultural identity of this high-altitude capital. Because the Virgin Mary with wings looked over the city, and because the population is 80% Catholic, there is a palpable sense of sanctity and sanctuary in the Quito we saw, and at Casa Gangotena. No one speaks loudly, there is an indoor tranquility, and outside, probably because the Cathedral, with Franciscan Friars across the street, there was an outdoor tranquility as well.
Traveling here allowed us to think we were a unique part of old and new: ancient traditions and new learning, changing daily, yet, somehow, remaining profoundly familiar. What we re-learned was what we knew already but had forgotten: there is sanctity in simple things: in bundling herbs, in weaving hats, in grinding chocolate. It was a visceral joy to be here, and we left with cognitive hope of eventually returning.
https://metropolitan-touring.com