London: Visiting for the Un-tourist & Discovering the City's Hidden Gems

It was a crisp fall morning when I stepped out the front doors of the Athenæum hotel and into Mayfair; a signature London day complete with a gray sky promising showers.
My intention was to simply discover the city, walk until I saw something interesting and head that direction. Over the next two hours I walked along streets I didn't yet know, walked among people I would never know and happily lost myself in anonymity.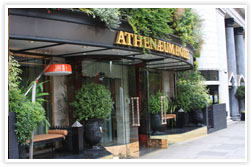 With virtually no help at all, without boarding any kind of transportation, I managed to stumble upon Wellington Arch, Buckingham Palace, Horse Guard's Parade, The Houses of Parliament and by default, Big Ben. While I never made it to the London Eye, it served as the perfect backdrop and compass to most of my little adventure. Along the way back I walked through Piccadilly Circus, eventually returning to the Athenæum. It was just after 10 a.m.
Over the next few days, I had the opportunity to discover neighborhoods and areas of the city that are not a part of the typical tourist path; these are the places thriving with their own flavors of culture, art and fashion. Getting around was fairly simple, all of them a short walking distance from the Athenæum hotel or via a quick ride on the Underground. While navigating medieval streets can be challenging, ducking through small passageways to find quaint café's and little shops also lends itself to truly discovering a city; there are dozens of tucked away gems throughout London, and here is where you'll find them:
London's West End:
Just near Covent Garden, Seven Dials boasts some of the best shopping in London. The name Seven Dials can be taken quite literally, seven streets come together at an enormous sundial. Each of the cobblestoned streets is lined with centuries-old buildings housing local designers' boutiques, along with stylish café's, pubs and restaurants. Should you find yourself planning on doing a lot of shopping in this area, you can also pre-arrange the assistance of a Seven Dials Bag Concierge. The "Bag Girl" or "Bag Boy" will personally assist during your excursion to the area: carrying packages, offering guidance, opening doors and more.
Soho's Carnaby is just a short walk from Seven Dials, and is a very popular area with a plethora of shops featuring both big names and independents. You will know Carnaby as the birthplace of the Mod Movement, and today the area still thrives with cutting-edge fashion. Just between Carnaby street and Kingly street, sits Kingly Court: an tri-level courtyard with a myriad of quaint café's and smaller shops featuring unique items. Kingly Court is an ideal spot to steal away from the buzz of Carnaby, and it is here you will find some of the most unique wares offered in the area. Discover: Miller Harris (Seven Dials) & Kingly Court (Carnaby)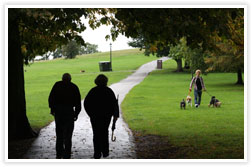 Camden & Primrose Hill:
Primrose Hill lies just a short walk from Camden, an eclectic area of interesting shops, street foods and concert venues that play host to the Amy Winehouses of the world. Before you ask, yes, this is indeed her haunt and it's difficult to tell who influenced whom. The two neighborhoods couldn't be more different. Unlike Camden, Primrose Hill is a quiet place with rows of homes with English roses growing in the front yards; an upper-class area well known as the ideal place to reside. Notable individuals have and do live here, making it a popular place for visitors to put on their itineraries. However if stalking celebrities isn't your thing (I am not particularly star-struck myself) there is another great reason to visit. A great view of London. Well that and shopping, of course shopping. Shops in Primrose hill are quaint and filled with charming wares, jewelry and antiques. Discover: Chin Chin Labs (Camden) & Sweet Pea (Primrose Hill)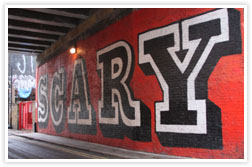 The East Side:
Shoreditch and Spitalfields are both areas currently undergoing a transformation, with new and interesting things popping up all the time. Like many places throughout the world, artists have settled into this area, revitalizing a once run-down part of the city. The East End is a melting pot of art and design. In fact, these neighborhoods are beginning to burst with edgy art galleries with rotating exhibitions. There is a style and feel to the East End that is greatly contrasted to the West, street art decorates the neighborhoods proclaiming what was once shabby is now shabby-chic. This is one of the most authentic parts of London, a place where an outsider really feels the pulse of what is up and coming. Discover: Black Rat Projects (Shoreditch) & Hostem (Shoreditch)
Of course a visit to London would not be complete without a visit to all of the places the city is known for. I took the time and experienced the surreal feeling of finally standing somewhere I'd only seen in pictures, I let my breath catch when I came around a corner to see Big Ben looming over my head. Later I watched the rain paint the Houses of Parliament a deeper shade. Then there is a definitive moment when I realize I have stepped off of the tourist path and taken a bite out of the real thing. That moment is a feeling quite different, and ultimately is the high note of a trip. Either you know exactly what I am describing, or you don't but know you should. Frankly, it doesn't really matter. Either way, now you have no excuse: get out there and truly Visit London.

This trip was sponsored in part by Visit London, Air New Zealand, and the Athenæum Hotel, but all opinions expressed are entirely those of Courtney Driver.