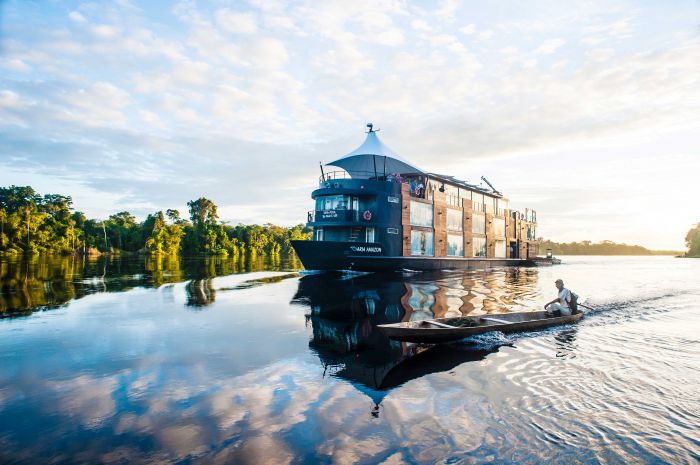 Photos Credit: Aqua Expeditions
Across Europe, the popularity of river cruising has steadily increased through the last half decade with surges of travelers embarking on itineraries along the Rhine, The Seine, the Danube and more. Many of the largest river cruising purveyors also have expanded their offerings onto the Nile in Egypt, the Mekong in China and the Amazon in South America. But, how do you take the standard river cruise and kick it up a notch for the luxury traveler? Enter small concierge outfits with exclusive departures and 5-star service that will not only get you up close and personal to the culture, wildlife and indigenous peoples of the region but allow you to rub elbows with their otherwise hard-to-reach founders and A-list naturalists to boot.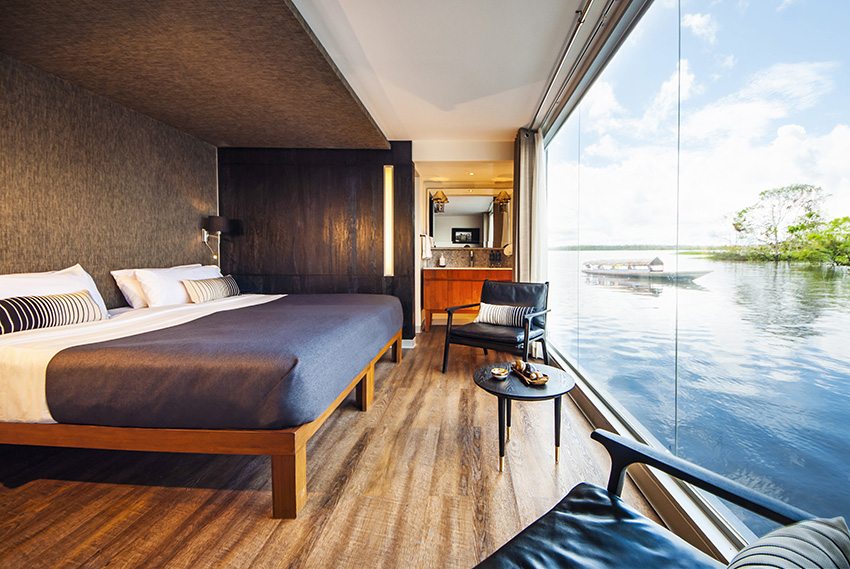 For the small luxury exploration outfitter Aqua Expeditions, this trend toward immersive and indulgent travel recently inspired them to completely renovate an already up-market boat and add premium departures featuring conservationist Jean-Michel Cousteau (yes, that Cousteau) to select itineraries on the Mekong and Amazon Rivers for late 2017 through 2018.
Founded in 2007 by citizen-of-the-world Francesco Galli Zugaro, Aqua Expeditions began on the Peruvian stretch of the Amazon River with the very first ship to set sail in one of the planet's most elusive and mysterious destinations. Galli Zugaro commissioned a boat befitting this innovative new endeavor, and a truly bespoke river cruising enterprise was born.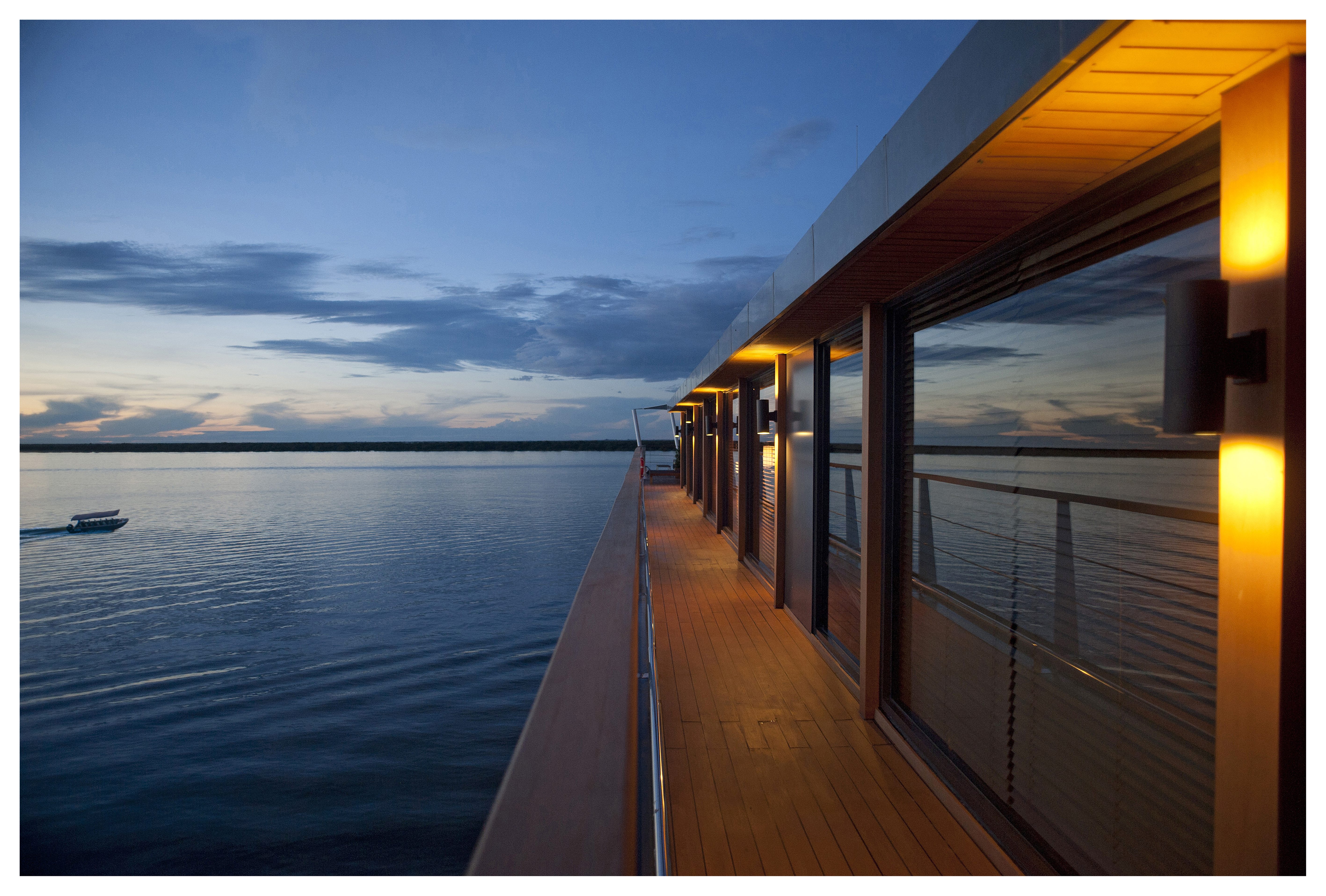 Aqua Expeditions has offered founder-hosted, shaman-hosted and chef-hosted departures with some of Peru's most acclaimed chefs (including Aqua Expedition's own executive chef Pedro Miguel Schiaffino of Lima's famed Malabar restaurant) for several years to consistently high marks, but the new Jean-Michel Cousteau departure (inspired by Galli Zugaro and Cousteau's first meeting where they "instantly understood [their] common values") has set the travel community aflutter as much for its eco-charm as for its exclusivity.
Explore the natural wonders of the massive yet delicate ecosystems of the Mekong or Amazon Rivers as you paddle, peddle and trek your way through these hidden vestiges alongside legendary explorer, educator, film producer and environmentalist Jean-Michel Cousteau. As Cousteau is fond of saying, "you never know what you'll find," but you'll leave understanding just "how lucky we are to live on a planet so filled with life."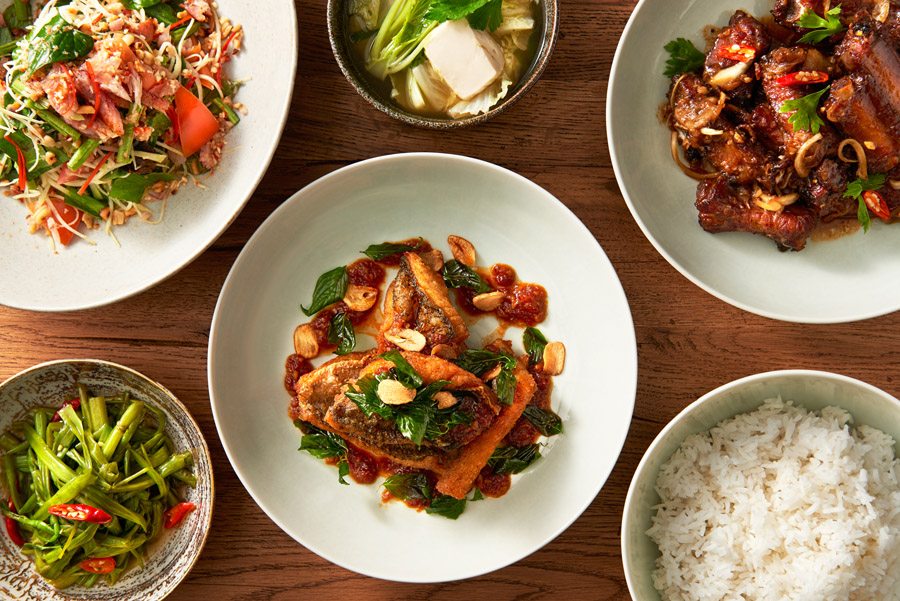 As a special guest of Aqua Expeditions, Cousteau will lead passengers (alongside the boat's professional guides) to seek out exotic treasures by day while sharing his most recent documentary films and hosting Q&A sessions after decadent 5-star dinners each night. When evenings wind to a close, stick around as Cousteau regales guests with stories of his many hilarious and exciting adventures over drinks.
Through it all, this exclusive insider access affords travelers a rare opportunity to discover these amazing destinations with fresh eyes—those of a conservationist who has spent his life exploring "wildlife habitats, delicate ecosystems and evolving cultural traditions and economic pressures which threaten the environment." Budding filmmakers also will relish the chance to get advice from the likes of Cousteau and immediately try their hand at wildlife documentaries, putting his invaluable tips to good use.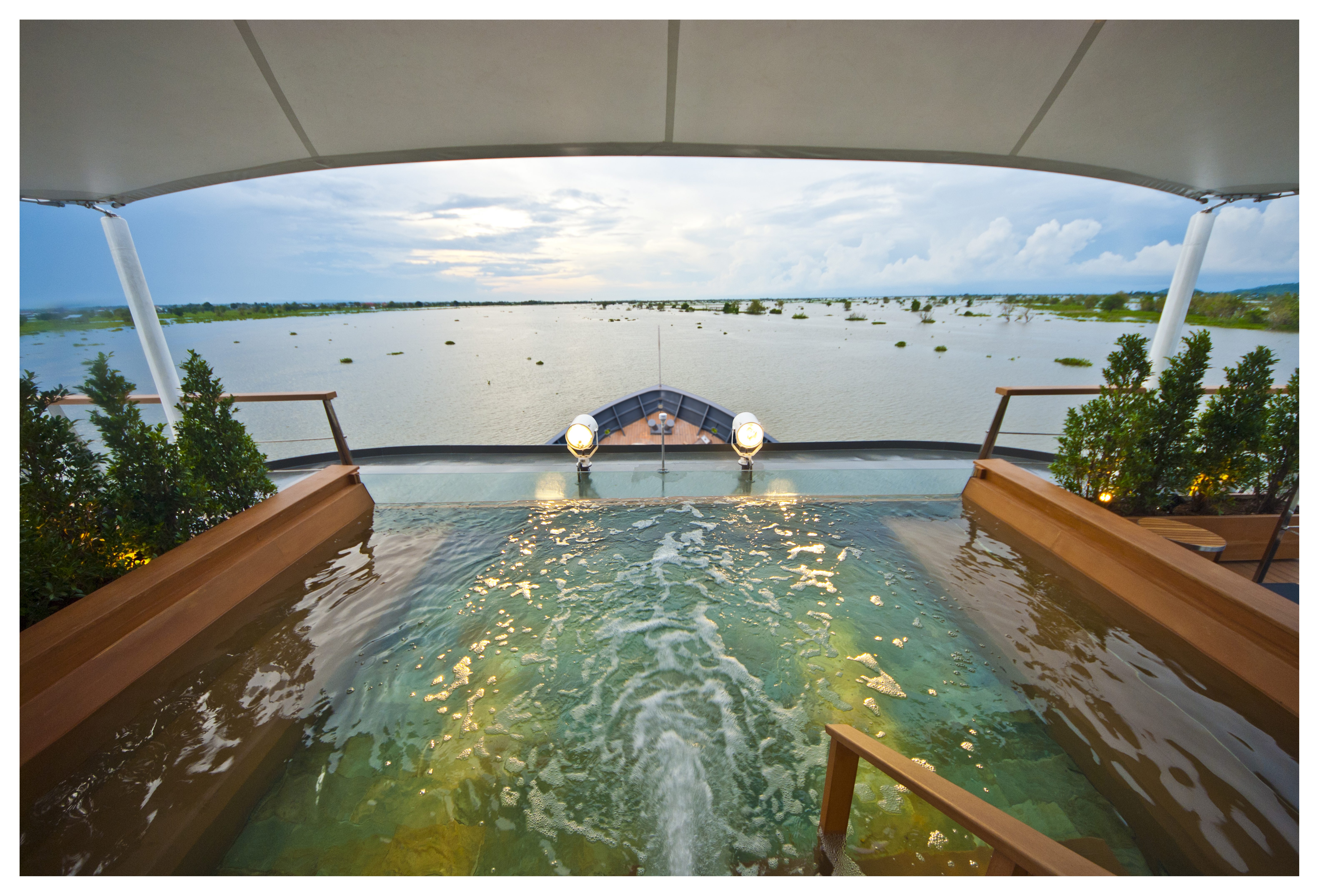 Jean-Michel's father Jacques Cousteau famously said, "People protect what they love." Whether you set sail on the Aria Amazon or the Aqua Mekong on one of these limited departures, you're sure to come away with an intense understanding and deep affection for what makes these destinations truly special. From endangered pink dolphins, adorable three-toed sloths and native tribes living outside the reach of the Western World in the Peruvian Amazon, to Buddhist temples, traditional markets and a UNESCO Biosphere Reserve along Vietnam and Cambodia's Mekong River, this once-in-a-lifetime opportunity is sure to leave you absolutely breathless.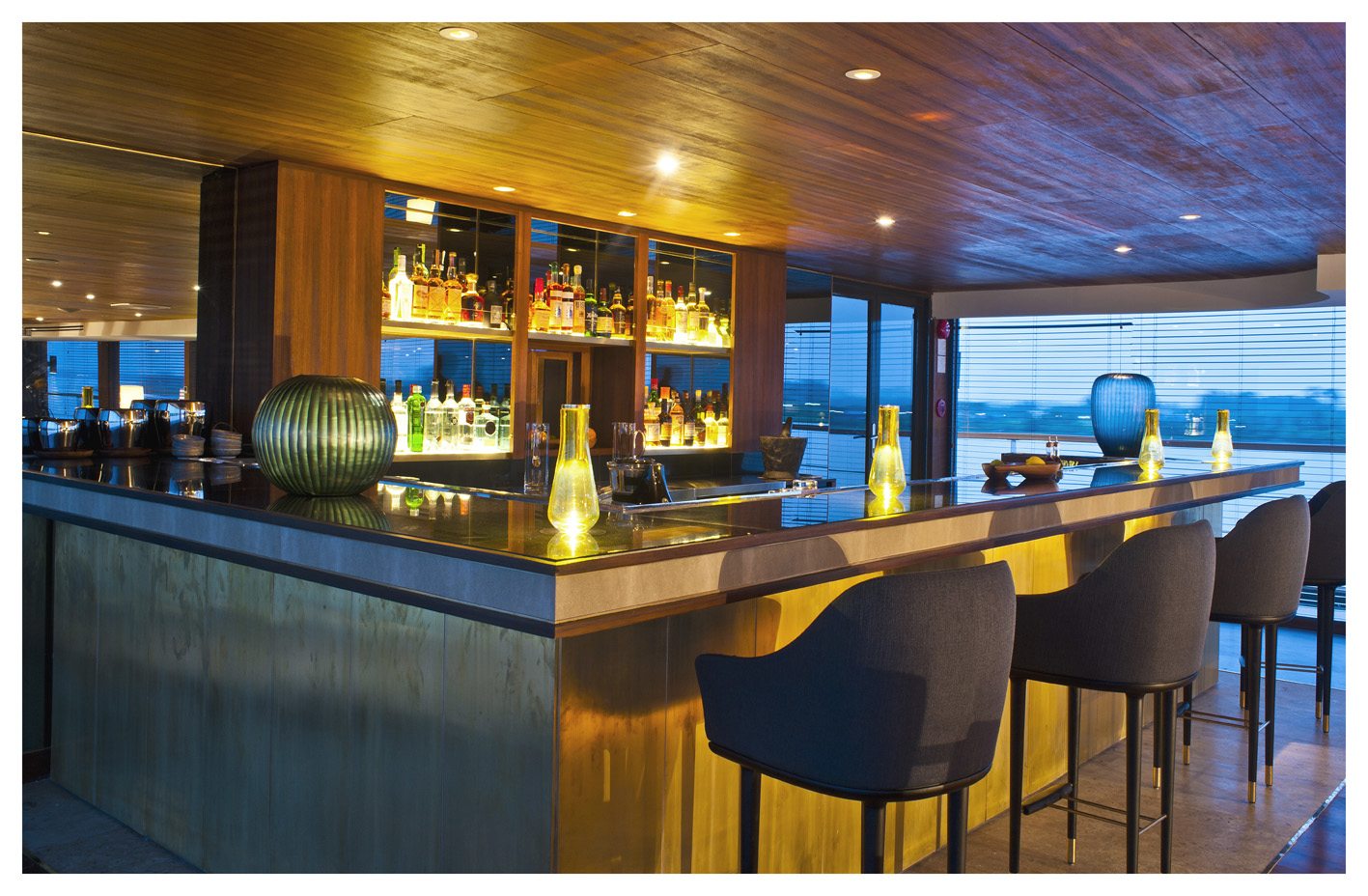 The "low-key luxury" Aria Amazon includes 16 expansive Design Suites with panoramic floor-to-ceiling windows opening out onto the mighty Amazon River. The boat, originally designed by Peruvian architect Jordi Puig, was refreshed in 2015 after only four years on the water. Upgrades included more than just a new (and strikingly modern) suite decor. Galli Zugaro also redesigned the spa for maximum relaxation, upgraded bed linens throughout and re-invigorated his personal touch on just about everything from hull to stern. Besides exploring the Amazon with Cousteau on unrivaled adventures, you'll love the welcoming dining and top deck lounge areas, English-speaking professional naturalists, outdoor Jacuzzi and super low crew-to-guest ratio.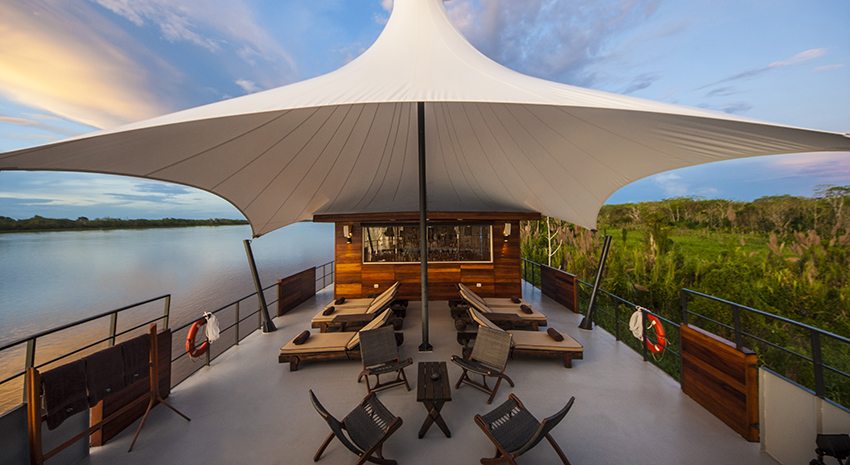 The award-winning Aqua Mekong, built in 2014, is a bit larger with 20 suites, while still managing to embody the indulgent 5-star spirit of its sister ship.
Aqua Expeditions promises you'll "feel more alive" having discovered the Amazon River aboard the Aria or the Mekong aboard the Aqua Mekong, and we promise you'll never regret these high-touch experiences alongside Jean-Michel Cousteau.