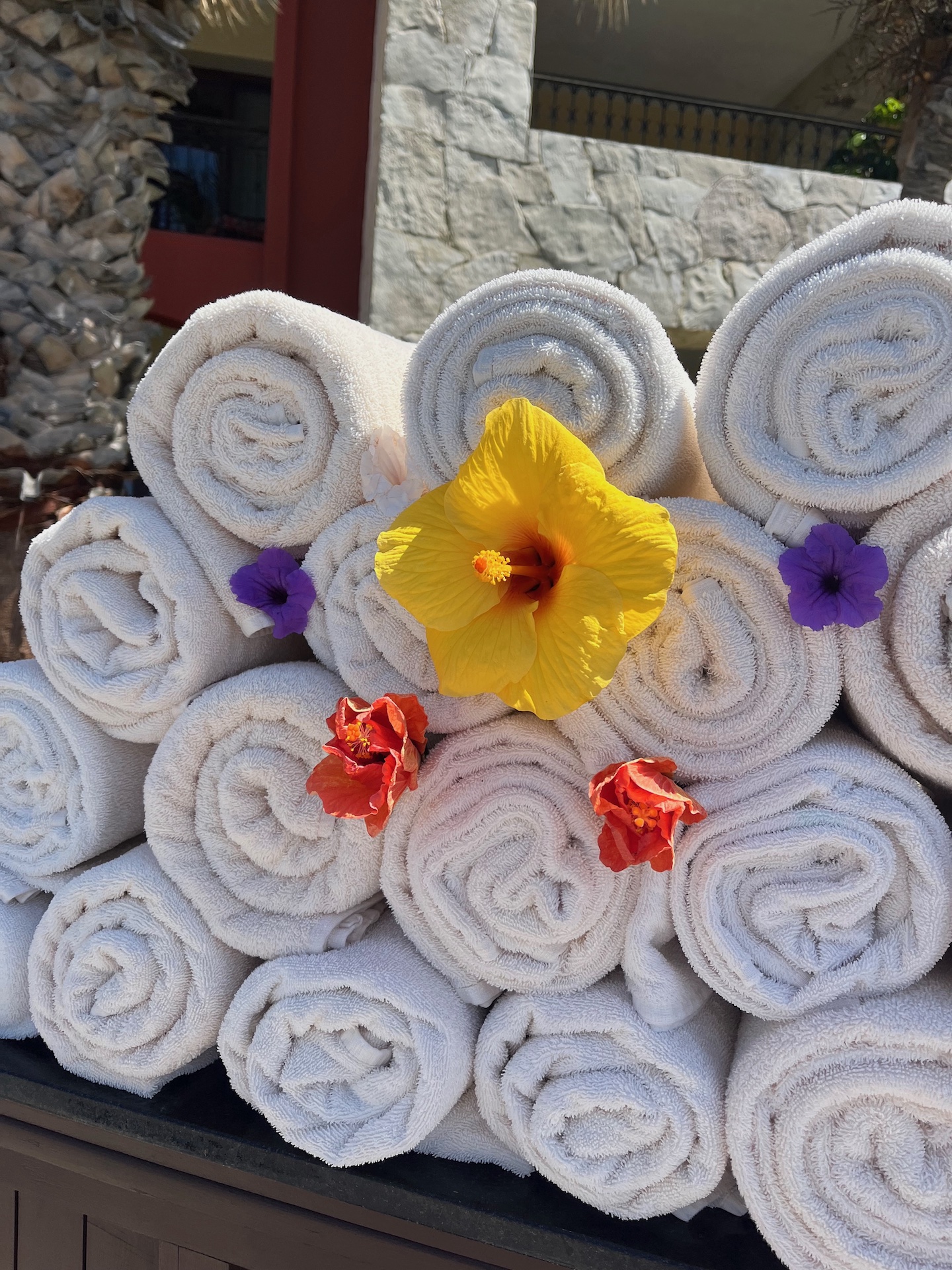 Susan Kime
If our traveling lives are fueled by searches for sanctuary, contentment, and adventure, then arguably, few activities reveal as much about those dynamics as do our travel choices -- and the destinations we pick. Such choices say much about lifestyle and wellness investing preferences. Now, post-pandemic, the emerging consequence is a desire to invest in greater personal and family attunement in terms of longer stays, larger rooms, access to culinary and yacht adventure. Because of these things, Cabo San Lucas remains a hugely popular destination, especially in this still-capricious economy.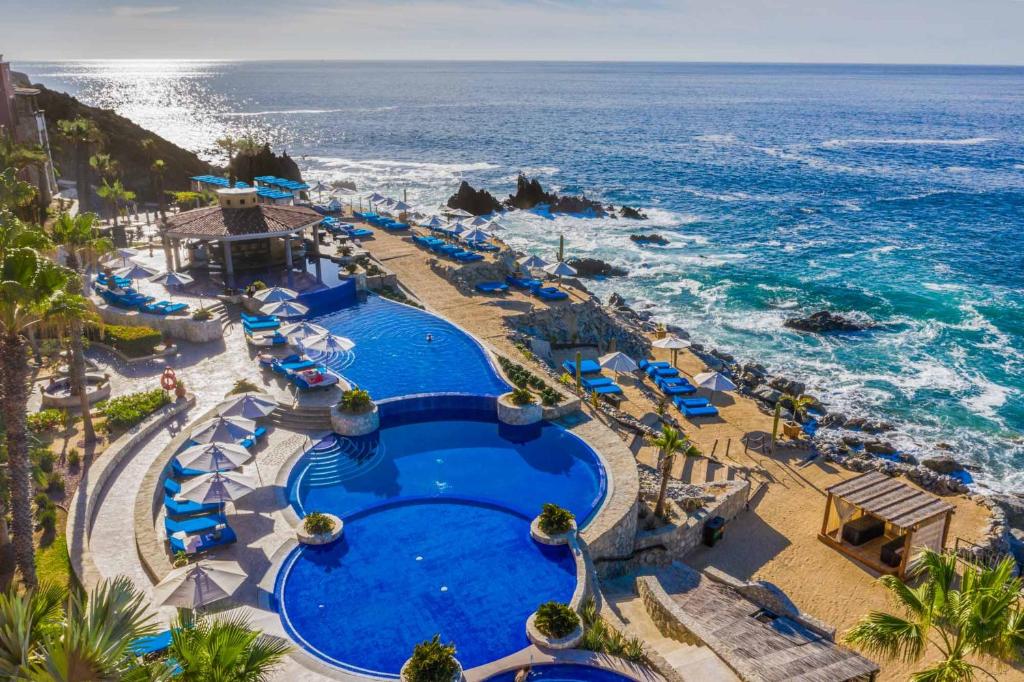 Hacienda Encantada Resort
The most successful resorts, like those at Mexico Grand Hotels, provide exceptional amenities (private chefs, town car services, yacht usage, dedicated concierges) and have a balanced design template where the destination combines sanctuary, history, and adventure, and where architectural and interior designs reflect the spiritual, and historic uniqueness of the area.
We were gratified to experience this spirit of Mexico in these dimensions, as seen through the perceptual field of two resorts, both part of Mexico Grand Hotels and Resorts. For nearly a week, we experienced two very diverse properties that both reflect and refract the spirit of Mexico. One was the peaceful, luxurious Hacienda Encantada Resort & Residences, one that provided not only elite hotel facilities, larger Villas, the exceptional Milagro Spa, a multi-colored children's area outside with swimming pools, shower pools, a children's reading and activity room, and a live turtle habitat. Hacienda Encantada also has an Owners Club, where mores spacious member-owned residences allow guests and their families to own property, availing themselves of yacht and golf adventures, various cuisines, and all else.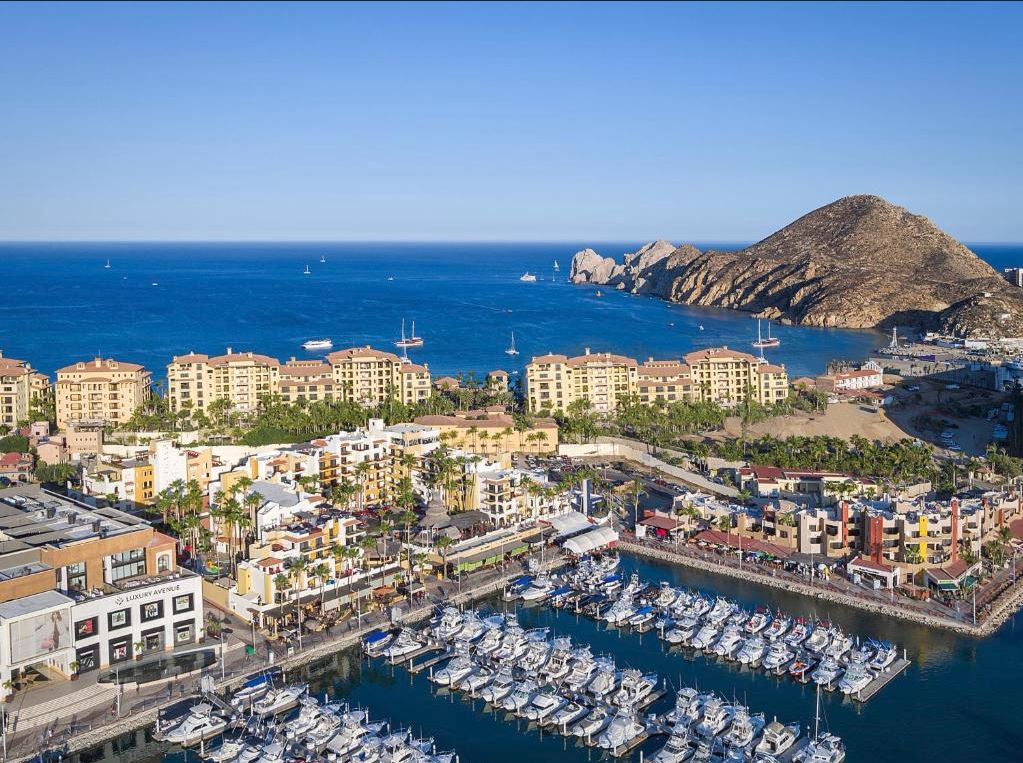 Marina Fiesta Resort & Spa
Second, was the Marina Fiesta Resort & Spa, a resort right in the middle of Cabo. Marina Fiesta, the lively, more urban resort, on the Marina, is also on the Marina's Golden Zone, where there are many restaurants right below, near the entrance to Marina Fiesta. Plus, next door also the Puerto Paraiso Mall -- on Luxury Avenue, no less. And Marina Fiesta also has an Owner's Club.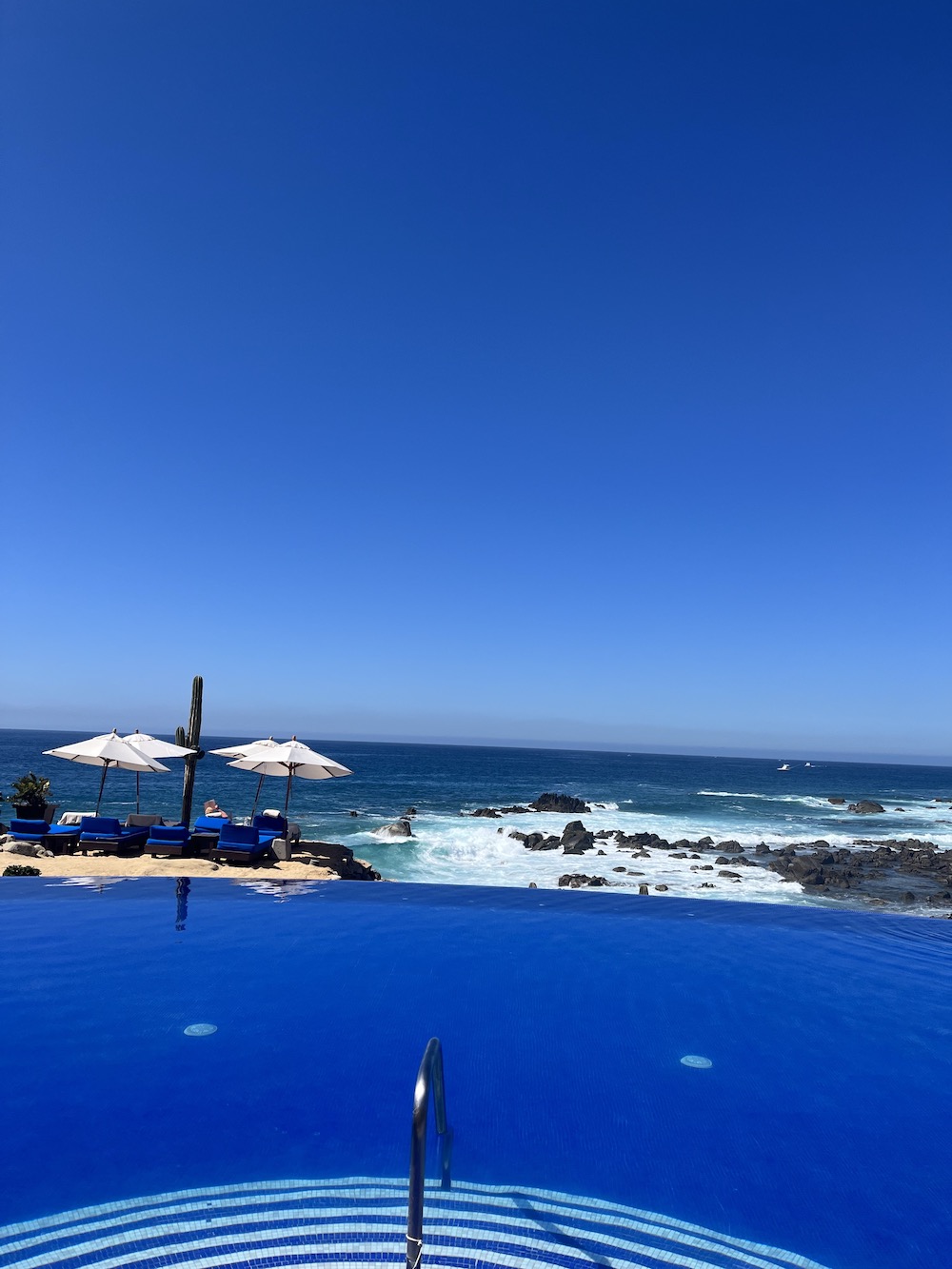 Susan Kime - Pool and Ocean Blue, Hacienda Encantada
Both resorts seemed to illuminate two 2023 major travel trends: first, both resorts define the re-emergence of the all-inclusive getaway, allowing the traveling family or families not to worry about paying and tipping every time they eat and drink. Second, both resorts' locations to allow families to reconnect through family reunions and through family celebrations -- birthdays, weddings, anniversaries by having memorable venues that allow for these needful, celebratory experiences. For the many who visit, there is access, from both resorts to a small Chapel, so if the traveler and family wish to go to Sunday Church, and possibly other times also, can be arranged.

The balancing of these two Cabo experiences provided diverse, needful travel experiences. Our first was at Hacienda Encantada, to us, defining a kind of enchanted peace. In walking the resort, you could hear birdsong and the sound of the ocean, but not much else. On our first evening, we were taken to the apex of the property, one where wedding venues often took place.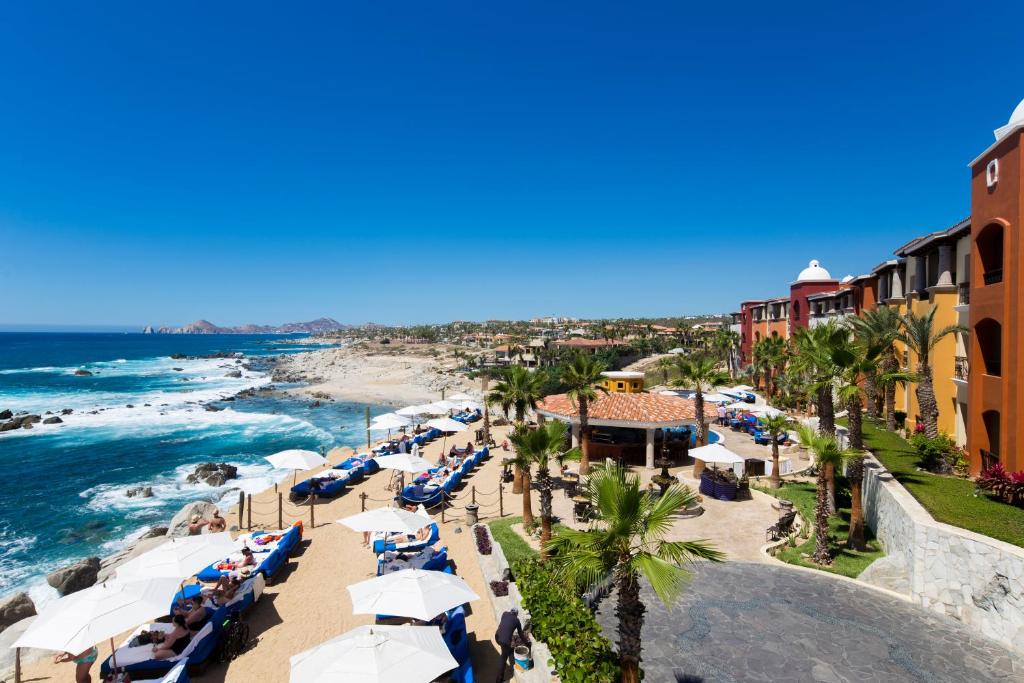 Hacienda Encantada Resort
The views from there were exceptional, stretching from the Sea of Cortez we saw waves crashing on rocks below, and beyond, to the famous Los Arcos rock formations a few miles away. From that upper vantage point, we saw so much: the Hacienda Encantada residences, villas, and resort buildings, the deep blue ocean, the turquoise resort swimming pools, the gray green Saguaro, and Prickly Pear cactus, many with Bougainvillea in red, yellow, orange nearby. Such fierce color and contrast, especially as a vibrant orange sunset, expressed the intense, colorful character of Baja Sur.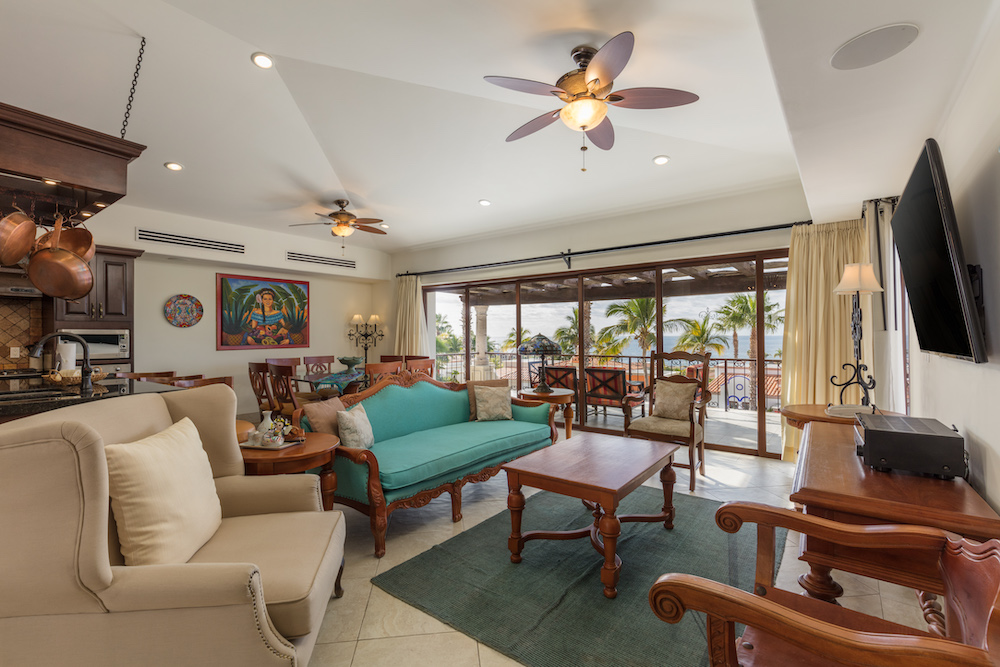 Mexico Grand Hotels - Three Bedroom Residence
Our rooms were large also, with heavy, Spanish designed furniture, an unmistakable Moorish accents. Outside our domicile, were vibrant colored couches with contrasting pillows. Our room opened out to a grassy area, festooned with yellow flowering vines and beyond that, a view of the ocean. At night, you could hear the welcoming sound of the ocean, with the scent of ocean spray filling the air. In the evening, we experienced a lesson in the history of Tequila making, at Museo de Tequila on property.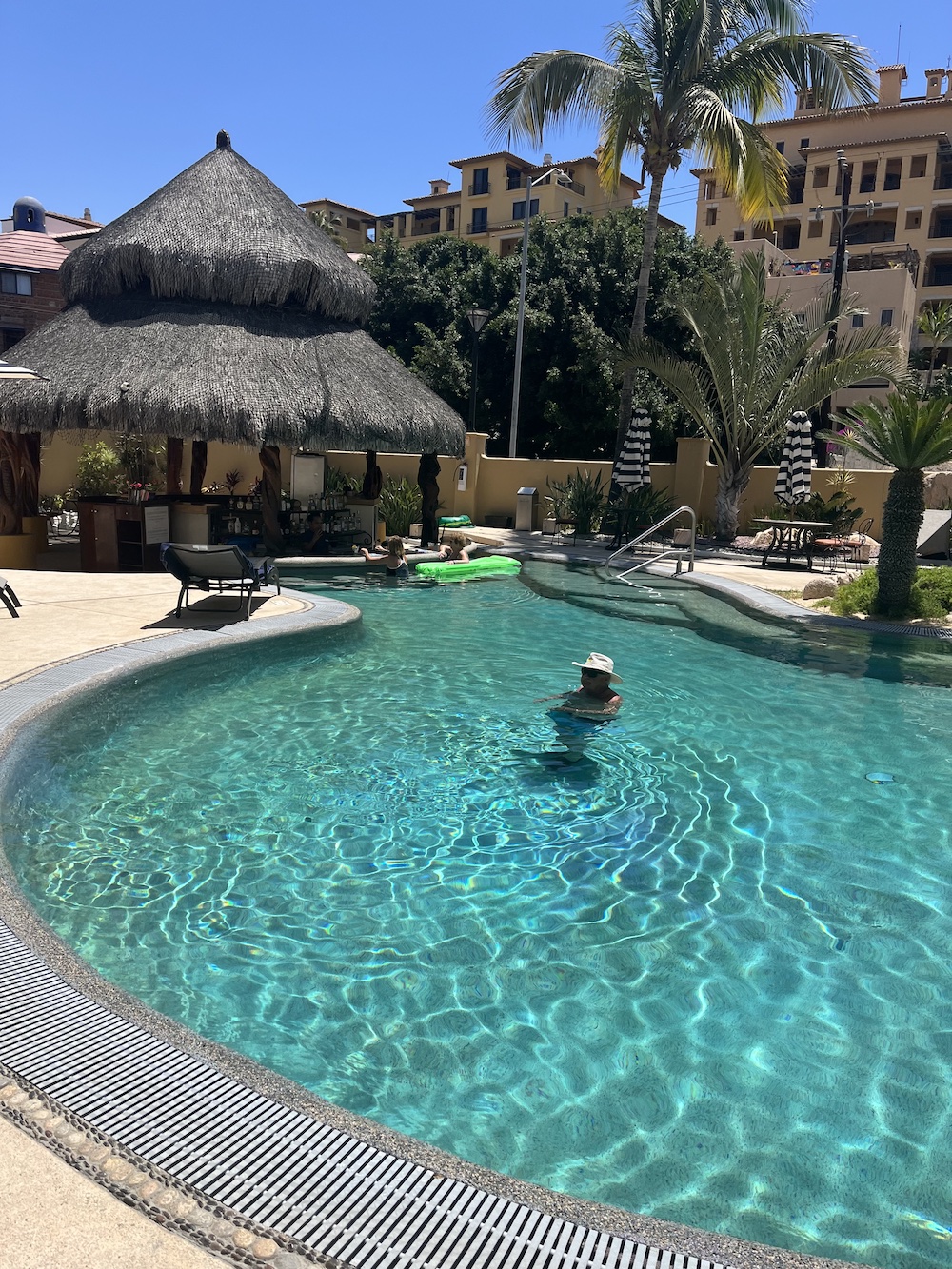 Susan Kime - Marina Fiesta
But then, came our second experience: we traveled a short distance to Marina Fiesta -- a different vibe entirely, lively, in contrast to the pastoral serenity of Hacienda Encantada. One contrasted the other, making each more special and arguably, more needful.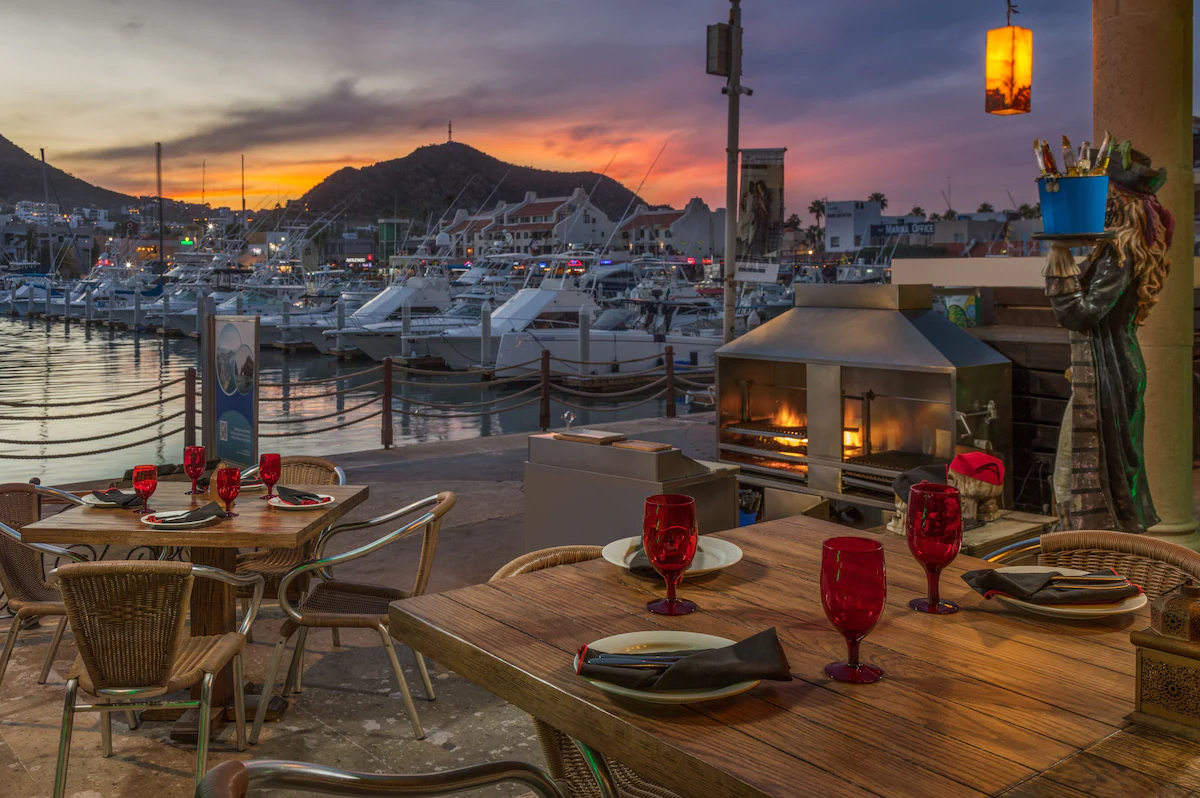 Mexico Grand Hotels - Marina Fiesta, dinner at the Marina 
Our travel experiences at Marina Fiesta seemed, in retrospect, like a kaleidoscope of colorful activity. We had a lunch cooking class, teaching us all how to make Ceviche from fresh snapper, along with other vegetables, we learned about Mocktails at the Cielo Sky Bar, the bar atop the Marina Fiesta, at sunset. We went on a yacht excursion, and saw Los Arcos up close, we had an exceptional facial and hydrotherapy experience at the Amura Spa, we ate dinner at Los Deseos, an exceptional restaurant close to Marina Fiesta, where the chef made Molcajete queso, a type of melted cheese with Tequila, combined in a Molcajete container. A Molcajete is the Mexican version of a mortar and pestle. The one used at Los Deseos was heavy, carved out of volcanic rock to maintain heat for hours.
The last morning, before out flight back to the United States, we sat outside, heard the soft ocean roar, and saw birds picking their breakfast in the damp earth. We thought of D.H. Lawrence, and a portion of his 1927 travel book, Mornings in Mexico. Things have not changed much.
"Still, it is morning, and it is Mexico. The sun shines. But then, during the winter, it always shines. It is pleasant to sit out of doors and write, just fresh enough and just warm enough.
There is a little smell of carnations because they are the nearest thing. And there is a resinous smell of Ocote (Pine) wood, and a smell of coffee, and a faint smell of leaves… Because when all is said and done, Mexico has a faint, physical scent of her own, as each human being has. And this is a curious, inexplicable scent, in which there are resin and perspiration and sunburned earth …. among other things."
And other things? To us, right now, it was the scent of tortillas, of something being grilled, mixed with the pungent jasmine vine near our suite. The scent combination was magic to Lawrence, and to us, even with different scents, it is magic now.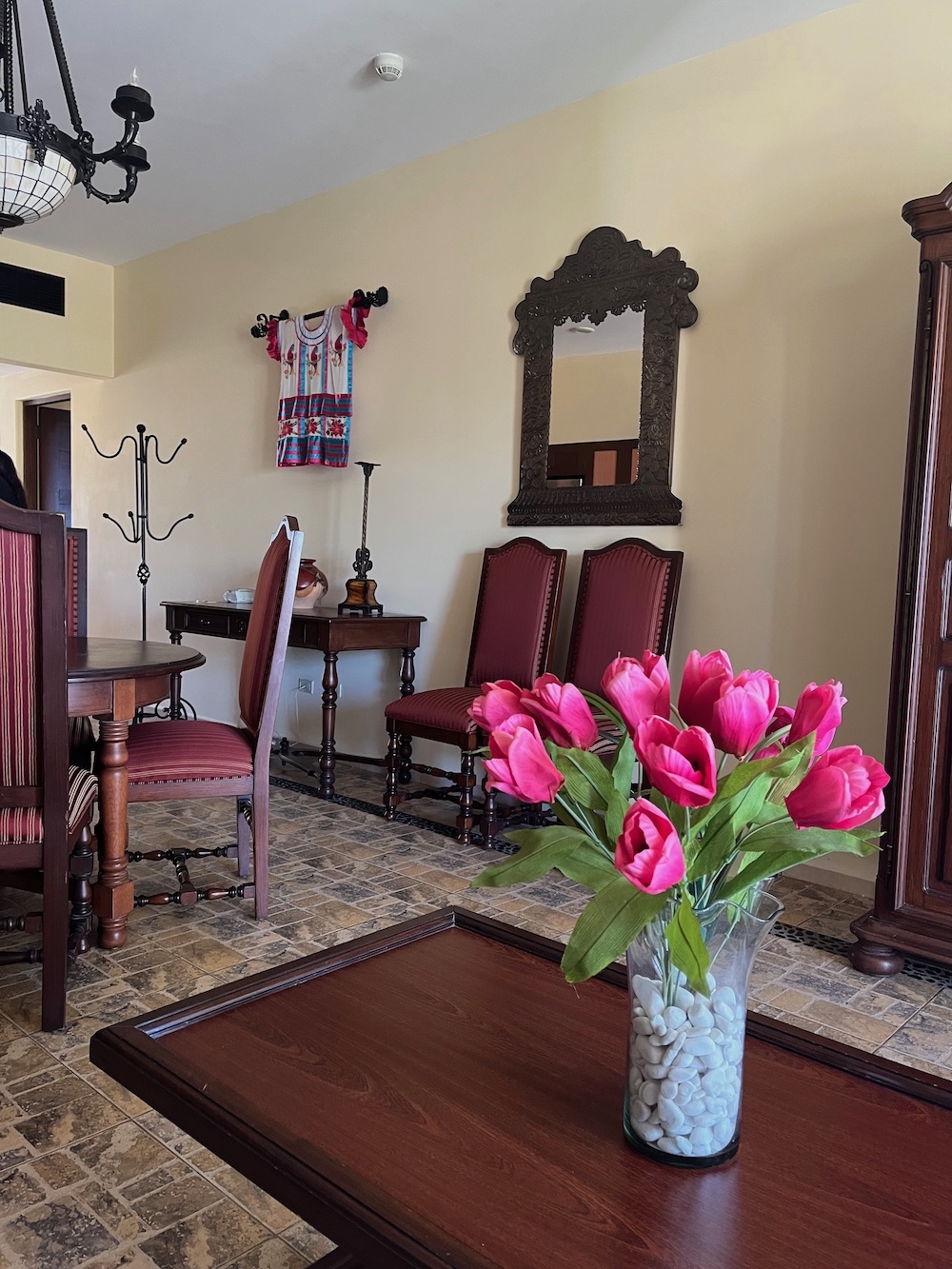 Susan Kime
Marina Fiesta Suite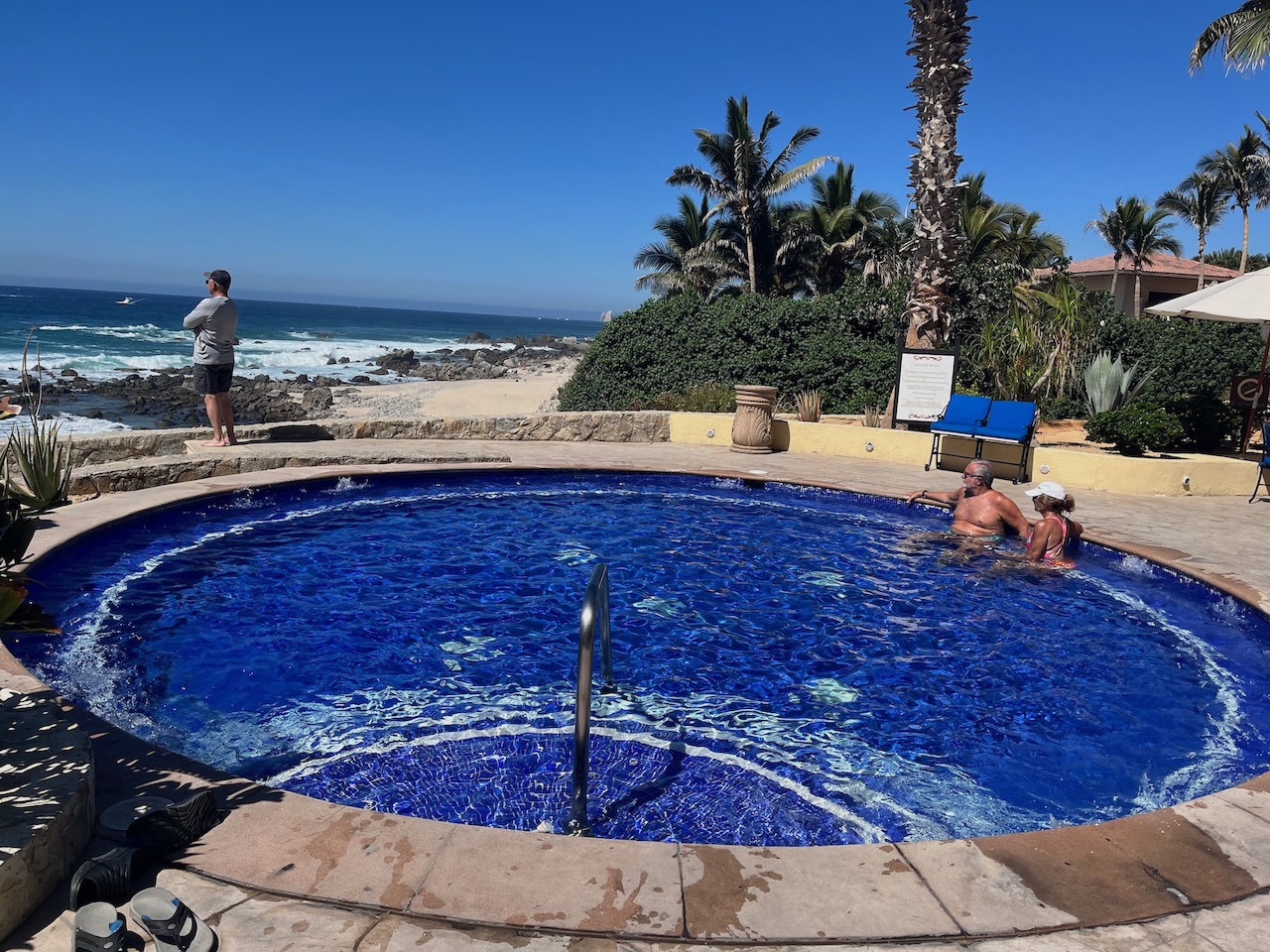 Susan Kime-Hacienda Encantada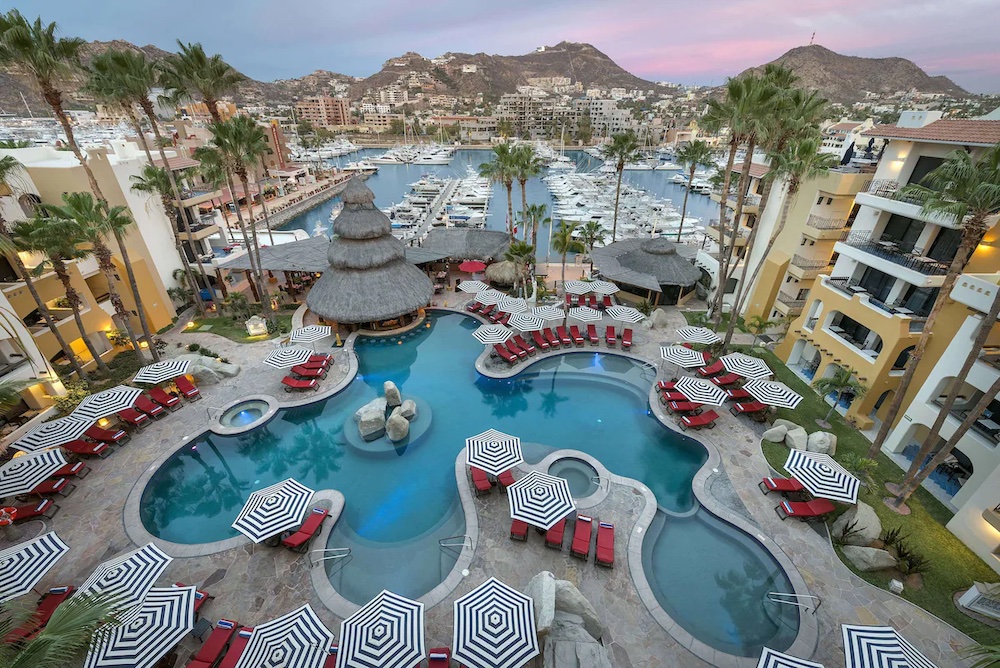 Mexico Grand Hotels
Overview Marina Fiesta property with Marina in background.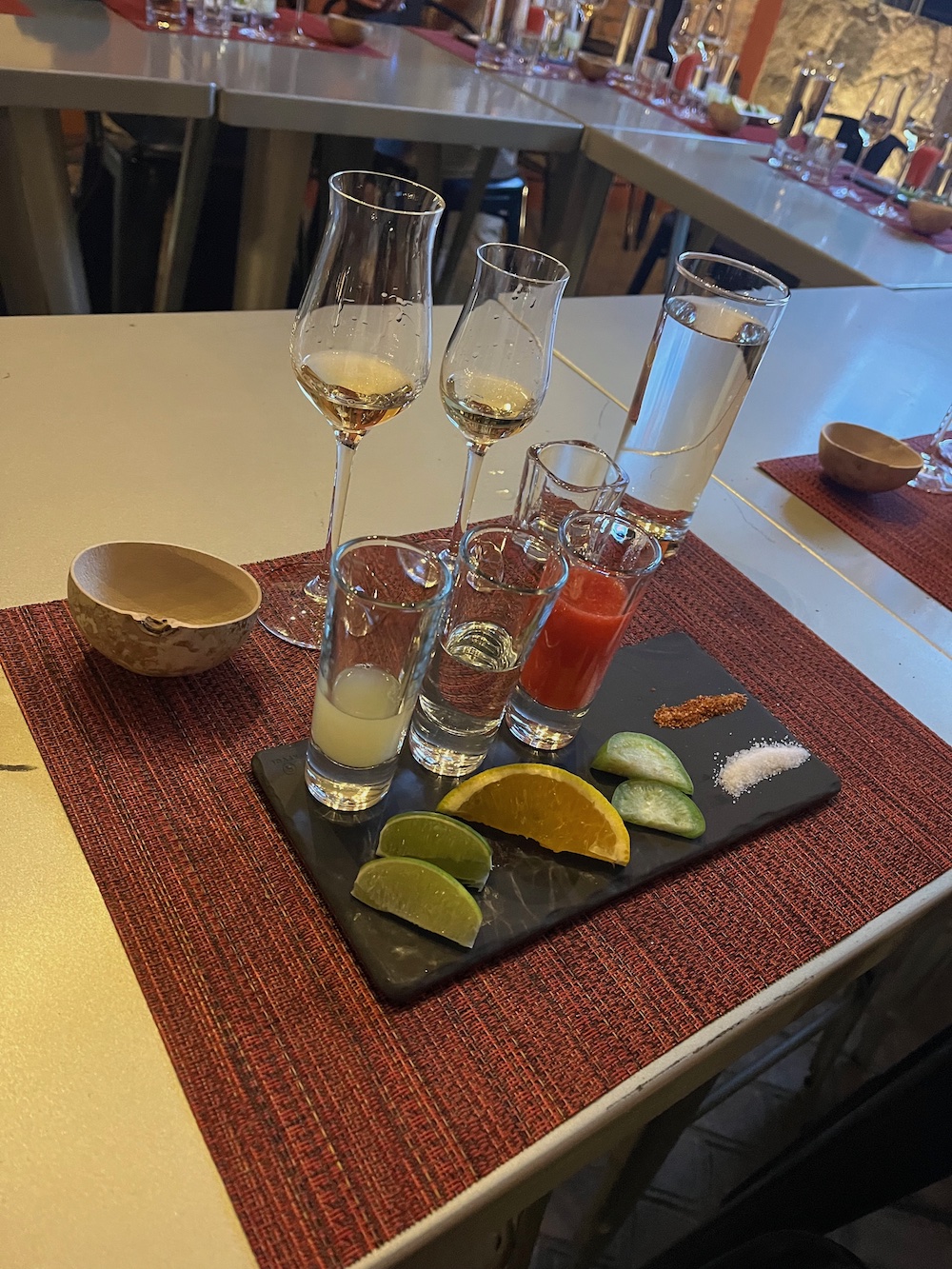 Susan Kime - Tequila Tasting,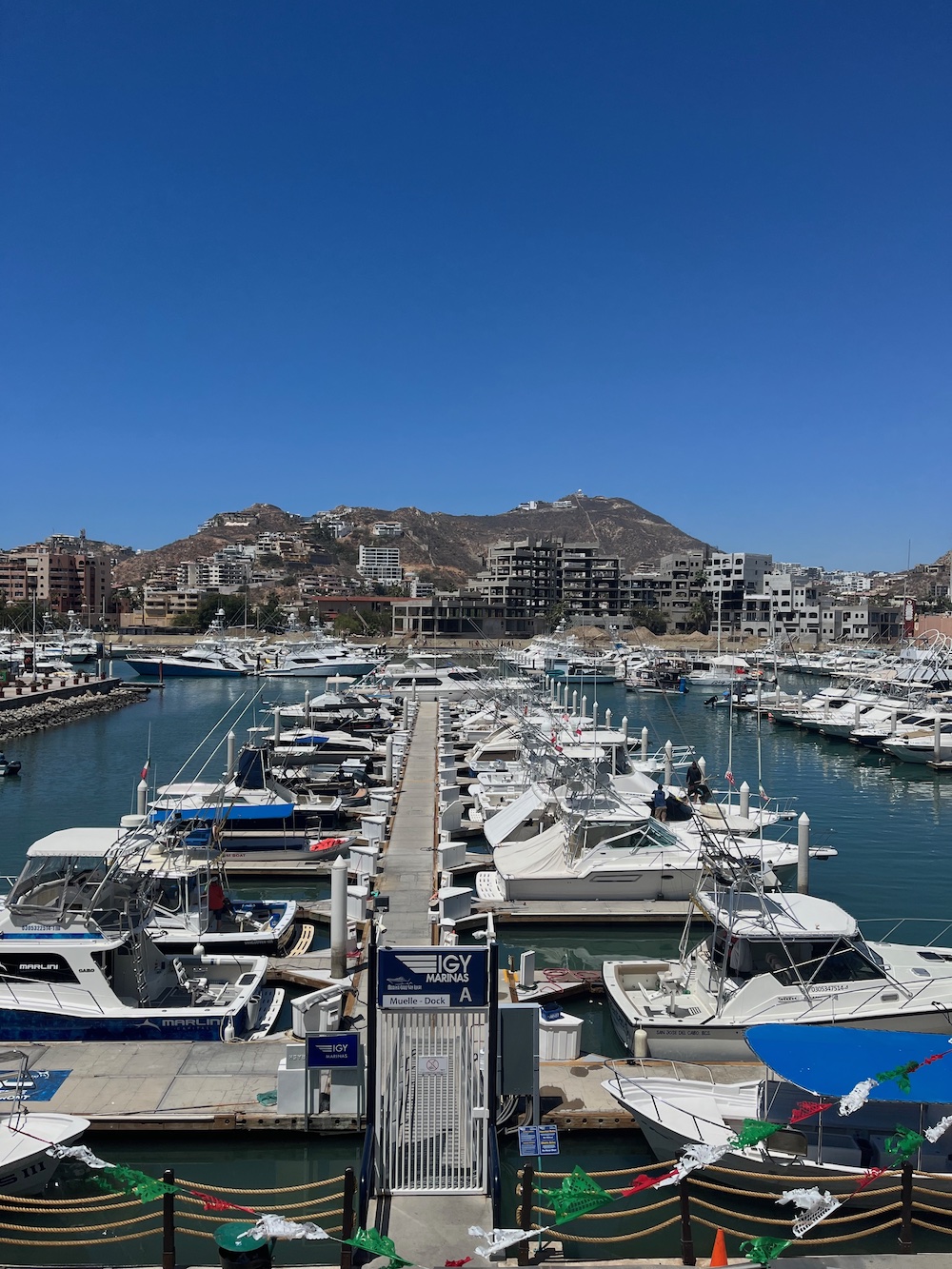 Susan Kime
Marina at Marina Fiesta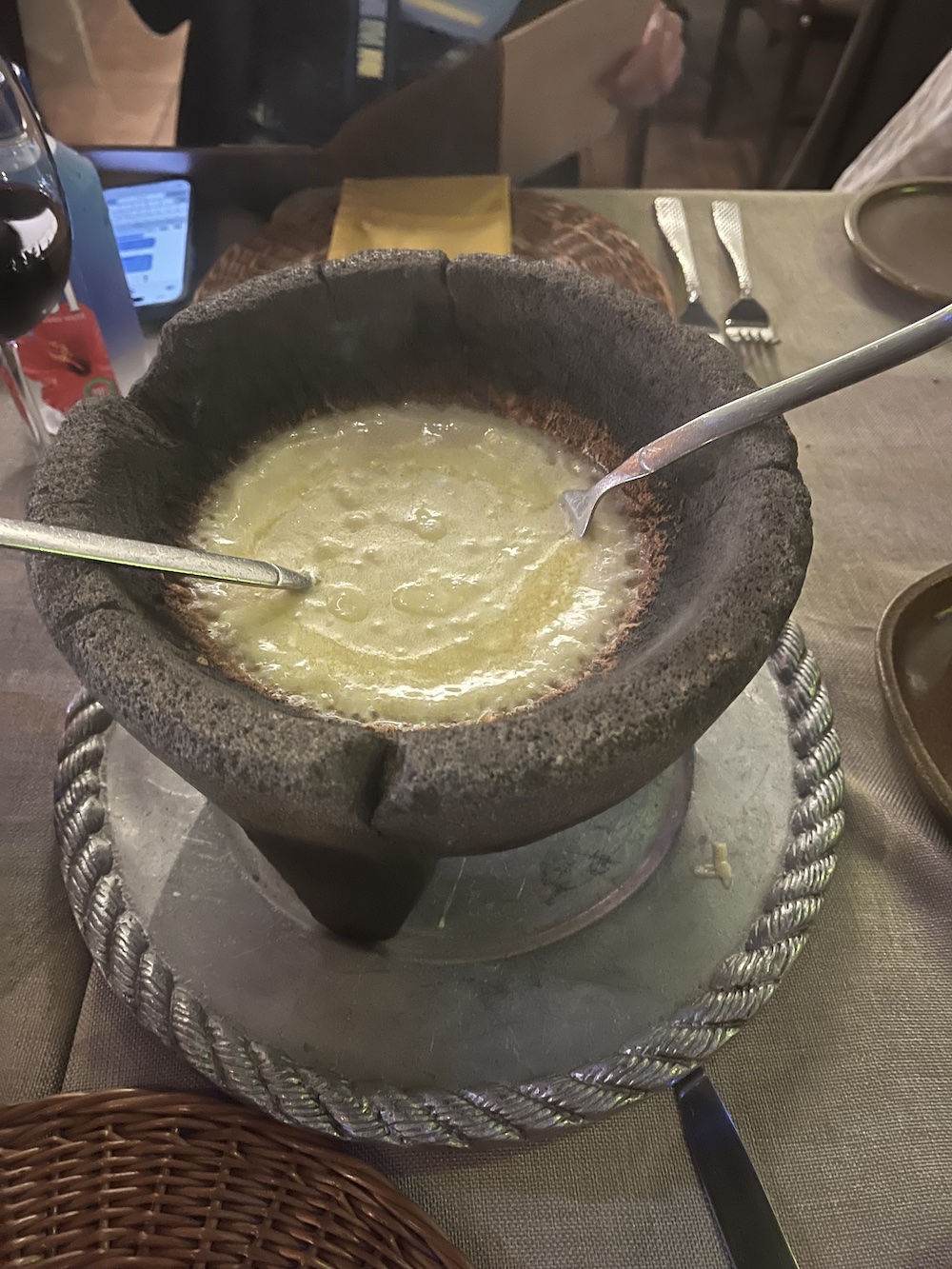 Susan Kime
The Molcajete, from Los Deseo restuarant, on the Golden Zone near Marina Fiesta