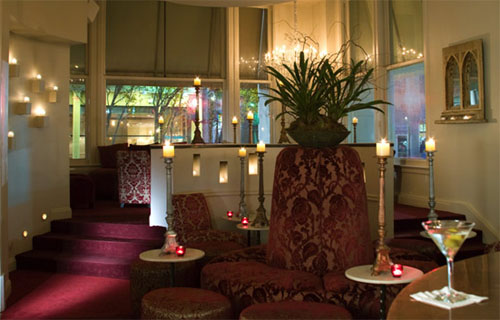 Hotels
Two blocks from the French Quarter in the Historic Central Business District in one of the world's most eclectic cities, is a hotel like no other. International House is about New Orleans today. It's about a tangible contemporary style and an intangible spiritual warmth weaving its way throughout. It's about the welcoming glow of amber light. It's about the lobby ever changing for summer and winter dress, and in observance of rich local customs and rituals.
Accommodations
Penthouses -Two expansive, richly designed skyline havens top the hotel with captivating views, terraces and interiors. Wide planks of reclaimed pine gleam underfoot, with handsome rugs by Spain's studio Nanimarquina. Floor to ceiling honed slabs of Calcutta Gold marble clad oversized bathrooms and showers, paying contemporary homage to generations of Italian influence on the city's heritage. Dornbracht platinum-nickel faucets pour an elegant cascade of water into 7 CUBE soaking tubs, over which hang expansive mirrors and Swarovski chandeliers. Two Aquos flat screens, Apple TV and iPod jam-boxes sit within easy reach.

Suites - Recently renovated by Los Angeles-based designer LM Pagano, designer of choice for Nicolas Cage and Johnny Depp, the two suites reflect Pagano's self-defined style: "... pristine but tattered grace, coupled with unexpected moments that radiate this city's unique sense of time and place". The two suites, like New Orleans itself, have an ecclesiastical element woven into the design.

Superior - These 15, including eight corner rooms, offer a distinctive experience. With 12' ceilings, abundant natural light and Pagano's soaring velvetine drapes, each room feels particularly spacious.

Deluxe -Remarkably pleasant, soothing spaces in which to relax, sleep and work, each guestroom at International House celebrates contemporary New Orleans style. Average size is 300 square feet, and each of the 117 rooms offers a spa-like bathroom, glass shower or oversized bathtub, Aveda bath amenities, abundant natural light, I-home, ceiling fan, two-line speakerphone, complimentary wireless service, original black and white photographs of today's local jazz greats and fresh Louisiana wildflowers.


Dining
Rambla, with its alluring French and Spanish menu, was inspired by the charming tapas bars that decorate the streets of the legendary eponymous corner of Barcelona, in the heart of Catalonia. An appropriately bohemian-contemporary backdrop sequesters several communal tables flanked by private gathering spots that provide a setting for a compelling mix of personalities, professions, pedigrees, and nationalities. What's most interesting about LaCour's new venture is that it's not quite a wine bar [no specific bar area] it's not quite a restaurant [seating just 90 and serving mostly small plates;] and despite its comfortable seating it is not quite a club. What is certain is that Rambla will set a new trend in casual dining for New Orleans with its extensive wine offerings, inventive cuisine, and conversational setting.


Fitness
At New Orleans' premier boutique hotel, design is imbued with local distinction, and the Fitness Center is no exception. As part of its 2007 renovation, the International House Fitness Center was revamped -- and enhanced by a translucent cast glass installation by renowned glass artist, Mitchell Gaudet, a New Orleans native. Eight 12' x 12' glass tiles cast at Gaudet's Studio Inferno are mounted on a stainless steel pulley system, the material and mechanics of which closely mirror the center's weight-lifting machines. Each tile is imprinted with the face of a student at the New Orleans Center for Creative Arts (NOCCA, the internationally prominent institute which has seeded the world's performance halls with such luminous entertainers as Wynton Marsalis and Harry Connick, Jr.,) expressing mild euphoria, a mood that in turn mirrors and motivates the psychological lift and the endorphin b