By Keri Bridgwater May. 29th, 2021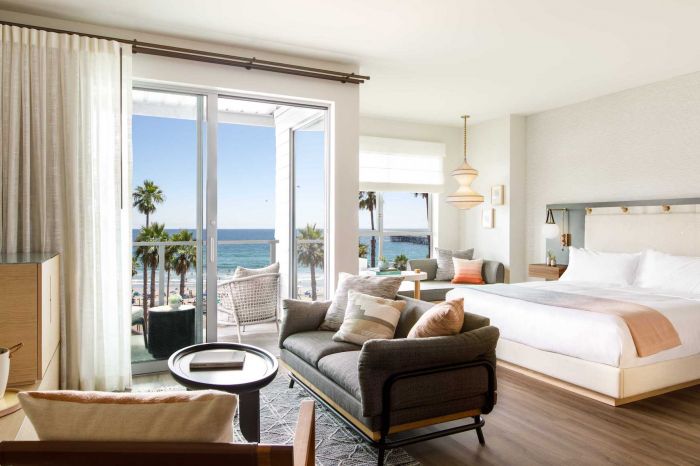 Mission Pacific Hotel, a JdV by Hyatt hotel
The coastal city of Oceanside officially welcomed not one but two Hyatt-owned hotel properties this week, located just steps from the historic pier. The largest beach development in San Diego County in fifty years, Mission Pacific Hotel and The Seabird Resort might have individual design aesthetics, but both stand as a stylish testament to a game-changing new era for "O'Side" with two rooftop pool decks, six dining venues, an art gallery, plus a spa and beauty lounge all serving as major draws.
Mission Pacific Hotel, a JdV by Hyatt hotel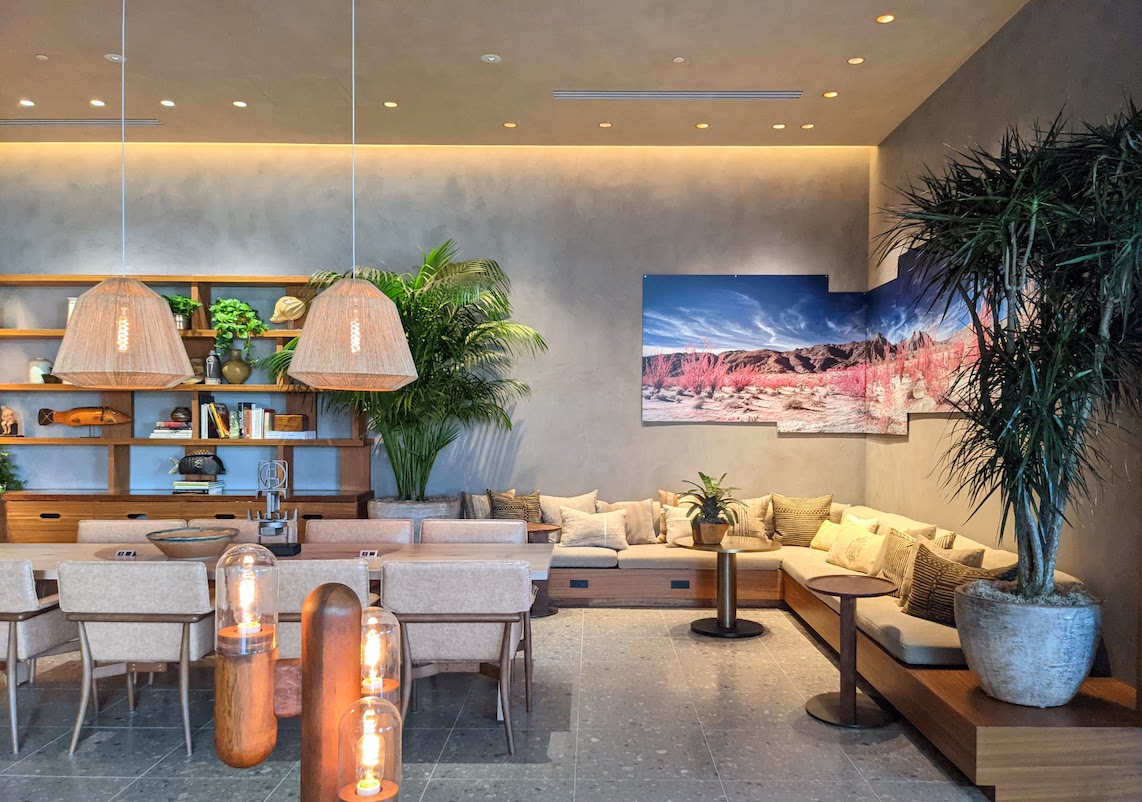 Keri Bridgwater/JustLuxe
There are no second chances when it comes to making first impressions, as the saying goes. Something Mission Pacific certainly doesn't have to spend any time worrying about. An irrefutably cool "California dreaming meets bohemian chic" aesthetic greets guests upon arrival in the lobby setting a tasteful design tone of what's to come. From natural wood elements and artfully arranged décor to a specially commissioned infrared mural of the Borrego Desert by fine art photographer and multi-media artist Adriene Hughes, everything is perfectly placed without feeling overdone.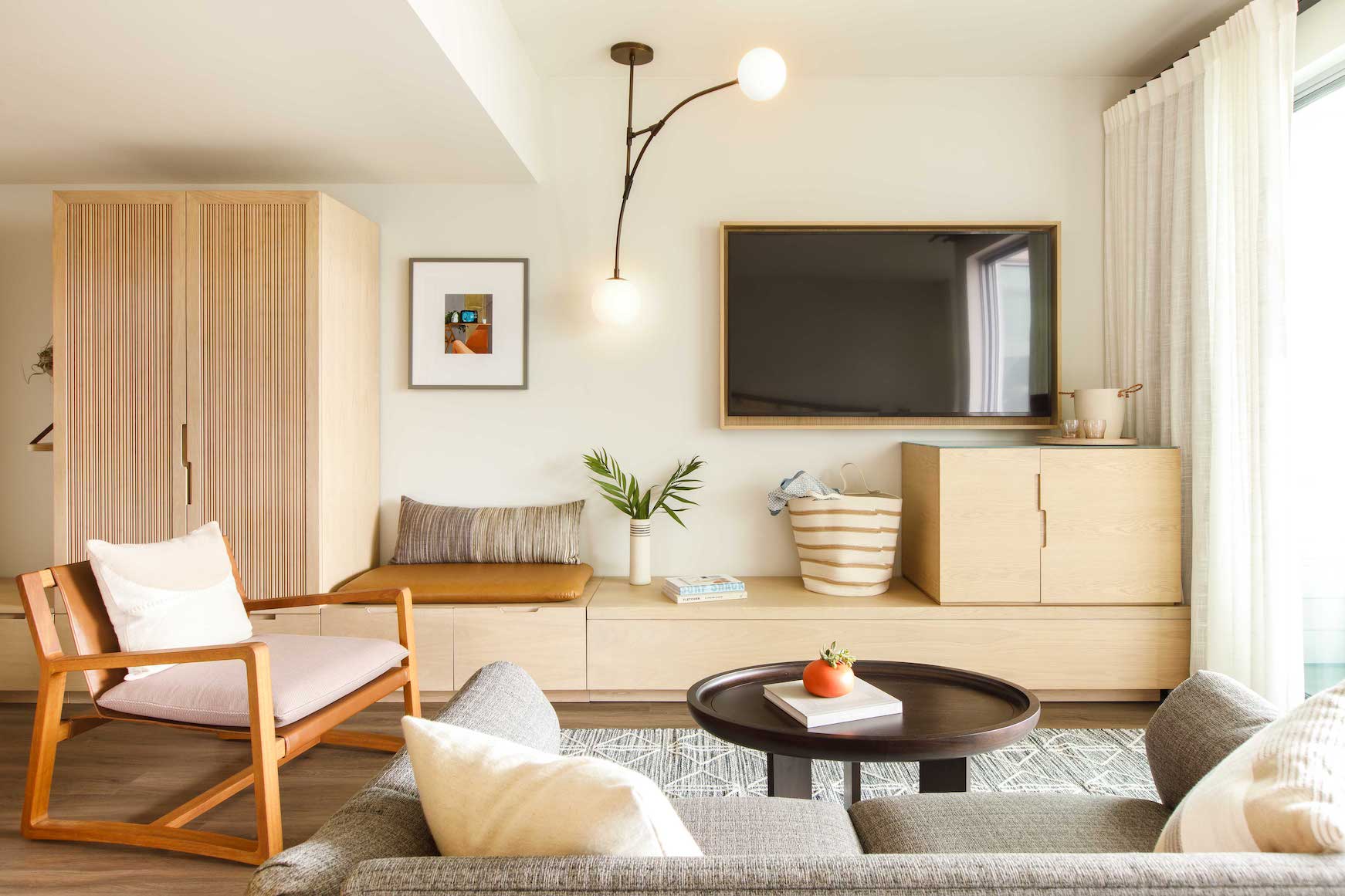 Touted as a beachfront sanctuary with a laid-back spirit, there are 161 guest rooms in total, including 38 suites, many of which have prime ocean views. Artworks curated by the Oceanside Museum of Art also feature in rooms and communal spaces throughout the hotel lending to an elegant, high-touch and authentically individual experience.
Guests will no doubt be vying for a spot beside the showstopping split-level Mission Pacific pool deck this summer, which features a jacuzzi with private cabanas and lounge seating along with plenty of social media-friendly views. The rather sleek poolside space is also home to The Rooftop at Mission Pacific for cocktails, craft beers, and a menu of Baja street food-style bites.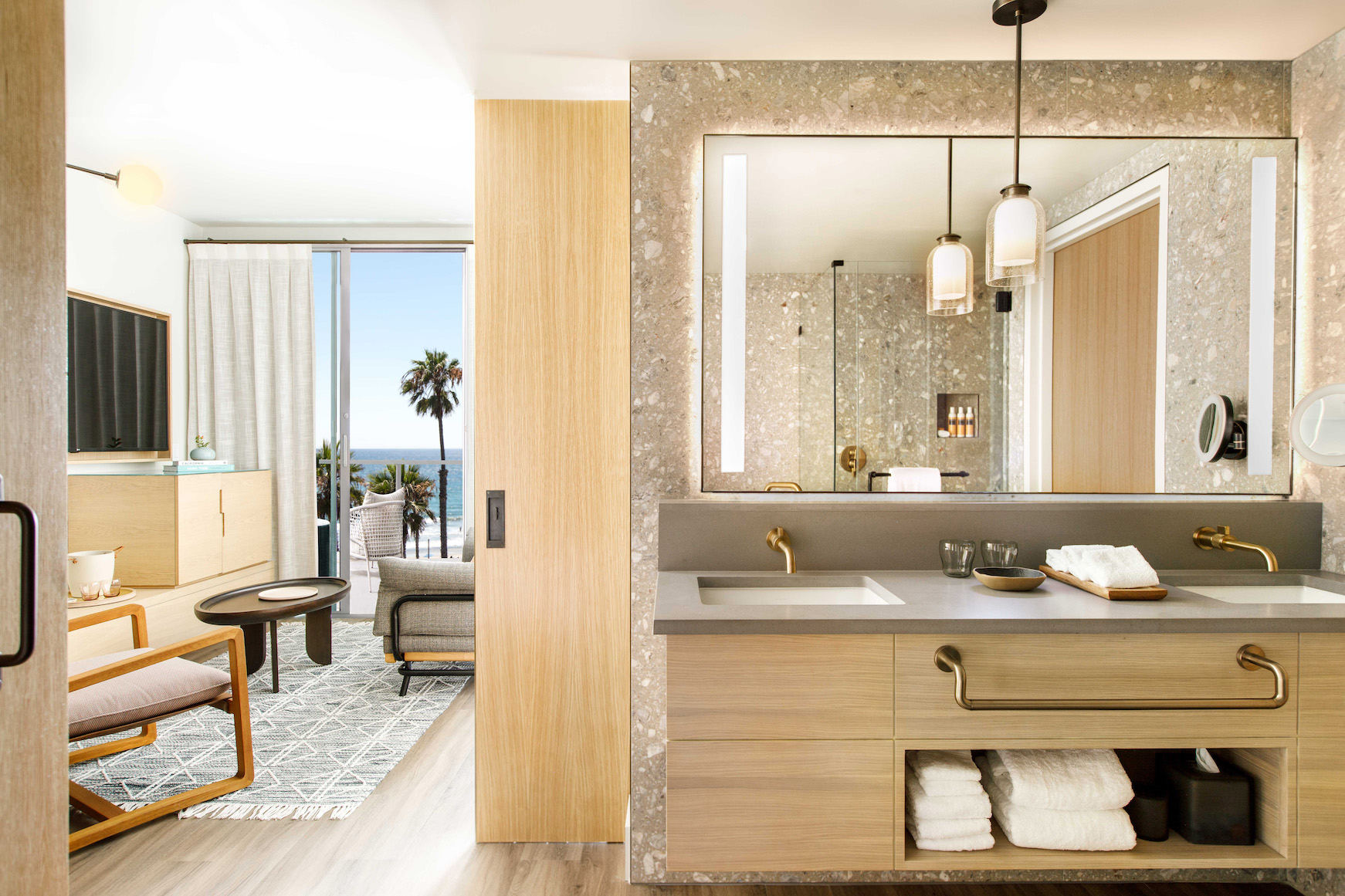 There are three additional food and beverage experiences, including signature restaurant, Valle, which is set to debut this summer and marks the first US concept from one of Baja's most celebrated chefs, Roberto Alcocer. Fans of the "Top Gun" house will be pleased to know that it's being reimagined as a high-end dessert shop named Charlie's, after Kelly McGillis's character in the movie, and is slated to open in late August. Built nearly 140 years ago, the historic Victorian-era beach cottage was moved in its entirety from its original location (now the site of Seabird Resort's oceanfront ballroom) to Mission Pacific for a $1 million restoration project.
An outdoor wedding venue that would make a memorable backdrop for any event, plus a 24-hour fitness center, library, and sizeable ocean-view function space round out some of the other notable amenities here.
The Seabird Resort, a Destination by Hyatt hotel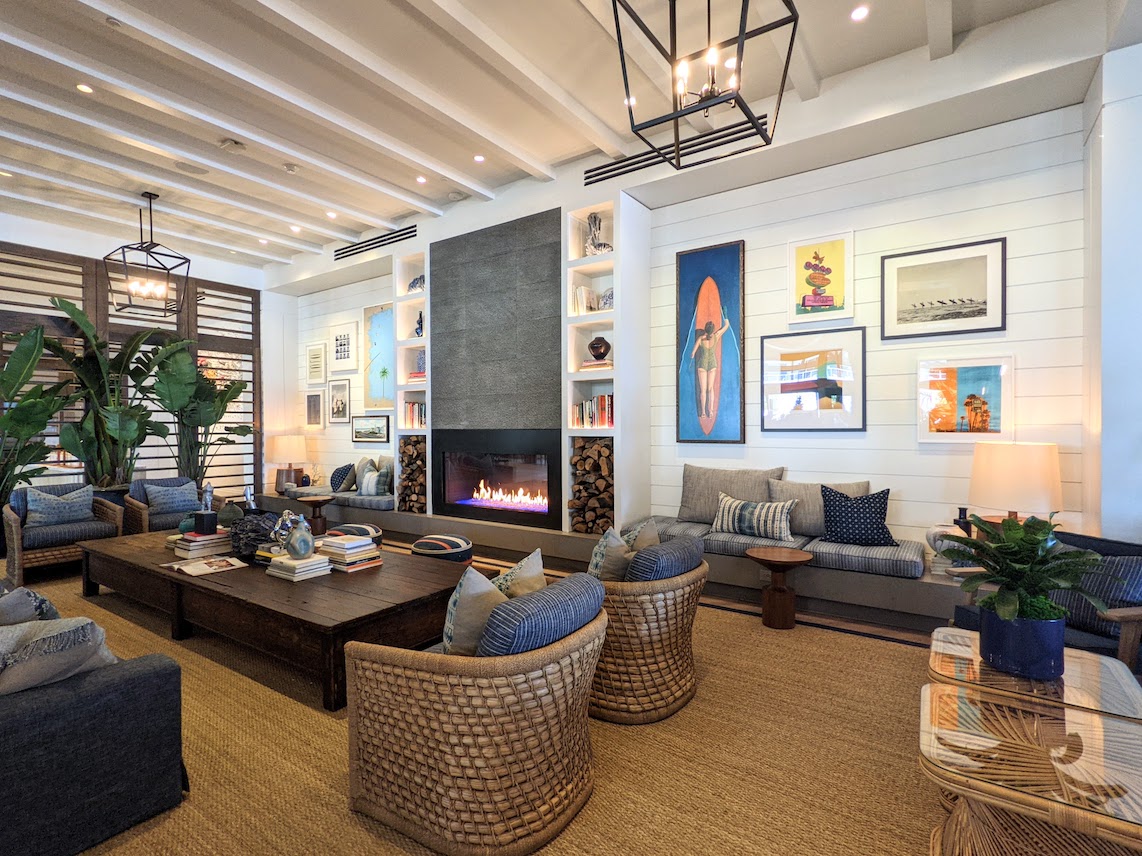 Keri Bridgwater/JustLuxe
Traditional and timeless, sister property The Seabird Resort has been likened to a grand coastal estate by the ocean. With a central fireplace and floor-to-ceiling windows, the lobby has a large family room feel with what could be described as California meets Cape Cod design cues. Geared more towards families, there are 226 rooms here, including 56 suites, with similar sophisticated touches when it comes to furnishings, although slightly more eclectic décor. Artwork is again curated by the Oceanside Museum of Art with a rotating collection on display in dedicated ground floor gallery space, OMA West, and serves as an extension of the Oceanside Museum of Art.
Enjoy farm-to-sea treatments at Sunny's Spa and Beauty Lounge on the third floor, which has eight treatment rooms and a relaxation area with prime views of the waves and local surfers expertly riding them. Guests can get their hair and nails done here too or hop in the co-ed steam and sauna.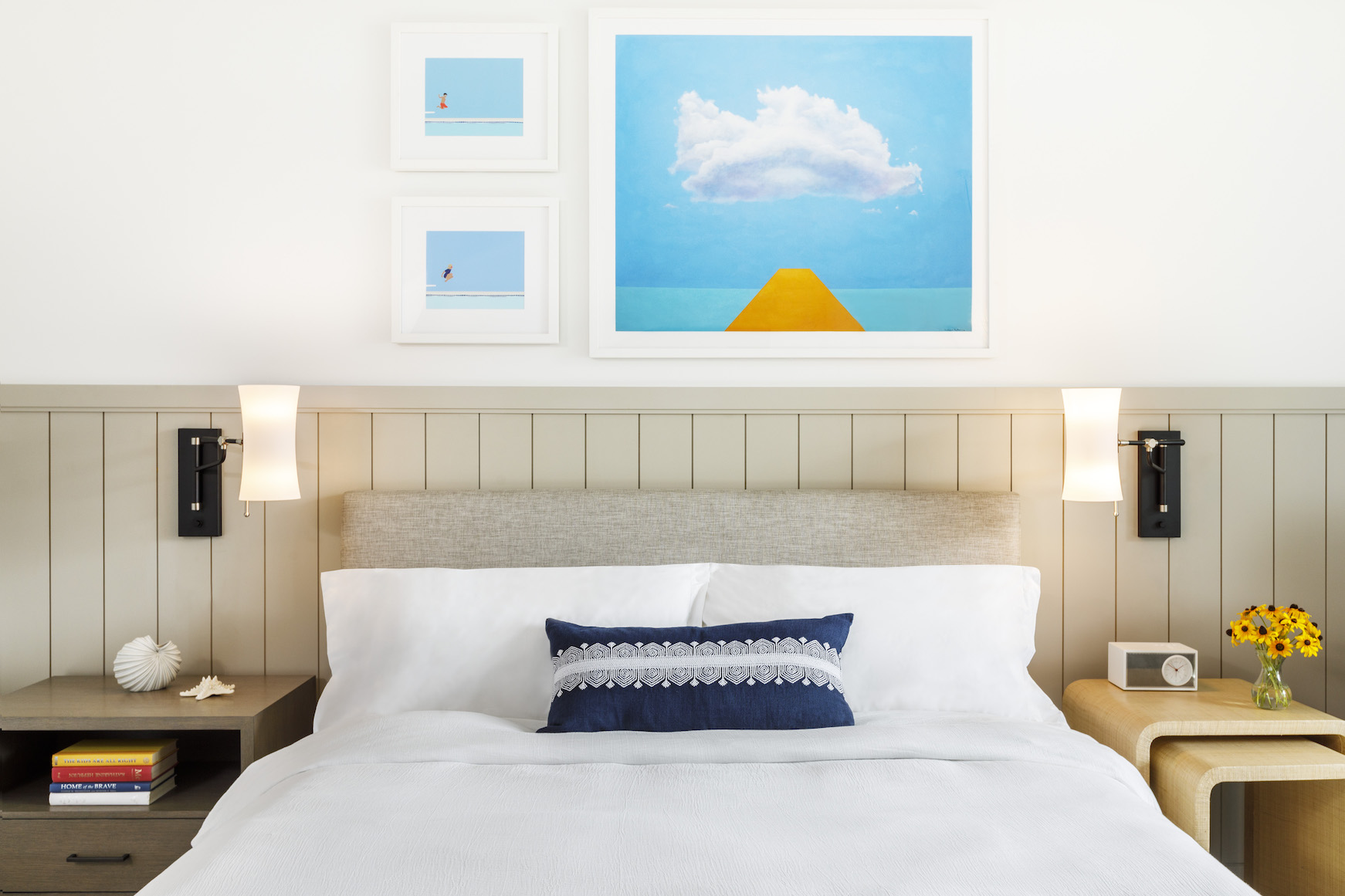 You'll find the rooftop pool on the third floor along with The Shelter Club, a beautifully decorated adjacent space for refreshing drinks and snacks when soaking up the sun poolside. However, another great spot for cocktails and bites is The Shore Room Bar and Lounge on the ground floor. Oceanside's first outdoor private dining room will serve as a showcase for dishes made by Chef Kurtis Habecker using ingredients sourced from small local farms.
The hotel also lends itself to weddings and formal events perfectly, thanks to an understated but chic ballroom that can seat up to 350, along with a smaller oceanfront room that will appeal for more intimate affairs. Named after longtime Oceanside Mayor Jim Wood, who was integral in getting both hotel projects off the ground, The Woods Library on the second floor is a quiet room for guests to kick back while flipping through a book or catching up on email. There are several glossy tomes to choose from, including the rather apropos Locals Only: California Skateboarding 1975-1978. Area Director of Sales & Marketing, Brandon Hendricks, says he also envisages the room being somewhere guests can relax while waiting to check-in (if arriving early) and as a civic meeting place for the local community.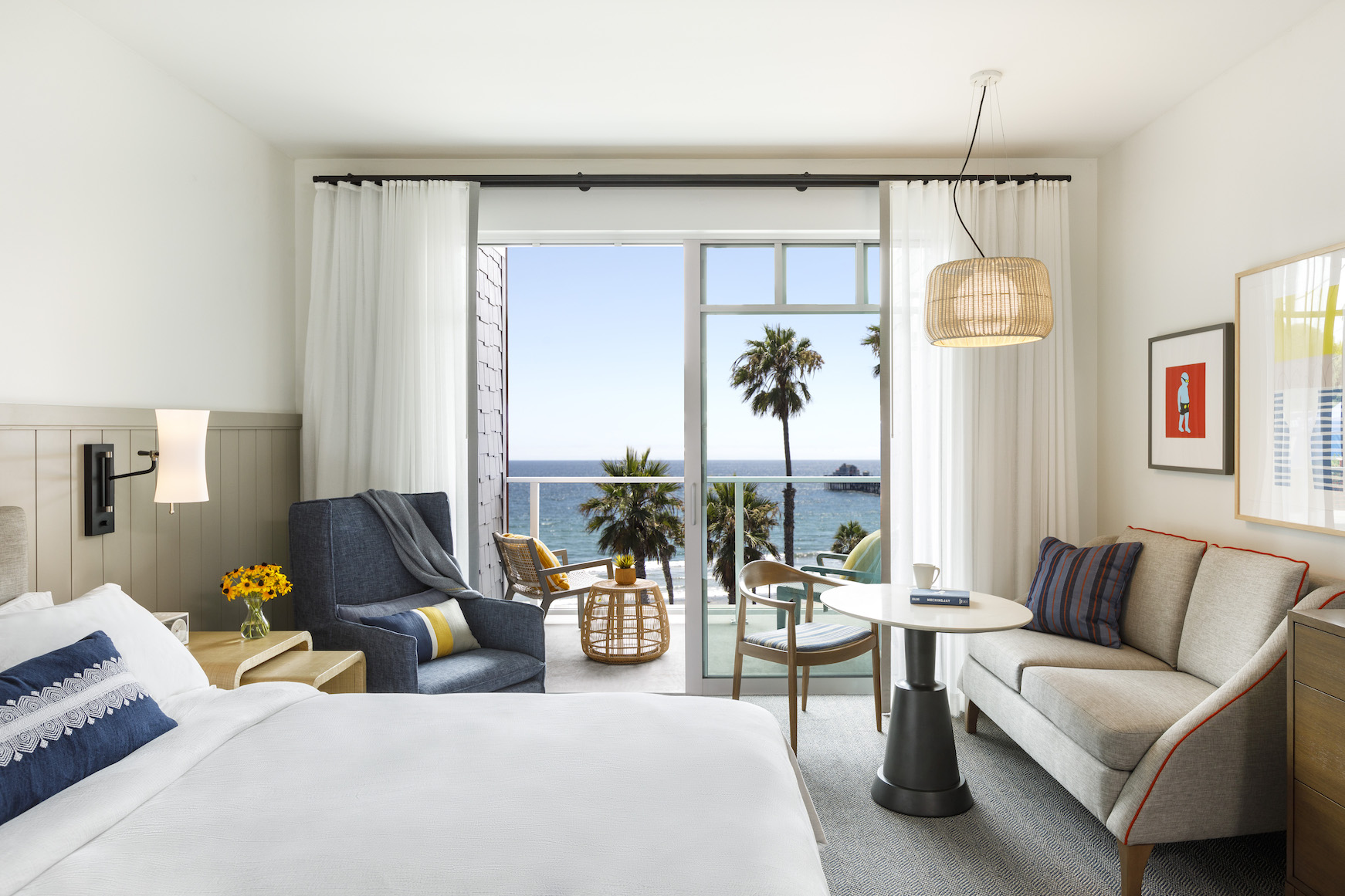 Experiential offerings are in the works, too, including a "Surfing by The Seabird" program that includes a private surf session with North County Surf Academy and the chance to surf alongside pro surfer and third-generation Oceanside resident Duran Barr. "Farm-to-Table Tours," immersing guests in the local agritourism scene with a paddock-to-plate experience, are launching later in 2021. With the staff at both Mission Pacific and The Seabird Resort consisting largely of local O'Siders, the properties look set to play a genuinely pivotal role in highlighting Oceanside's appeal as a quintessential Southern California travel destination to a new audience.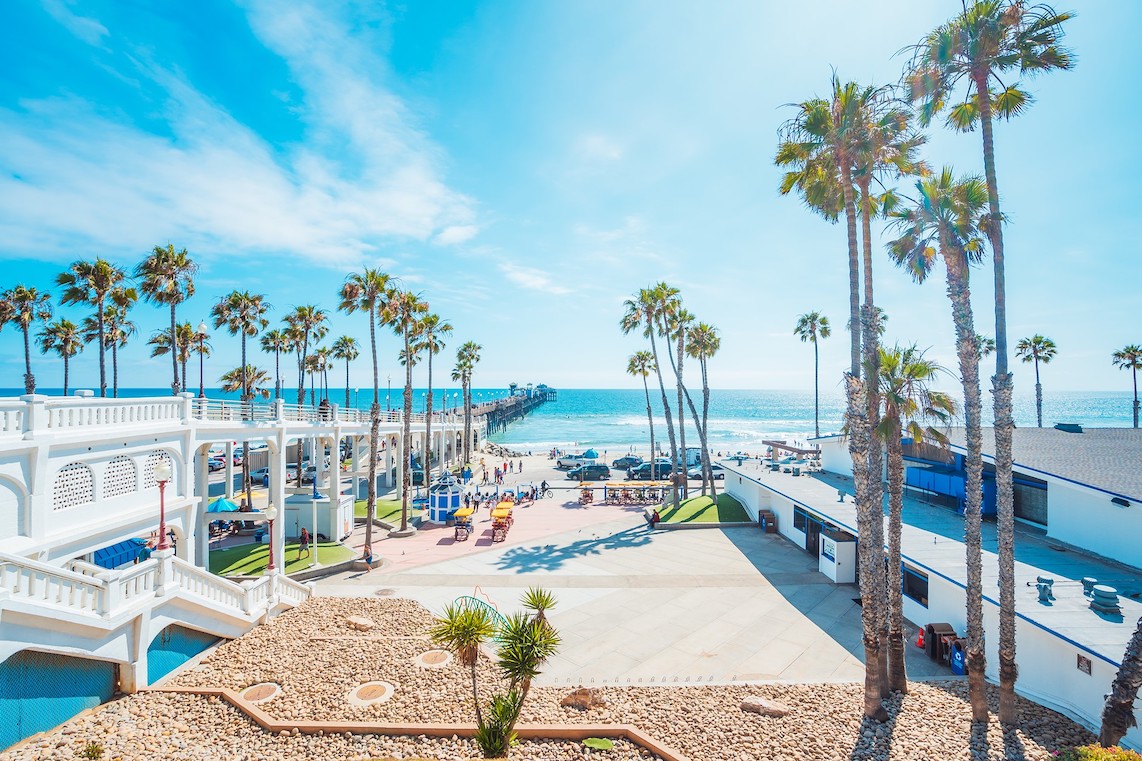 Visit Oceanside
All images Courtesy of Mission Pacific Hotel, a JdV by Hyatt hotel and The Seabird Resort, a Destination by Hyatt hotel unless otherwise noted.
Keri Bridgwater
A native Brit, Keri Bridgwater spent time in house at magazines and publishers in Malmö, Sweden, Auckland, New Zealand and Telluride, Colorado before moving to San Diego over a decade ago. She specializes in travel stories, destination guides, hotel news and reviews, in addition to profile interviews for various publications and websites. Her byline has featured in SFGATE, Fodor's, the London Eve...(Read More)