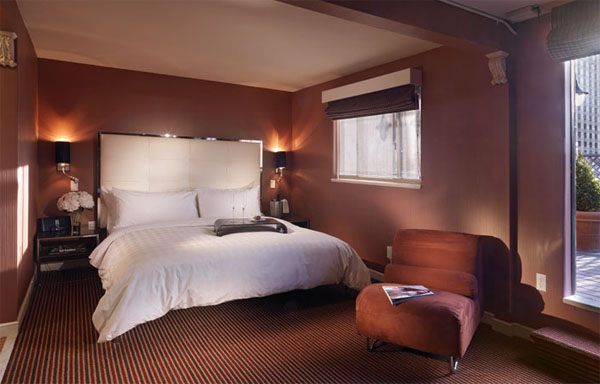 Hotels
Hotel Union Square has completed an extensive modern makeover & emerged as the freshest & most innovative boutique hotel in The City. Remaining faithful to our Art Deco history, guestrooms have been transformed into a new experience fusing contemporary & classic San Francisco - beautiful brick walls, mosaic murals, signature staircases, & opulent moldings are complemented by a warm color palate, sleek custom furnishings by SF based EQ3, & state-of-the-art technology that caters to both leisure & business travelers. Highlights include platform beds with custom-made cream tufted headboards & 600 thread count luxurious bedding, sleek dark wood desks, velvety chaise lounges, flat screens, custom lighting, drop panel ceilings, & expansive mirrors.
Hotel Union Square, San Francisco's first boutique hotel, is located on the historic cable car line, in the heart of the City's shopping district. Built in 1913 for the Pan American Exposition, the building holds a nostalgic and impressive history. Today, it has a spectacular new look designed by Colum McCartan of Carta Design Group. Awakened by a dynamic, bold and current interior, contemporary European furnishings are energized by colorful and theatrical fabrics. Modern influences from designers such as Charles Rennie Macintosh are enlivened by rich jewel toned textiles and dramatic original artwork showcasing a bygone San Francisco.
You really must visit my freshly reimagined, modern makeover by designer Riley Johndonnell. I've kept my historic qualities, but enhanced my loft-like rooms with striking graphic styling, and state-of-the-art technology, inspiring you to experience San Francisco in comfort and luxury. The striking guestrooms at Hotel Union Square are infused with the colors of San Francisco, featuring bursts of crimson, soothing shades of grey and earthy taupe. Designed to give the feel of a sophisticated urban apartment, rooms are custom furnished by EQ3 with platform beds and tufted leather headboards, sleek dark wood desks, velvety chaise lounges, and expansive capsule-shaped mirrors.