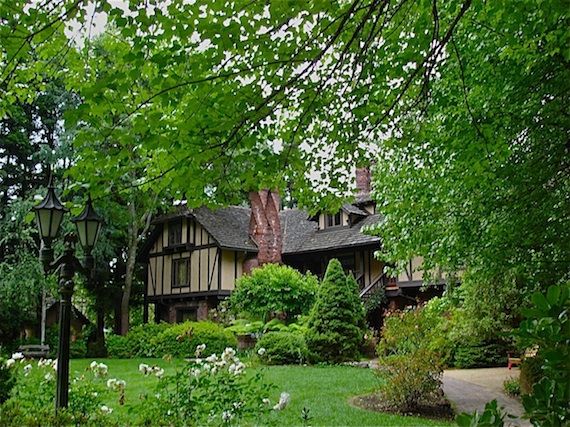 Photo Credit: Susan Kime
Unlike many hotels and resorts the traveler can see from the road, the Harvest Inn, in St. Helena,
Napa Valley
, is quite hidden. There is an entrance, but the grounds can't be seen from the road; so even some of the St. Helena natives know of the Harvest Inn, but have never actually experienced it.
One of the vintners I interviewed on a recent Napa trip said that when he and his wife were building their home, they stayed at the Harvest Inn for an extended period, and never wanted to leave. "It was so peaceful and beautiful, eight acres of gardens," he said. "There were even Redwoods on the property, near the hanging wisteria, and roses. A true sanctuary, a peaceful retreat."

I stayed at the Harvest Inn on the suggestion of a wine distributor - I had never heard of the Harvest Inn, but then again, it was my second time in Napa. And there was indeed something immediately restful about it. The eight acres of garden included multiple rose gardens, fountains, small brick foot bridges, white and purple wisteria, aromatic Madagascar jasmine, a Koi pond, rhododendrons, azaleas, and here and there, park benches and Adirondack chairs made of old wood, near forested areas where guests can just sit and ponder.


It was also close to a vineyard, so in the Vineyard Suites, I opened the patio door and looked out into acres of vineyards, with the Mayacama foothills in the background. There was a spa on property also and the guest could opt for a treatment outside near the Redwoods.

I walked the property with Debbie Greene, the General Manager, and commented on the sanctuary-like nature of this place - outside the intimate quality that often only lush wooded areas can bring, and inside in my suite, the leaded glass windows and the huge, ornate brick fireplace in my room.



"The owner did a lot of renovations," she said, "and each brickwork fireplace, as well as each suite is done differently. The suites are much larger than they have to be. Our complimentary breakfast is exceptional, and you can walk through our rose garden, and five minutes later be in downtown St. Helena. We even have Redwoods on the property. The quality of everything has to do with our owner and investor, Rick Swig."


Well, how true. I knew Rick's name and reputation, as he owns RSBA & Associates in San Francisco, a significant advisory group that consults with hotel management companies, individual hotels. He has spent years dealing with the visions and the operations of other hoteliers, and knows how to please guests. His career experience also is associated with Fairmont Hotels, where he was Vice President and Managing Director of the Fairmont Hotel Management Company for many years.

I recently interviewed Rick and asked him about the sense of sanctuary so easily discovered and remembered at the Harvest Inn.

JustLuxe: How did your involvement with The Harvest Inn come about? From the Fairmont in San Francisco to The Harvest Inn in Napa seems like a light year's leap.

Rick Swig: Well, the original owner had this idea of creating an English country lodge but it didn't really work well. It might have worked well in England, and had it not been in the middle of wine country, so I bought the property and wanted to see what could be done. We did a lot of renovation and did a lot of landscape work. We wanted to provide our visitors with great hospitality enclosed in an intimate garden sanctuary experience, and I think we are doing that.

JL: There is deep green beauty almost everywhere you look and I would imagine this may be a good place for small conferences. You would not feel so closed in, like you do in other hotels. Is this a part of the Harvest Inn business?


RS: It is and the acres of greenery help conference attendees focus on the ideas and subjects. There is something else also, the easy access to many of our amenities. It is a close walk to the pools and spa, as well as to the Harvest Kitchen and the Wine Bar. Everything is in easy walking proximity, which is a great help for many people these days.



JL: How do you see your own hospitality values emerging within this resort's context?

RS: I have tried to make my values for hospitality mirror our customer's values and expectations. I want essentially for them to experience the comfort, serenity, and grace of their own lives, but better here, as it is a home away. We want the elite agrarian, authentic Napa Valley life to be reflected in all elements that make up the Harvest Inn, so our visitors will leave refreshed, ready to face the world, but knowing they can always return to our green sanctuary.