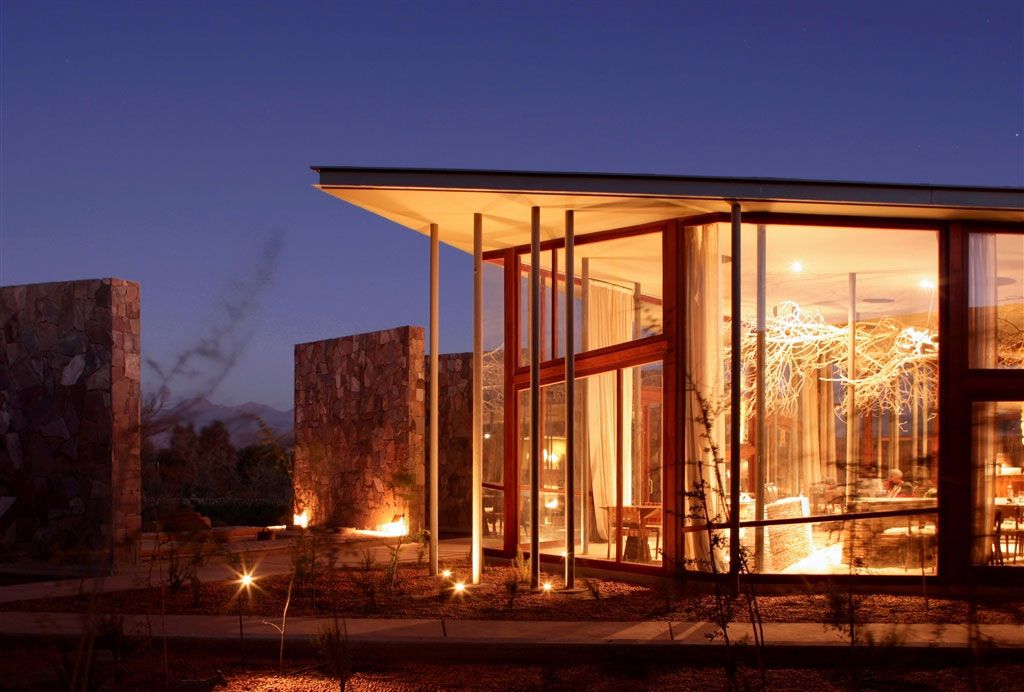 Photos Credit: Tierra Hotels
Forming a network of lodges in some of Chile's most remote landscapes, Tierra Hotels offers travelers the chance to visit the country's (and the world's) most pristine, dramatic settings without sacrificing luxury. These are three of the brand's hotels that offer a mix of desert adventures, beachside lounging and Patagonian relaxation:
Desert Destination
The Atacama in Chile's north is the driest place on the planet, and one of one of the world's most forbidding deserts. But adventure-seekers come here to sand board down towering dunes, climb some of the Andes' highest peaks, spot wild flocks of flamingos in the lithium-rich lagoons, visit hot springs hidden in deep crevasses and witness the unpredictable beauty of high-altitude geysers.
After all that adventure (the hotel offers its guests about two dozen different excursions), it's nice to know you can come back to the deluxe Tierra Atacama Hotel & Spa just outside the main town of San Pedro de Atacama for some rest and relaxation. The hotel itself is an eye-catching structure of adobe and stone designed by architect Teresa Moller in a style meant to evoke local Atacameño architecture.
The hotel's 32 rooms are likewise spare but inviting. They feature solid wood canopy beds, stone walls and fabulous views of the triangular peak of the Licancabur Volcano both through the sliding glass doors and from the outdoor decks with lounge chairs. Guests can unwind at the indoor or outdoor pools, or schedule a treatment at the Uma Spa here, where the Tierra Ritual includes a full-body exfoliation performed with either Atacama Desert salts or a local white-clay followed by a moisturizing body mask.
Island Getaway
In the middle of the country, about a 90-minute flight from Santiago, is the Chiloé archipelago, a series of islands renowned for the preservation of local culture and handicrafts such as weaving and dyeing. It is also known for its plethora of colorful centuries-old churches that dot the islands thanks to Spanish missionaries who proselytized throughout the region. The archipelago is home to a rich ecosystem of wildlife including hundreds of species of fish, birds and local flora, not to mention the blue whales that migrate here at certain times of year.
On the main island of Chiloé, about a 30-minute drive from both the small airport and the main town of Castro is Tierra Chiloé, the brand's smallest lodge, with just 12 rooms. Perched at the top of a hill, it is shaped like a beached wooden boat, and boasts commanding views of the nearby waterways and islands. Rooms feel contemporary but cozy, with blond wood paneling, white linens and small drafting desks, but splashes of color in the form of hand-dyed wool blankets and throw pillows. Once you settle into one of the armchairs fronting the window that overlooks the wildflower-filled meadow and azure waters, you might not want to get up again.
But that would be a mistake, because there are a myriad of excursion opportunities available including horseback riding and kayaking. The signature one, however, has to be venturing out for the day on the hotel's private wooden ship: The Williche. On it, guests can visit some of the more remote islands in the chain such as Chelin, with its impressive church and mausoleum-filled cemetery. From there, you'll kayak past seals and porpoises to another island called Quehui for a shipboard lunch of salmon quiche and Chilean Sauvignon Blanc before a hike through the hilly farms and tiny villages on land. Among the other not-to-miss excursions is a day-trip to Castro to see its colorful palafitos (traditional stilt houses), and its daily market where you can enjoy freshly-cured ceviche prepared from local fishermen's catch of the day.
Don't fill up though, because back at the lodge, guests gather in the informal parlor area, or outside on a deck around the fireplace over cocktails and canapés before three-course dinners. Menu items may include cauliflower soup drizzled with chili oil, and grilled octopus served with three kinds of potato and a tangy chimichurri.
Pristine Patagonia
Finally, in the south, just on the edge of Chile's Torres del Paine national park, lies the brand's third property Tierra Patagonia. The 40-room resort sits on the shore of Lake Sarmiento and offers picture-perfect views of the famous Paine Massif and its jagged peaks. The hotel's dramatic, nest-like façade and Alpine open floor plan were conceived by Chilean architects Cazu Zegers, Roberto Benavente and Rodrigo Ferrer. The entire structure's curvaceous shape resembles a wind-worn fossil washed up on the lakeshore…in a cool way.
Guests enter the lodge through a long, low corridor with the reception area and a small boutique selling local handicrafts as well as outdoor gear that comes out into the great room of the lodge itself. The two-story-high space has a wall of all windows for uninterrupted views of the lake and the Paine Massif. There is a chalet-style open fireplace, around which guests can enjoy drinks like calafate pisco sours or Magallanes beers. Past the adjacent bar is the main dining room, where all three meals (all of which are included in rates) are served. Menus are generally three courses, and include a few choices such as local venison with roasted pears and polenta, or soy-sesame salmon with cassava and potatoes.
Tucked away in one corner is the activities planning area, where guests can peruse books and wildlife guides along with staff suggestions for plotting out your adventures for the stay. Guestrooms are located on two corridors and boast design elements that incorporate natural Patagonian textiles and woods aiming to bring the outside environment indoors. It creates a sense of continuity with the park.
At the far end of the building, there is a small swimming pool and a spa with specialty treatments such as the Uma facial performed with L'Occitaine or Casmara products and a soothing, honey mask to help moisturize after a day out in the elements. Speaking of which, you also have your choice of activities, from full-day hikes to the Massif, boating to nearby glaciers and horseback riding. There are also a variety of walks and hikes available where you can spot the Andean condors nesting and soaring overhead. Before you know it, it'll be time for your next meal back at the lodge as well.