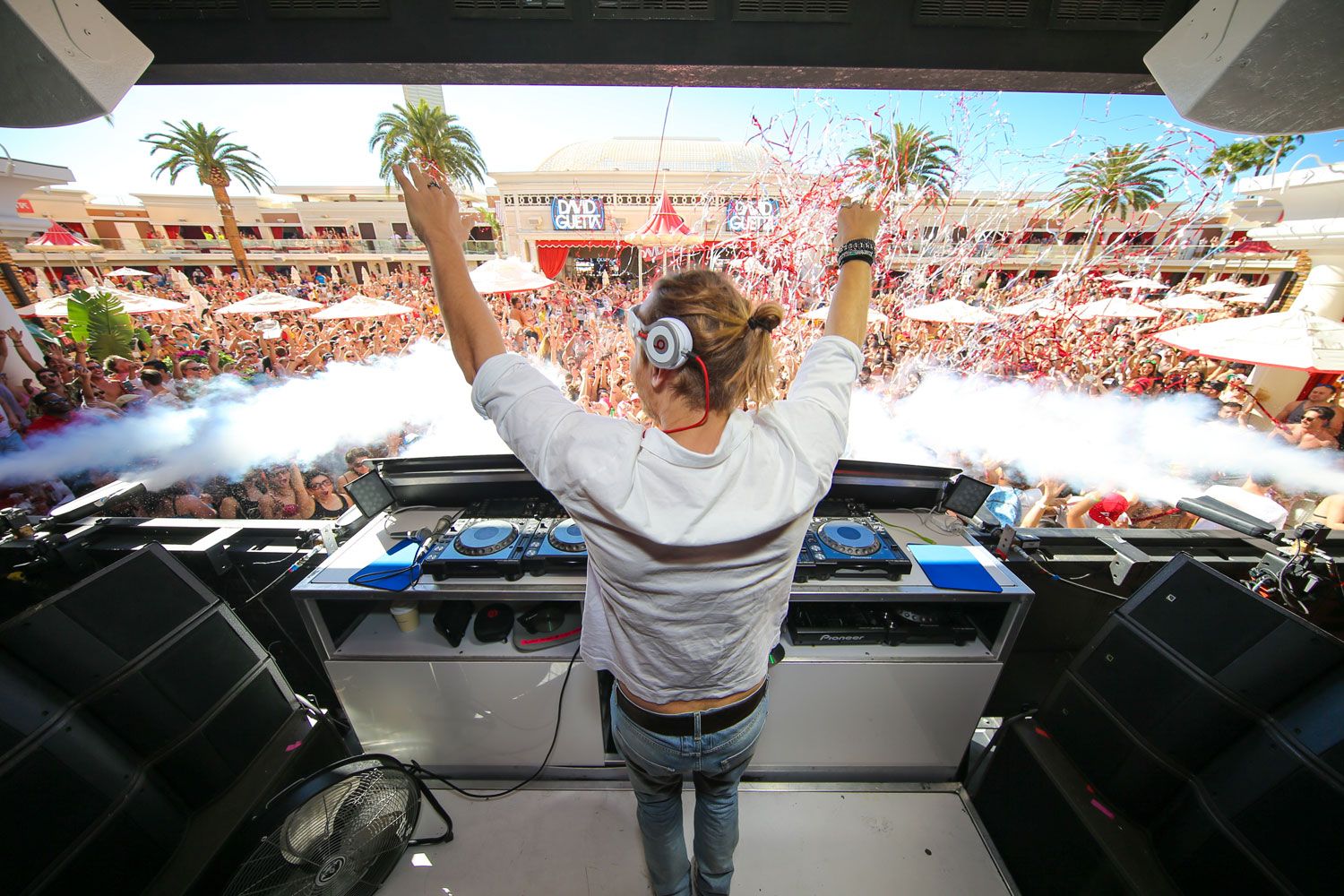 Photos Credit: Encore Beach Club
Ten years ago, Las Vegas pool parties paled in comparison to what they've become today. Sin City was a place for gambling, nightlife and shows, but wasn't up to par with dayclub destinations such as Ibiza or Miami. But that was then, and this is now.
Hotels have poured millions of dollars into creating the very best pool parties that guests now base their trips around. One of the city's biggest and most well-known, Encore Beach Club (EBC), can reportedly make up to (and most likely over) a million in just one day. In June of 2015, managing partner of Surrender Nightclub, Encore Beach Club and Andrea's Sean Christie told the Las Vegas Sun, "Encore Beach Club isn't going anywhere. We've had the best month ever in terms of gross and profitability. The scale of the business is so big. We don't usually talk about money, but we've had $1 million in revenue on Saturdays."
According to the SEC's Filings Report, Wynn Las Vegas brought in a net revenue of $1.6 billion from January 1, 2015 to December 31, 2015. If we take a closer look, entertainment and F&B made up a combined revenue of over $753 million, a little under half of its yearly earnings. As Christie shared, Vegas' hotels are incredibly hush-hush about financials, so that figure can't be contributed to just its pool parties. But we're guessing they account for a decent portion of the money, especially since they often encourage guests to return in the evenings for the resort's nightclub offerings.
In an effort to better understand this revenue-generating scene, its day-to-day procedures and what it takes to successfully run one, I spoke with Ryan Jones, Director of Operations for Encore Beach Club and Surrender Nightclub. The massive 60,000-square-foot space, surrounded by levels of private bungalows, two dozen cabanas, oversized lily pads and palm trees, has only been around since 2010. In the same year it opened, pool party producer Marc Jay told ABC that, "hotels have sunk millions and millions of dollars into these pools, and when you look—one that just opened, the Encore Beach Club, I think they spent $75 million on that pool—it's just incredible." "Nobody invests $40, $50, $60, $70 million in a pool just to get small returns," Jay continued.
Clearly, Wynn Resorts knew the kind of money-making capabilities these dayclubs would offer. And, with just six years under its belt, it's grown to become an industry standard on the scene.
With room for around 3,000 people, it's no easy feat to successfully run the massive shindig while ensuring safety and five-star quality. "On any given day, you're looking at around 200 employees but we also have street teams, and the marketing department sets up the venue and gets everything going," said Jones. "For operational purposes we have the host team up front, we have every well in the bar filled regardless of the day, 50 cocktail servers, 50 server assistants and enough bartenders. Obviously it's a hospitality company so it's something that we don't take lightly, and we want to make sure that we have plenty of staff on board … to give the service standards that we expect."
But filling the venue starts long before the day begins. Jones credits the marketing department as the driving force behind ticket sales and getting guests excited about the dayclub. "We can have the best operational staff, the best cocktail servers, the best bartenders, the best everything…but if the club isn't marketed properly and all that it takes to set up the day, you're never going to be successful," remarked Jones. "Since they're not on the front lines and not the ones in the pictures in the magazines, they're behind the scenes, but they're the ones that drive the business through the front door."
Once in, guests are met with a sea of partiers enjoying the desert's warm weather. Like most clubs, Jones mentioned that vodka is a huge seller for table customers, but generally, not one drink stands out as more regularly ordered. "You're spending your whole day with us. Nightclubs generally have people bounce from club to club, or it's really only a four- to five-hour type of night. At the dayclub you have food, you get there, you layout for a while, and then the party gets crazy. So you have the opportunity to spend a little bit more time with us, so we sell everything."
So what else brings in the masses? A-list DJs, obviously. EBC's bill is constantly filled with talent such as Alesso, Zedd, David Guetta, Skrillex, Diplo and Avicii that command anywhere from $15 million to $37 million per set. But it's also Wynn and Encore's solid reputation in the industry that keeps people coming back. The properties hold more Forbes five-star awards than any other casino resort in the world and are known for their extravagant VIP perks and packages. "Being at the Wynn is something that we take very seriously. We have a lot of VIP guests who come through [EBC] just because they're guests of the beautiful Wynn hotel," shared Jones. Ensuring the royal treatment, Encore Beach Club's private bungalows afford guests the chance to have a party-within-the-party. Bungalows come with their own pools, balconies, personal security and private bathrooms and can range anywhere from $5,000 to $10,000+ depending on the day and event.
One elaborate offer that high rollers can purchase (and have splurged on), is the $125,000 Harley Davidson package. Guests receive a 6L of Dom Pérignon Rosé presented by cocktail servers spraying the crowd with house Champagne and riding in on an actual motorcycle. At the end of the day, you get to leave with the Harley.
Because EBC turns into Surrender nightclub in the evenings, the smooth transition from day to night is essential. The daytime operations staff works together to break down the pool and set up for Surrender and vice versa. "It's a very fluid motion," remarked Jones. Which, when you think about it, cleaning up after 3,000 drunk guests has to function like a well-oiled machine or it could take many, many hours. There is also a full engineering department dedicated to making sure the pools are safe and up to code (thank god).
If you think Sin City's pool parties are just one big inebriated mess, think again. They are actually well-run businesses, aside from being money makers. "We want to make sure that when our guests come they leave with the same experience that they could get if they went to a five-star dinner," said Jones. "We don't deviate from the hospitality aspect of [it], you're going to come in, get great service from your service assistant, from your bartender, from your security officer, from your host, from everybody. We want to make sure that we're not just throwing caution to the wind of hospitality because we're a party atmosphere."
Coming from one of the most-frequented dayclubs in Vegas, we're guessing they know a little something about throwing a massive party without sacrificing class. If you'd rather rent out the whole pool for you and your friends, that option is available as well. But, like everything else in Sin City, you'll have to have your people call their people to get actual rates.
Pool parties are open until around the middle of October, depending on the weather.