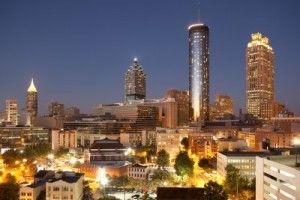 sokolovanton from 123rf.com
Atlanta has a rich culture and deep roots that make the city notable for its eateries, architecture, and more. As the 9th largest city in the United States, Atlanta is a popular tourist destination whose population is approaching half a million residents. Finding things to do in Atlanta is very easy. If you have never visited Atlanta before, you are in for a treat, but there is so much to see and do in this unique city that you may feel unsure you will be able to pack it all in. The good news is this helpful list of 10 hidden treasures of Atlanta may help you narrow down the plentiful options so you can pick out your personal favorites.
Cabbagetown
No, this is not a big cabbage farm. Cabbagetown is perhaps Atlanta's most eclectic, historic district, full of architectural renovations that lead you straight through the city's growth and evolution. The district of Cabbagetown itself spans just six city blocks, but packs hundreds of years of history into those six blocks. And if you arrive for Cabbagetown Stomp & Chomp, the district's annual festival in November, you will enjoy a healthy dose of Appalachia as the district celebrates its heritage.
LEGOLAND Discovery Theater
If you are bringing the kids along with you, then who can pass up the opportunity to see some of the world's largest LEGO bricks? Even if you aren't bringing the kids, if you grew up loving LEGOs, you can't miss a trip to this interactive exhibit theater which offers a one-of-a-kind 4-D cinema as well as actual classes taught by a LEGO Master Model Builder. LEGOLAND offers fun for all ages!
BAPS Swaminarayan Hindu Temple
Precisely because this is an attraction the average Atlanta local might not seek out for a visiting tourist in town to see the most famous spots, the BAPS Swaminarayan Hindu Temple is well worth a visit for its marvelous architecture and interesting events.
Wren's Nest House Museum
From the charming name to the equally charming and incredibly quaint multi-story home this museum is housed in, you will not forget your visit to the Wren's Nest House Museum. A favorite for Atlanta locals and their kids, many tourists never even know it is there. Be sure to schedule a visit before you leave Atlanta!
The Big Chicken
The Big Chicken is a thoroughly delightful and entertaining alternative to more upscale southern cooking, should you develop the craving while in Atlanta. Run by Kentucky Fried Chicken, The Big Chicken gets its name from the fact that this particular KFC restaurant sports a giant bobbing chicken head that can be seen from blocks away.
Mad, Mad Whirled
A more interactive version of the famously awesome bumper sticker "visualize whirled peas", this arcade features a novel approach to bumper cars as part of Atlanta Fun Zone. Mad Mad Whirled is both kid and adult friendly, and you can bring a big group if you reserve your spot in advance.
Dialogue in the Dark
Dialogue in the Dark is actually a full museum that gives you the opportunity to experience what life would be like if you could not see. By the time you have finished the tour, you will have learned how to use your other senses to help you make sense of your world in a fresh, new way. Be prepared for fun, laughter and learning.
Kroger
Yes, you read that right. The Atlanta Kroger on Piedmont Avenue has all the trimmings of your regular neighborhood grocery store—save one. How many Krogers have you visited that have a giant flashy disco ball hanging from the entry way? Worth a trip even if you are just stopping by for a soda to go.
Sun Dial Restaurant
The theme of this yummy eatery is simple—each table rotates 360 degrees so you can see the whole panorama of Atlanta while you eat. The view is notable and whether you come for drinks or a full meal it is a great way to get your bearings if visiting Atlanta for the first time.
Georgia Aquarium
Luckily for Atlanta tourists, this fantastic new aquarium is located right in the heart of the city and is easily accessible by tram. Described as "magnificent" by visitors, if you love aquariums you won't want to miss this one!
Frank has spent the last 5 years traveling to all of the 50 United States. He is currently planning his next trip to begin exploring Canada.