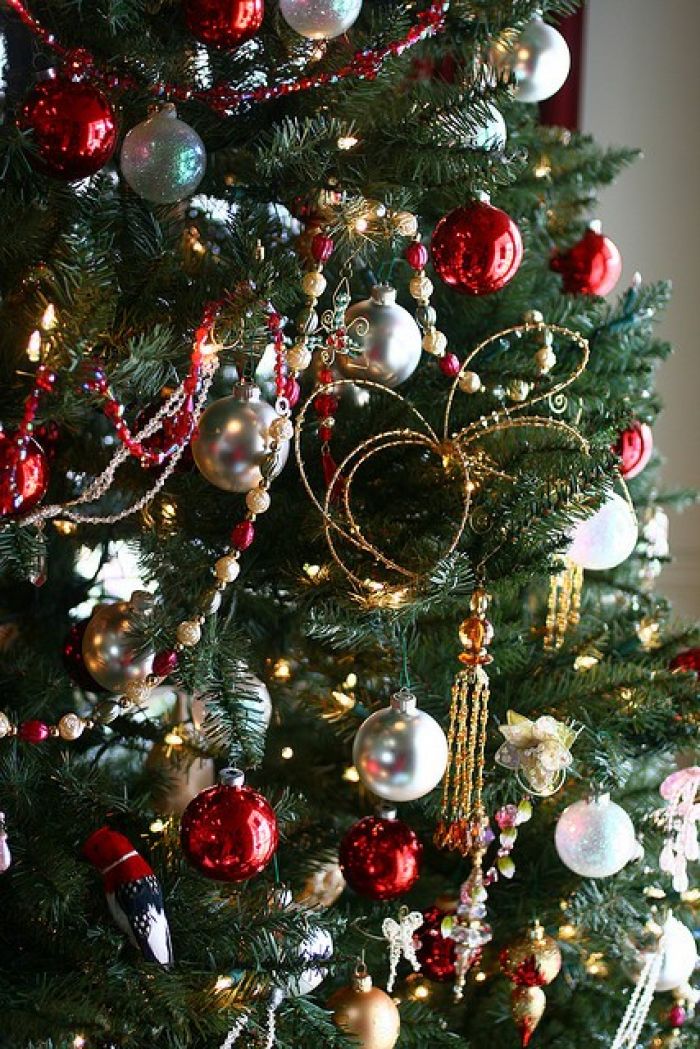 http://www.flickr.com/photos/b
Between the tinsel and flashing life-sized Santa roof decorations, it can be difficult to separate the 'Christ!' from Christmas without being considered a Scrooge. Yes, we love the Holiday time of year, but we also like our interiors to continue to resemble a slightly more festive version of our homes, rather than a mall Christmas Grotto.
So, once you've put up your Christmas tree, what finishing touches should you be adding to keep your festivities classy? Here are the ten luxe accents that you should have in your home to create an opulent atmosphere – with not a speck of tinsel or glitter in sight!
1. White Candles
Although red and gold candles may be 'festive,' they generally don't create the aura of luxury you'd expect. Try making features of different sizes of white pillar candles, some in glass holders, for a warm yet sumptuous ambience.
2. Yellow String Lights
Avoid having multi-coloured fairy lights which can look over the top, and opt for white-yellow string lights which cast a warm and stylish glow over events.
3. Beading
Skip the tinsel and go for some gorgeous strings of beads or crystals instead. Stick to clear or metallics and you can't go far wrong.
4. Simple Tree Ornaments
Between the angels, Santas, candycanes and multicoloured baubles it's pretty easy to go wrong. Stick to one, classic colour scheme like gold/red, blue/silver or white, and limit the number of decorations you put on. Forget about anything plastic, and stay elegant and simple with crystal and glass baubles.
5. Greenery
Lush greenery like wreaths and stair garlands are a part of Christmas for most, but opt for real ones and steer clear of anything with bows, fake pinecones or berries. Make sure you don't overdo it – a wreath on your door, a tree, and a stair garland is enough – any more looks too much. A poinsettia plant on dining sets will add a dash of colour should you need it.
6. Throws, Cushions and Table Runners
Remove any cushions you have on your sofas and chairs and replace with a throw and cushions that tie in with you colour scheme – avoid anything with a novelty Christmas theme like the plague. Opt for a simple table runner, which will make even cheap dining tables look lavish. Doing this will tie your scheme together, but not make it overwhelming.
7. Natural Decorations
Use real pine cones, bowls of shelled nuts and branches decorated with fairy lights for a rustic yet luxe touch to your decor.
8. Custom Wall Art
To really create an lavish aura, custom Christmas wall art can really make all the difference. Keep it simple with cut metal or wood to replace your rest-of-the-year wall art.
9. Classic Wrapping
If you like to have presents under the tree, steer clear of any tacky, printed wrapping paper. Keep your paper relatively plain and within your colour scheme, and tie with a ribbon.
10. Scenting
For a true finishing touch, use natural scents to enhance your opulent Christmas atmosphere – for example, try studding oranges with whole cloves, or placing cinnamon sticks and dried citrus fruits in a decorative bowl.
I'd love to hear what other luxury Christmas decor tips you have to share...