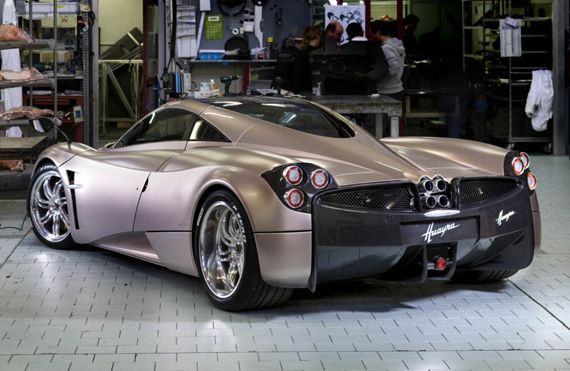 The world has a long-standing love affair with cars, especially those cars that go extremely fast or cost astronomical amounts of money. Below are a few of the most expensive cars in the world!
10. Pagani Huayra
With its doors open, the Pagani Huayra looks more like a futuristic airplane than a car. Capable of clocking 60mph in under 4 seconds, this silver bullet also clocks in at a whopping $1,300,000. Looks are deceiving, however, as unfortunately this car cannot fly through the air. This Italian beauty can, however, fly down the highway with the power of its V12 engine.
9. Maybach Landaulet
What do you buy when a normal limousine is not flashy enough? The next step, of course, is a convertible limousine. The Maybach Landaulet is just such a car. While it may not be as fast as many of the cars on this list, it is quite possibly more luxurious than many of them. The Landaulet has enough power to satisfy most everyone with 620 horsepower and a 12-cylinder engine and this German auto is also no lightweight when it comes to price, weighing in at an amazing $1,400,000.
8. Aston Martin One-77
Like the Landaulet, the One-77 has a price tag of $1,400,000. This English supercar is a super-spy's dream with sleek lines and a powerful engine that can go from zero to sixty in 3.7 seconds. The beautiful and graceful lines and excellent construction of this sexy beast is accompanied by an interior that is just as luxurious and technologically advanced. There are only seventy-seven of these cars that were produced, however, so getting a hold of one might be a bit more difficult than just plopping down a wad of cold cash.
7. Lamborghini Reventon
With lines reminiscent of certain talking cars in the 1980s or maybe a stealth bomber, this slick model was released in 2007 and is the most expensive Lamborghini ever released, coming in at $1,600,000. Another entry by Italy, this amazing car comes equipped with a 6.5 liter v12 engine and can go from zero to sixty in an astonishing 2.9 seconds. Not only is the Revention the most expensive Lamborghini, but it's also the fastest one ever released. It's also one of the most beautiful and graceful of a line full of beautiful cars.
6. Zenvo ST1
Although Denmark is not normally a country one thinks of when discussing super cars, the Zenvo ST1 is a Denmark native. The country has screamed onto the super car scene with this work of art that doubles as a car. The car is able to reach 60mph in a matter of 2.9 seconds, and boasts a powerful 1250 horsepower v8 engine. Though the car's theoretical top speed is 375mph, it does have electronic measures in place to keep it from reaching such highway-melting bursts of speed. The cost? The price for this beauty? $1,800,000.
5. Pagani Zonda Cinque Roadster
Another car from Italian company Pagani, the Pagani Zonda Cinque is the faster, sleeker brother of the other Pagani on this list. It's also the more expensive, coming in at $1,850,000. Another extremely limited edition, there are only five of the Cinques that were produced (see what they did there?). In addition to there only being five of them, this is the fifth model put out by the Pagani company. The Cinque is capable of reaching 60mph in 3.4 seconds, and the advanced braking system allows it to stop quickly, going from sixty to zero in a mere 2.1 seconds.
4. Koenigsegg Agera R Carbon-Fiber
Truth be told, you can get a Koenigsegg Agera for about one and a half million, but why not just go whole hog and make it the carbon fiber version and the "R package" to bring it up to a full blown $1,981,000? For that, you get a lightweight, well designed Swedish car that is top of the line, and can reach speeds of 60mph in under 3 seconds. The R Carbon-Fiber has a 1115 horsepower five liter v8 engine.
3. Ferrari 599XX
Another Italian made car, the Ferrari 599XX is not exactly street legal, at least in the United States. This prototype car costs a cool two million dollars and carries within it a seven hundred horsepower v12 engine, as well as the prestigious Ferrari name. Don't expect to see this car driving down the highway anytime soon, though. It was designed solely for use on race tracks; if you are looking for one that might be a bit easier to get hold of as well as a bit less expensive, the XX was based off of the 599 GTB.
2. Bugatti Veyron Supersport
The Bugatti Veyron Supersport can reach sixty miles per hour in an amazing and quite impressive 2.4 seconds. This French car has an engine with sixteen cylinders and 1200 horsepower, giving it plenty of zip and zoom. The price for this piece of beautiful French engineering is also pretty zippy at $2,600,000 in American dollars.
1. Maybach Exelero
Here it is, the top of the list. The creme de la creme of expensive cars. Coming in at an amazing eight million dollars, the Maybach Exelero truly deserves having that "the" in front of its name, as there was only one ever produced. The car was the end result of a design competition and was reportedly purchased by the rapper, Bryan "Birdman" Williams.
Despite the high price one would have to pay to own this unique vehicle, it is by far the least quick car on this list. The V12 twin turbo can pull the car from zero to sixty in a comparatively slow 4.4 seconds and is able to reach a top speed of 261mph. Despite the general lack of performance, the car is still quite impressive.
List compiled by CarSearchBroker, Australian car brokers