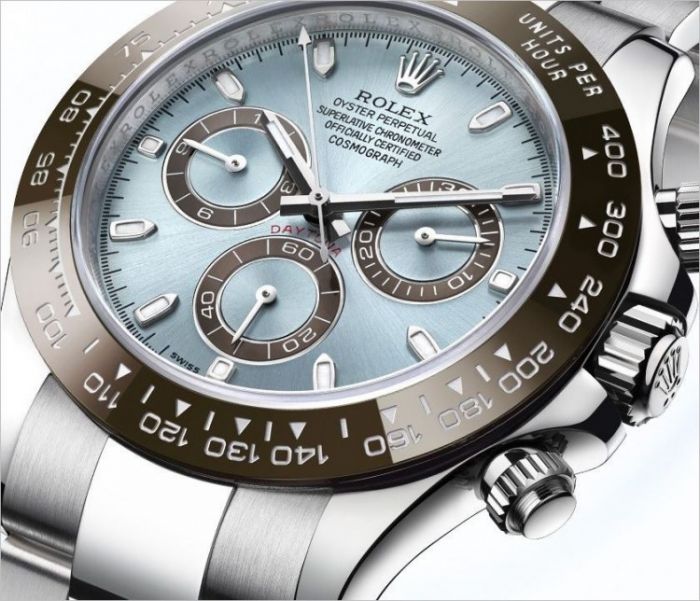 rolex.com
It's been a few weeks now since the world's top luxury watch brands introduced their latest innovations, and Baselworld is turning out to be surprising in many ways. For one thing, its lodestones -- i.e., the magnificent timepieces made by some of the best watchmakers in the world -- have always been stalwart keepers of traditions, handcrafted mechanical precision, and (on a more macroeconomic view) of the past. That is in sharp contrast, though, to all the innovations and newness the show has introduced.
Here are some surprising takeaways from this year's Baselworld event:
1.  Straps on expensive pieces sometimes being made of casual materials/appearance: Although fine leather and gold have been the norm, watches like the new Tudor Heritage line featured nylon and stainless steel. Then again, Piquet Royal Oak's stainless steel line can be more expensive than some gold alternatives.
2.  Electronic watches not yet replacing mechanical timepieces. In a world where electronics seem to be taking over everything (cars, communication, entertainment, etc.), it's interesting to note that mechanics still prevail for watchers—this is especially surprising for hand-wound pieces.
3.  More watches being entirely machine produced. Hand craftsmanship has elevated watchmakers to the status of artists. While their artistry is still appreciated, it's interesting to note that even the established watchmakers of the world are now turning to automation.
4.  The ever-increasing crowds attracted by the event. In spite of a bad global economy, Baselworld 2013 had a huge audience. More surprisingly, this is not expected to abate.
5.  Not seeing more computerization in the latest timepieces. Why isn't Breitling's Emergency 2 satellite-monitored 406 mHz frequency SOS transmitter's technology taking over all the watches? Maybe people don't want computers to run everything?
6.  The Swatch line still going strong (in spite of being originally described as "cheap" and "gimmicky"). In fact, Ben Clymer goes so far as to say that the Swiss watch industry is still around because of Swatch. He adds, furthermore, that it may be the most important watch to have ever been presented at Baselworld, if not the most important time device of all time.
7.  Titanium becoming popular for use in watches. Porsche Design and IWC helped to make the material as popular as it has become, in spite of this being inconceivable 30 years ago.
8.  More watchmakers going on a limb or making changes to their line. Rolex Daytona, for example, introduced an ice blue dial in platinum for its much anticipated 50th anniversary.  Many expected a stainless steel case like previous year vintage models, but Rolex went big targeting Daytona collectors rather than the masses.
9.  Automatic chronographs becoming more popular, but not overly so. While automation becoming popular (e.g., Zenith's El Primero) is not surprising—again, what is surprising is the conservative way this is being utilized or embraced.
10.  More timepieces appealing to outdoorsmen and athletes. Watches have traditionally been marketed at businessmen, professionals and the well-to-do. Now, however, everyday athletes and outdoors enthusiasts are being equally targeted as legitimate, profitable markets, as seen with pieces like the Rolex Submariner and Caliber 11 Automatic Chronograph.

Although tradition continues to be important at Baselworld and for the best watchmakers of the world, many surprising trends, happenings and movements can have been seen. Whereas other industries and events change just for the sake of impressing the crowds, being gimmicky or increasing sales, Baselworld, somehow, yet again has maintained a respectable level of dignity. The fact that more and more people keep coming back to the event is a testament to how much people respect what Baselworld stands for.

In fact, one might say that Baselworld is where the past meets the future, not "colliding" (as one might expect), but embracing each other, then walking off like good, old friends wondering what else they might collaborate upon . . . the sky is the limit, they may both be thinking, as they walk off into bright new worlds of excitement, innovation and public appeal.
rolex.com
Tudor Heritage Goes Blue
swatchgroup.com
Swatch Sistem51