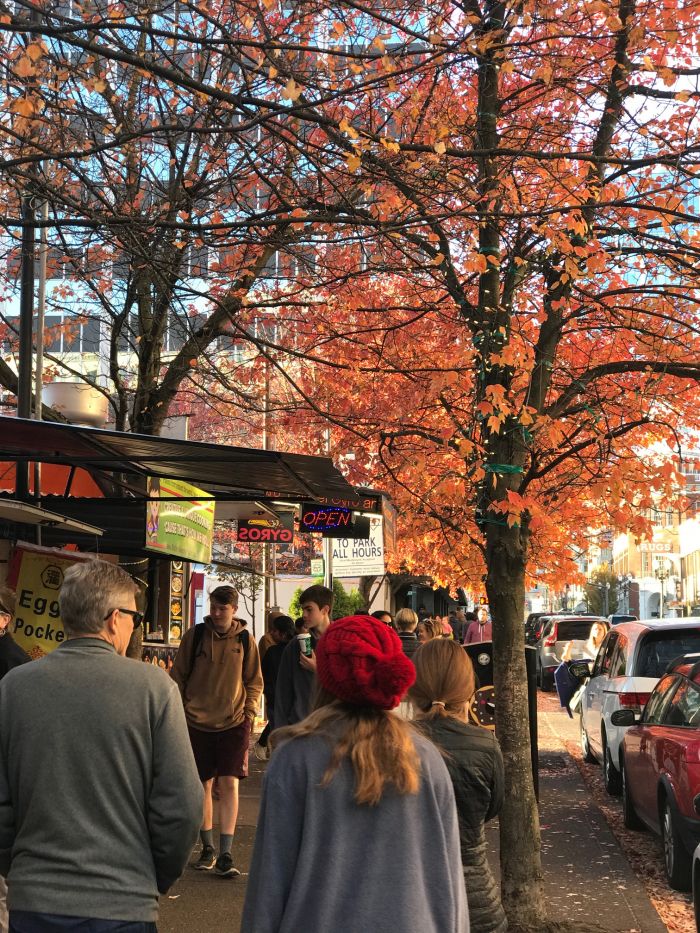 Jill Weinlein
While staying at the Duniway in the center of Portland, the concierge extraordinaire John Conway is happy to offer directions, maps and guide guests through some of the best sights in one of the trendiest cities in the United States. Here are 10 of my favorite Portland experiences:
1. Pittock Mansion - Every mansion has a story and this gorgeous one nestled high in the West Hills was built in 1914. It's filled with memorabilia from one of Portland's most prominent and influential families. The bedroom windows offer 1,000 feet high panoramic views of the city, river, forest and mountains. It's just two miles west of downtown off W. Burnside. www.pittockmansion.org.
2. Portland Japanese Garden is located near the Pittock Mansion and is one of the most authentic gardens outside Japan offering 8 unique garden styles and a Japanese Tea House. www.JapaneseGardens.org.
3. Dine at Jackrabbit inside the Duniway Hotel for shared feasts, unique brunch and bar snacks, house-cured meats, good coffee and creative craft cocktails. This is celebrity chef's Chris Cosentino first Portland restaurant. www.gojackrabbitgo.com
4. Powell's Books - Walk to the Pearl District to the largest independent new and used bookstore in the world. The 68,000 square foot bookstore takes up an entire city block between NW 10th and 11th Avenues and Burnside and NW Couch Street. This was once a former car dealership and repair shop. The building has undergone transformations, but if you look closely, you can still see evidence of its automotive past with the words "Used Cars" painted upon the beams. This bookstore is stocked with over two million new, used, rare and out of print books. There is nothing like it.
5. Pioneer Courthouse Square is affectionately known as Portland's Living Room. This is where thousands of Portlanders gather throughout the year to celebrate the seasons and holidays. There are more than 300 programmed event days.
6. Chinatown - Visit the most authentic Lan Su Chinese Gardens to see hundreds of potted chrysanthemums in all shapes, sizes & colors artistically displayed throughout the garden. It was built by Chinese artisans from Suzhou (home of the most famous ancient gardens in China), and has a nice gift shop and tea house. It's located near Old Town Portland.
7. Donut Crawl - Portland offers some popular donut destinations. On the weekends Voodoo Donuts has a line out the purple doors with families patiently waiting for donuts topped with cereal, strips of bacon and more. Blue Star Donuts is known as 'Donuts for Grownups' with flavors that include Blueberry, Bourbon and Basil, Passion Fruit and Cocoa Nibs and Raspberry Rosemary. NOLA Donuts has square-shaped donuts with a hole in the middle made with brioche and they make fresh beignets.
8. Explore Oregon's past at the Oregon Historical Society located along the pretty historic Park Blocks near Portland State University. The traveling and permanent exhibits on display when I visited included exhibits about the history of Oregon beer, the Pasadena Humane Society and psychedelic Portland. Open 7 days a week. www.OHS.org.
9. The city has hundreds of food carts cooking up every possible meal and type of cuisine imaginable. My favorite was the BAO-BAO cart for handmade steamed buns filled with pork, curry chicken, mushroom and sweet red bean.
10. Resale clothing - The city has the best Goodwill store filled with puffy jackets, boots and gorgeous sweaters at slightly discounted prices. Located on Taylor and Park. Remember Oregon is a tax-free shopping dream filled with the independent shops and boutiques offer experiences that only Portland can.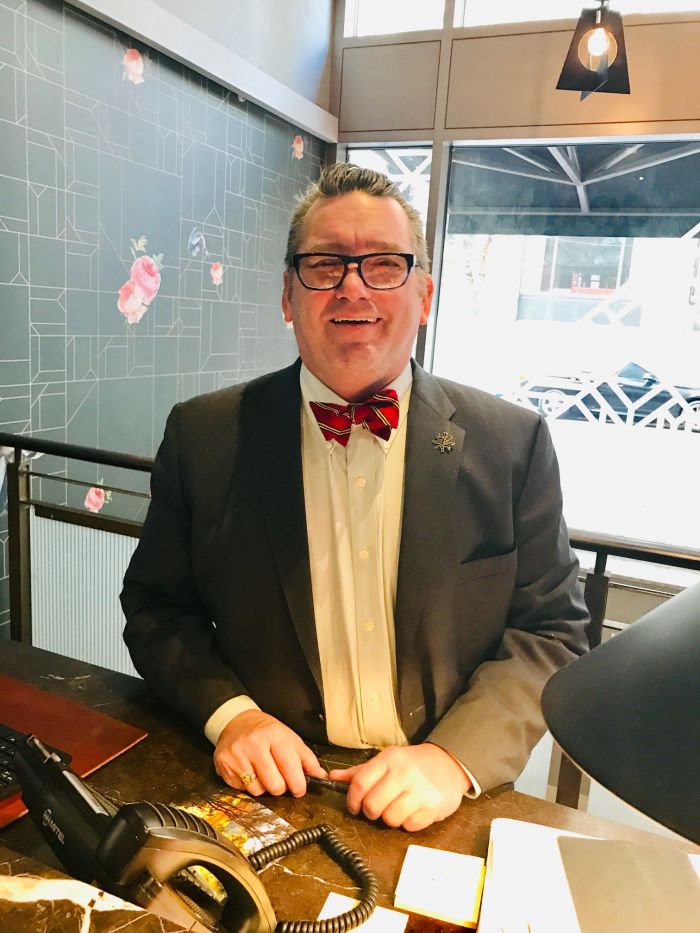 Jill Weinlein
John Conway offers directions to the best sights, restaurants and things to do in Portland.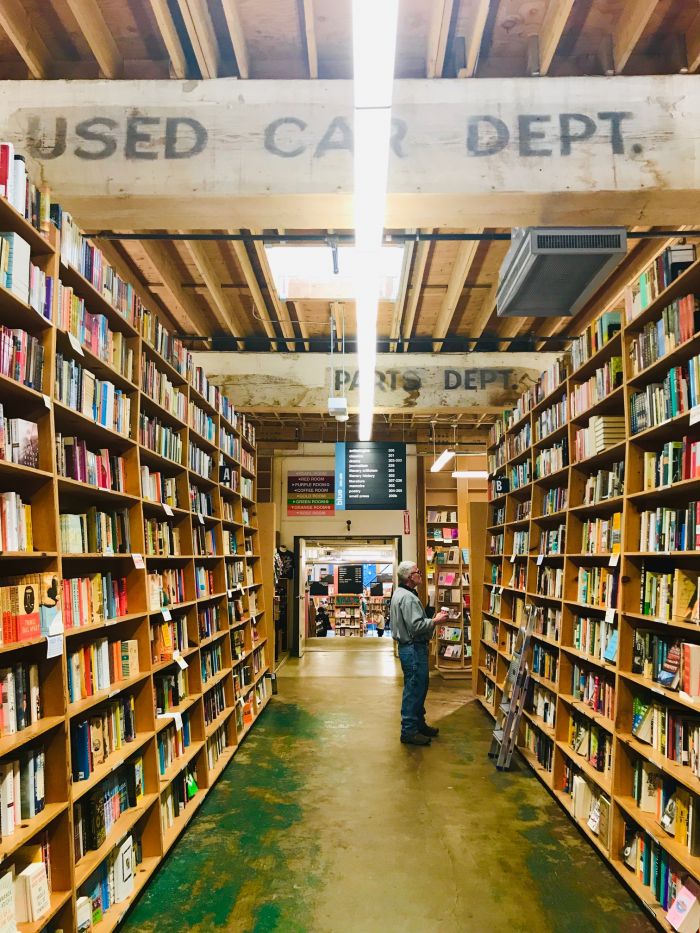 Jill Weinlein
Powell's Books still has the automotive past visible inside.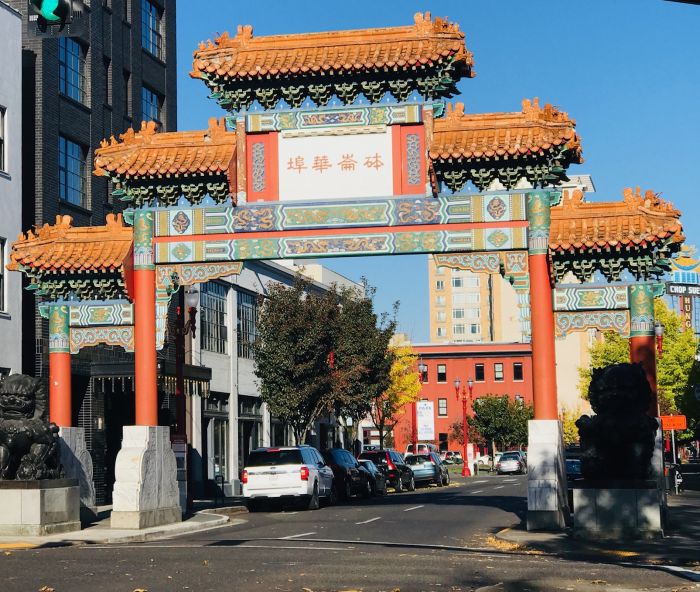 Jill Weinlein
One of the prettiest sights in Portland is inside Chinatown.