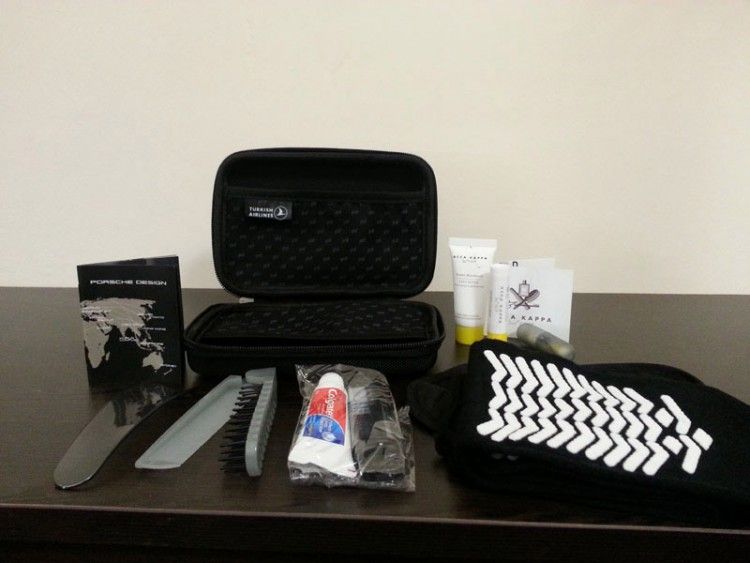 http://www.turkishairlines.com
These days, luxury goes beyond sipping champagne in Business class or relaxing in the lounge and checking your flight tracker for changes in your flights. More and more airlines are keen to provide travellers with a more luxurious in-flight experience, and have taken the initiative to partner up with reputable, world-class brands to obtain a captive audience and potential customer base. This is done in an innovative manner by providing luxurious in-flight amenity kits and gift packs that further enhance the VIP treatment.
Let's take a look at the list of 12 most indulgent luxurious amenities you'll ever receive when you fly First Class.
1. Exclusive amenity kits by Porsche Design (Turkish Airlines) Turkish Airlines sure put a lot of hard work in convincing world famous brand Porsche Design to co-operate in launching a new luxury amenity kit ( Porsche Design has yet to collaborate with any airline to design their amenity kit, until now that is). Along with the German brand, Turkish Airlines enlisted help from Italian skincare niche brand Acca Kappa and now Business Class passengers get to enjoy high-class facial products from said brand. One thing that's remarkable is Porsche Design have obviously put a lot of thought into theuse of this bag, post-flight. This elegant bag isn't just good for storing toiletries; it can also double up as a mobile device carrier (yes, your iPad fits in it snugly).
2. Timeless Shower Spa kits (Emirates) Emirates' Timeless Shower Spa gave new meaning to the phrase "luxurious comfort". Passengers can reserve a slot to use one of the two shower spas located at the aircraft's lower deck, where two flight attendants have been stationed to ensure cleanliness and hygiene after each use. Here, you'll get to experience the ultimate comfort of having a hot shower 40,000 feet up in the air, using spa products made from the finest natural ingredients, no less. After this invigorating treatment, passengers return to their private suite to find fresh green tea and exotic fruits waiting for them.
3. Bose headset, Sothys products and Givenchy pyjama set (Singapore Airlines) Singapore Airlines has been heralded as one of the most luxurious airlines in the world, often putting much thought into providing superior service to all its passengers. This time, the airline seems to have outdone themselves in their latest effort to provide their signature amenity kits. Passengers can enjoy putting on a pair of Bose QuietComfort 2 Acoustic Noise Reducing headphones, while relaxing in their exclusive Givenchy sleeper suit and bedroom slippers. The toiletry kit is no less amazing - it features lotion, facial cream and lip balms by Sothys that have been created for both male and female passengers.
4. Shanghai Tang pyjama set, Ermenegildo Zegna + Trussardi amenity kits (Cathay Pacific)Cathay Pacific collaborated with luxury brand-name Shanghai Tang to launch a dazzling in-flight pyjama set (including satin-soft slippers and eye mask). As if that isn't luxurious enough, the airline roped in Ermenegildo Zegna, Trussardi and Acca Kappa - they respectively provide the amenity bags as well as skincare products that will be given out to First Class and Business Class passengers.
First Class Male Travel Kit
● Ermenegildo Zegna Black Pouch
● Acca Kappa Sandalwood Anti-Age Face Moisturiser
● Acca Kappa Sandalwood Facial Mist
● Acca Kappa Mint Lip Balm
● Dental set, mouthwash, earplugs, shoehorn and wooden hair comb
First Class Female Travel Kit
● Trussardi pouch, designed by Michael Young (cream version for Hong Kong departures; dark beige for inbound flights)
● Aēsop Mandarin Facial Hydrating Cream
● Aēsop Rosehip Seed Lip Moisturiser
● Aēsop Bitter Orange Astringent Toner
● Aēsop Resurrection Aromatique Hand Balm
● Dental set, mouthwash, earplugs, cotton pads and hairbrush
5. Textiles and tableware by Marimekko (Finnair) Finnair had Finnish design firm Marimekko redesign the tableware used on board their flights. Marimekko, a home-grown firm that provides luxurious designs, will feature their signature patterns on all tableware and textiles, designed by legendary designers Maija and Kristiina Isola.
6. Pillow and comforters by Westin Hotels and Resorts (Delta) Westin Hotels and Resorts has long been known as a luxurious hotel brand. Knowing this, Delta Air Lines created a partnership to launch a "Westin Heavenly In-Flight" comfort pack that consists of a pillow and comforter. Having a long flight? No problem. The airline also provides a lumbar pillow that will ease all discomfort.
7. Amenity kits in Anya Hindmarch bags (British Airways)An Anya Hindmarch bag is a much-coveted item in any woman's possession, so when British Airways launched their signature Anya Hindmarch vanity bags containing essential items such as eye gel, lip balm and moisturiser (made by high-end skincare maker Ren) and accompanied with a toothbrush set (by D.R. Harris), this created a flurry of excitement amongst passengers.
8. Amenity kits by Salvatore Ferragamo (El Al) El Al provides gender-specific kits to their passengers in an exclusive, highly sought-after Salvatore Ferragamo vanity bag. Besides the usual toothbrush and toothpaste, male passengers receive shaving gel and aftershave, while the ladies will find body lotion, hand cream and facial mist inside the luxuriously crafted bag.
9. Premium gift kit (Etihad Airways) The Emirates' first-class amenity bags are so sought-after that whenever any was offered for auction on eBay, bids reached as high as hundreds of pounds each. The premium amenity kit for males consists of lotions and toiletries from La Prairie which were encased in an exclusive leather box, while female passengers receive an elegant black pouch embellished with stunning Swarovski crystals.
10. Amenity pack (American Airlines) Following in Singapore Airlines' footsteps, American Airlines also provided passengers with Bose QuietComfort Acoustic Noise Cancelling headphones, on top of special amenity packs containing Dermalogica skincare products for both men and women. A full-sized pillow, quilted bed topper, duvet, blanket and pyjama set also await Business and First Class passengers.
11. SK-II products (Qantas)The Holy Grail of all skincare products, SK-II, teamed up with Qantas to launch the airline's his-and-her amenity kits. Gentlemen receive signature made-for-men SK-II products in a sturdy black bag, while the ladies will find their goodies inside a dark red clutch bag. 12. Bvlgari amenity bags (Emirates) On board the Dubai-based airline, men can freshen themselves up with their Bvlgari amenity kit, featuring aftershave and cologne as well as a razor from Taylor of Old Bond Street that is headquartered in London. Female passengers may try out Bvlgari face lotion and perfume prior to landing at their destinations or just after having a hot shower on the double-decker A380 plane.
http://boardingarea.wpengine.n
image by : boardingarea