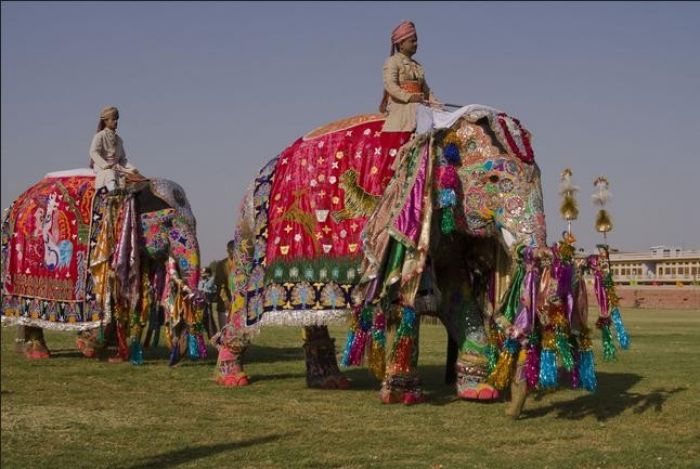 google
Rajasthan isn't only famous for camels and camel festivals. The Elephant Festival of Jaipur is a great opportunity to see the uncompromising symbol of Rajput royalty, which is the elephant, at its finest. It is one of the most popular festivals of Jaipur, celebrated every year during the month of March on Holi, the festival of colors of India. There are many festivals and fairs celebrated in Rajasthan, but it has its own charm as the elephant becomes a major attraction in their beautiful attires. This noisy and exciting fair begins with a colorful traditional procession of amazing decorated Elephants, which are marching towards the Royal ground.

The Elephant festival Jaipur is held at, usually in the Holi evening from 4 p.m until 7 p. m. Earlier the festival was celebrated at the Chaugan Stadium Chaugan Stadiun, which is located in the middle of the old city of Jaipur. However, since 2011, the venue has been shifted to the Jaipur Polo ground near the Rambagh Hotel that is situated on opposite the Sawai Man Singh Stadium. In this year, Elephant festival of Jaipur is going to be held on 26th March 2013. Every Year, thousands of tourists rush in Jaipur to see this magnificent festival. Rajasthan Travel and Tourism provide best services and facilities during your traveling and enjoying the festival.

On the occasion of the festival, Visitors will see that Elephants (mostly female) participate in many different events such as Elephant Polo, Elephant beauty contests, tug-of-war between elephants, etc. The Elephant Polo game is the main highlight of the event, which is an adoption of traditional of Horse Polo game. The polo players are beautifully dressed in red and saffron turbans and try to do more goals with their polo stick.

Elephant ride offers unlimited pleasure and adventure. It is an entertaining and amazing activity enjoyed by visitors, and the best way to taste royalty of Rajasthan. An Elephant ride to Amber fort, which is one of the best places to visit in Rajasthan, is a not to be missed activity among tourists. This fort displays the rich heritage of Jaipur and is surrounded by hills. The captivating experience of reaching the fort on Elephant will inscribe in your mind for a lifetime. Some other famous attractions than you can explore during Elephant festival are City palace, Hawa Mahal and Jantar mantar.  Apart from Elephant festival, the city host other alluring fests include Kite Festival, Ganguar, Jaipur Literature Festival and Paush Dashmi.