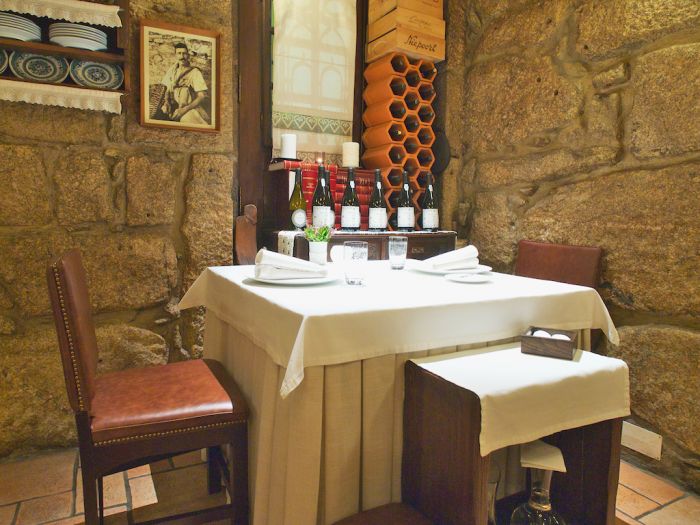 Photos Credit: Columbia Hillen
Porto, long in the shadow of its sister city Lisbon, has now moved into the limelight. Attracting increasing numbers of tourists and a resulting boom in the number and variety of fine-dining restaurants. Here are three of the city's best.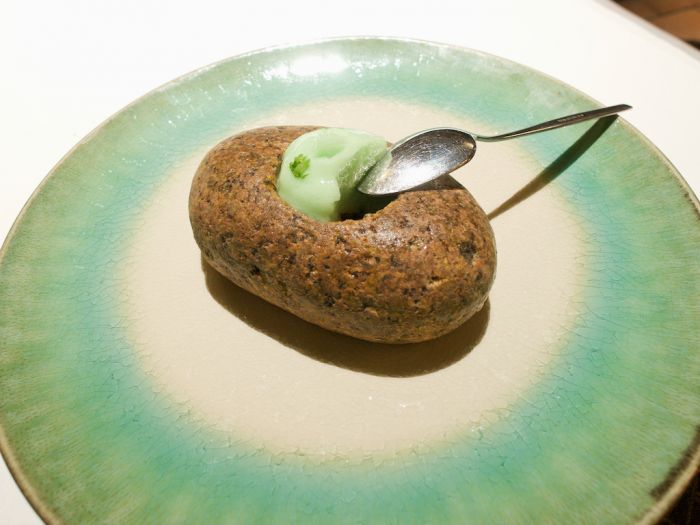 Meaning to "caress, cuddle, present to a loved one, as well as a delicacy," this elegant, Old World restaurant is located in a quiet neighborhood. Roadside entrance is gained by knocking on a brass door handle shaped like the hand of welcome. Inside, a sense of cozy warmth prevails. Guests sit in comfy leather armchairs in an intimate bar area illuminated by flickering candles. Black-and-white photographs of a nostalgic past adorn the walls, including grandmothers in their kitchens preparing meals. This homey atmosphere is further enhanced as you step through a nearby doorway in a solid block stone wall to the restaurant. Here, a delightful ambience greets the eye with bookcases and wine barrels on a terracotta-tiled floor, as well as ornate lamps, wicker baskets and pans hanging from bare rafters. Crisp white tablecloths and glinting silver utensils reflect a high level of elegance. The subliminal message seems to be, "we're going to serve you hearty food you can trust, food your grandmother would make—but in a sophisticated way."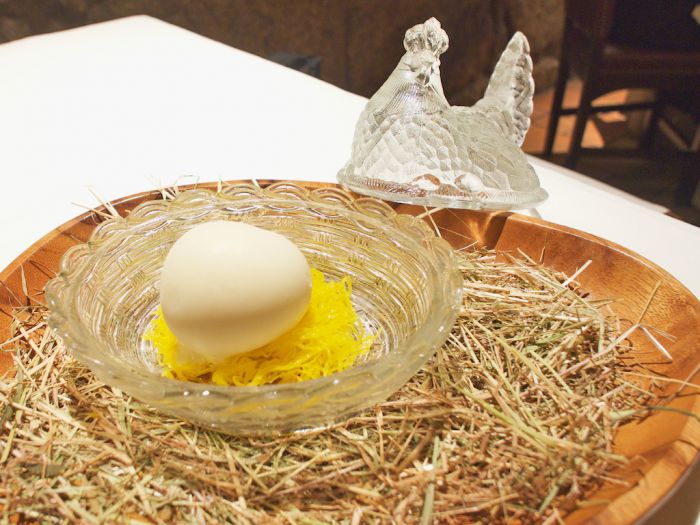 A strong indication of a restaurant's quality is often reflected in its bread and butter. In this respect, O Paparico emerges triumphant. Presented as neat cubes on a mini marble base, two breads were served. The first was white, make from smoked goat's milk and represented 'earth', while the other symbolized 'sea' and combined cow's milk with seaweed and anchovies. The sourdough bread was so delectable I devoured four pieces along with 'foral,' a traditional rolled dough with pig belly flavoring, before the first course arrived tableside.
Traditional recipes transformed into gourmet dishes included a mini-mound of veal liver in Porto wine; a modern version of cod 'a bras,' a traditional meal of cold, salted cod and potatoes; mussels under a sorbet of coriander nestled in the hollow of a stone; cow's trotter with chickpeas; smoked Alheira sausage, a local delicacy based on a mix of meats from poultry to game; and veal with bone marrow and cumin.
Sommelier Rui Costa was adept in handling the pairings, culminating in a full-bodied 1987 Colheita tawny that accompanied a vanilla custard dessert presented creatively as a bird's nest in an ornamental glass hen.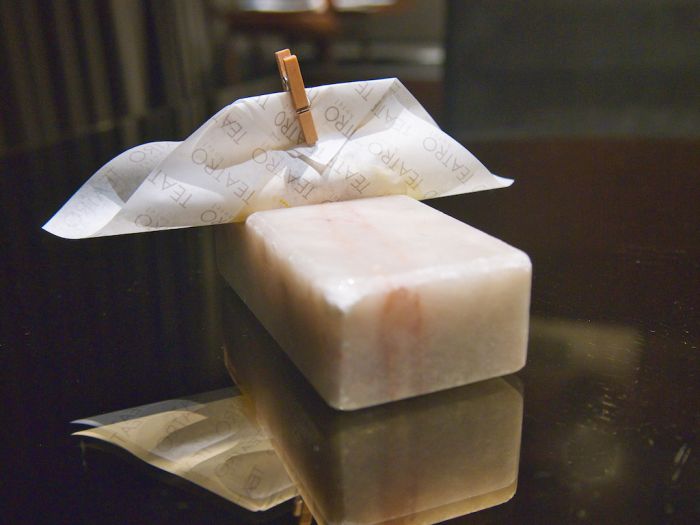 Restaurant Palco, Teatro Hotel
Situated on the ground floor of this historic, renovated hotel close to the city's central station, this restaurant's name means 'stage'. Featuring a wall-length black and white photo of an audience enthralled in a performance, Palco offers what it terms 'Tasting Scenarios' or 'Single Acts.'
Under the direction of Executive Chef Arnaldo Azevedo, tasting menu items range from a bite-size suckling piglet sandwich set on a mini-marble square, to foie gras with tangy Azores pineapple foam, as well as warm, sweet mini-croissants filled with smoky, salty bacon bits. Don't miss the rich, robust broth of roasted onion, green asparagus and morel mushrooms topped with a poached egg yolk.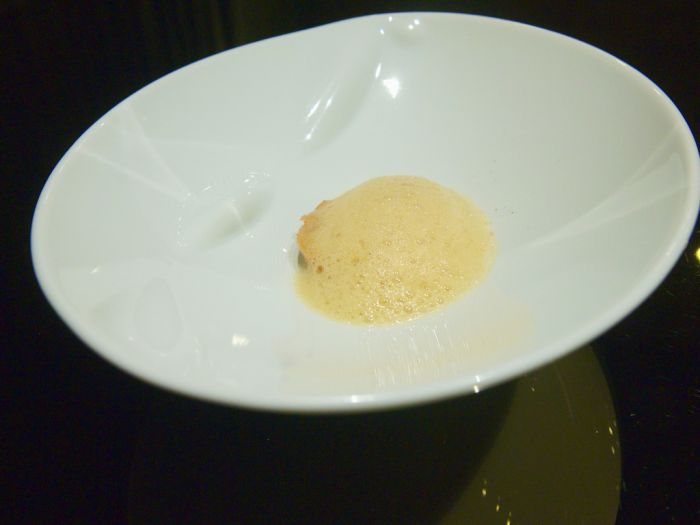 A potpourri of assorted desserts makes for a colorful encore with apple and yuzo toffee, baba squares and vanilla yoghurt spread out tantalizingly on a plate. Wine pairings included Allo, a vino verde from Quinta de Soalheiro and 'Wine & Soul,' a Douro red from Quinta da Manoella Vinhas Velhas.
Having grown up in a family owning a restaurant outside Porto, Azevdeo has maintained his passion for the pure tastes of local produce prepared using old recipes, but infusing them with the sophistication of modern cuisine. With the bar Plateia, (meaning 'audience') right next door, pre- and post-dinner drinks couldn't be more convenient.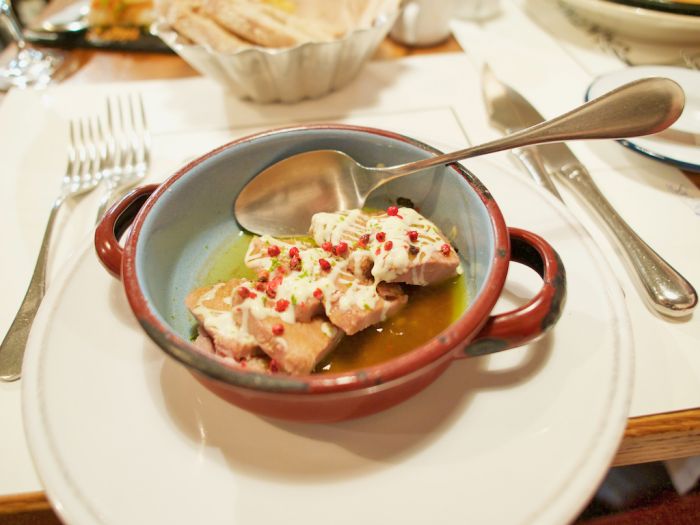 Following Michelin-star recognition for haute cuisine at his Belcanto restaurant in Lisbon and his more informal Cantinho do Avillez there, owner and Chef José Avillez expanded north to this cheerful, casual eatery in downtown Porto.
Emanating a relaxed, comfortable atmosphere, the cantinho offers a simple, but sophisticated cuisine based on traditional recipes. Expect dishes such as tuna belly confit served with a ginger and lime mayonnaise; prawns 'Bulhao Pato' style—a Portuguese way of cooking shellfish named after the 19th century poet Raimundo António de Bulhão Pato—using white wine, chilli, lemon juice, cilantro, olive oil and shallots.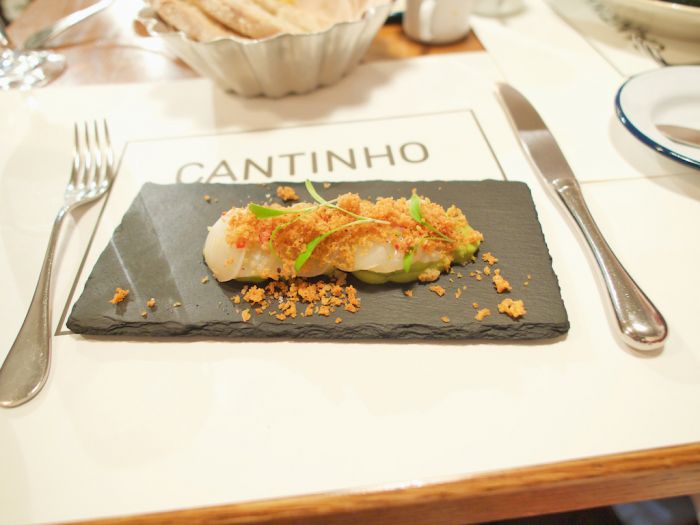 Other attractive seafood dishes are the coins of scallop tartare on an avocado mousse sprinkled with breadcrumbs and cilantro; roasted octopus served with migas; and giant red shrimps from the Algarve with Thai flavors. For meat lovers, there's veal risotto with cherry tomatoes, watercress and cheese shavings and steak tartare with New York-style potatoes.
When in Porto, one must try the iconic francesinha, a hot sandwich of ham or slow-roasted pork with egg, sausage, gravy and cheese, often accompanied by a beer sauce. Try the Avillez version, which is served with truffle-flavored butter. Vegetarian dishes here include deep-fried green beans with tartar sauce and roasted cheese with tomato chutney.