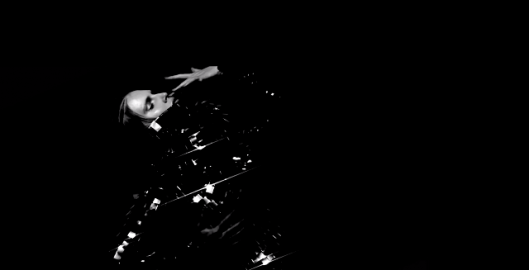 "Avant-garde" and "androgynous" are descriptions frequently associated withGareth Pugh's designs. "When it comes to gender bending, Pugh is king," theGuardian wrote. Naturally, Pugh's collaborations are bold, edgy, and mysteriously dark and sexy, just like the personalities who adore Pugh's aesthetics, includingDaphne Guinness and Lady Gaga. Below are three of the sexiest Gareth Pugh collaborations in 2011.
1. Gareth Pugh x M.A.C
Pugh's neogothic makeup line with his longtime runway collaborator M.A.C was an instant hit. Not much of a surprise, since the collab was right up the designer's alley: Pugh, who's hitting 31 in August, has been wearing makeup almost every day since the age of eight, the Guardian reported.
The color palette is fierce and futuristic, ranging from dark and cryptic to light and ethereal. The line includes nail polishes with an iridescent sheen and angular false lashes reminiscent of Pugh's odd silhouettes, in addition to usual suspects the likes of liners, powder, lipsticks, and eye shadows.
The packaging still features M.A.C's signature black sheen, but the one born out of the collab is much heavier with an "X" prominently positioned in the center. "It's kind of like a weapon," Pugh told Fashionista in July 2011.
2. Gareth Pugh x Melissa
Having sponsored Pugh's show at London Fashion Week in 2006, iconic footwear manufacturer Melissa has been in talks with the designer about potential collaborations for years. Eventually, their mutual love of plastic as a design material sealed the deal.
The collaboration has given birth to two styles: Ultragirl and Aileron. While Ultra is a peep-toe ballerina flat decked out in Pugh's zig-zag print, Aileron is a gladiator sandal inspired by the designer's spring/summer 2009 show in Paris.
3. Gareth Pugh x Absolut Vodka
Pugh and Absolut Vodka's collab has brought to life a limited-edition collector's bottle for Absolut's Mode Edition. Referencing his spring/summer 2007 collection, the designer dressed the bottle in a shoulder armor that spreads like the wings of a dark angel. Pugh also replaced the silk band with his signature patent black PVC.
Partying this weekend? Go Pugh. Don Gareth Pugh designs. Wear Gareth Pugh x M.A.C makeup. Pair with Gareth Pugh x Melissa shoes and a bottle of Gareth Pugh x Absolut Vodka. Now, that's sexy with an edge.
Gareth Pugh for M.A.C
Gareth Pugh for M.A.C
Gareth Pugh for Melissa 'Ultragirl'
Gareth Pugh for Melissa ?Aileron?
Gareth Pugh for Absolut Vodka
Gareth Pugh Spring/Summer 2007