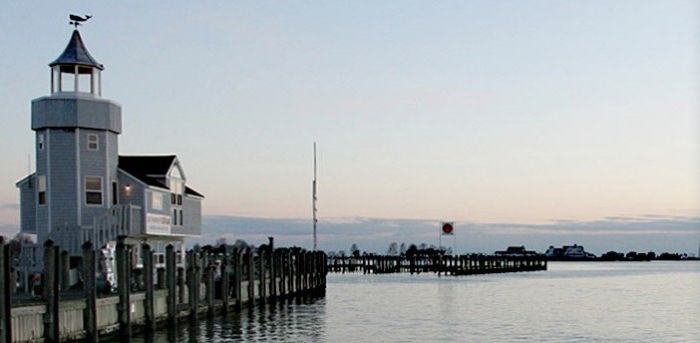 Saybrook Point Inn & Spa
Perched squarely at the confluence of the Connecticut River and Long Island Sound, Saybrook Point Inn and Spa isn't the first property to take advantage of this coveted location. Originally occupied by Native fishing encampments, the Pease Hotel was the first property built in 1870 to accommodate overnight visitors to Old SayBrook Point. Lasting until the 1950's, this historic gem was then replaced with Terra Mar Hotel featuring modern amenities expected by 20th century travelers. Then the Tagliatela family entered the scene in the late 1980s acquiring the property at a foreclosure auction.
The SayBrook Point Inn & Spa you see today was built anew once again from the rubble of Terra Mar. Despite the continual evolution of properties situated here, the hotel's location remains timeless. "I think the most amazing thing about Saybrook Point Inn is that the scene in 1870 is largely unchanged," says co-owner Stephen Tagliatela. "If you stood at any other river mouth in 1870, and then today, you would be very hard-pressed to recognize anything."
3 Stories
A most recent example of Saybrook Point's timelessness lies across the street from the main inn. Recently restored to its original grandeur thanks to Tagliatela's foresight, a 1892 Italianette now dubbed 3 Stories was once an eye sore crumbling to the ground. Restoration required reconstructing all but the front wall and façade. Painstaking research went into recreating its Victorian interior, wrap around porches, and articulately designed private gardens. Each room is named after a famed local resident who made an impact on preserving the community's heritage. All are individually designed featuring a private balcony, fireplace, heated bathroom floors, multiple showerheads, extensive water views, and original artwork by local artists.
3 Storieshas an elegant beach house vibe with a plush living room on the first floor along with a common kitchen area offering guests fresh baked treats and coffee in the morning. Outfitted with meeting space, business retreats and small conferences fit perfectly here just as much as classic shoreline getaways. The best part is you can book the entire property whether it's an extended family vacation or a bridal shower so you can have the place all to yourself.
Fresh Salt
No great inn is complete without an accompanying highly acclaimed restaurant. Water views and superbly tasty seafood dishes make dining at onsite Fresh Salt doubly special. You're sitting right on the harbor marina where the fresh waters of the Connecticut River meet salty ocean currents. A healthy mix of landlubbers and sailors who just stepped off their boat dine here.
Chef Leslie Tripp deftly prepares just caught seafood in many forms ranging from spicy tuna sushi triangles, sandwich-sized treats formed out of a spicy chopped tuna mixture, rice and sheets of nori served with soy sauce, wasabi, pickled ginger and a spicy a?oli to the humongous bone in sword fish chops cut from the collarbone of a large fish which at first glance resembles a lamb chop. With only two chops per fish, swordfish chops are a rare delicacy.
Other can't-miss delicacies include Long Island Bluepoints and Narragansett mussels as well creative salads that frequently cross over into works of art like spring pea, Feta, and watermelon.
It only makes sense that Chef Leslie Tripp to taps into the bounty of the sea outside as well as sourcing as many local ingredients as possible from nearby farmers and artisans like Stonington Scallops, White Gate Farms, and Starlight Gardens. Their extensive yet user friendly wine list features a healthy selection of regional wineries with serving sizes ranging from 6-ounce ($8–$14) and 9 ounce ($12.50–$18) pours by the glass.
If staying during the weekend, don't miss their lavish Sunday Brunch with buffet tables lining 2 rooms brimming with fresh baked pies, tarts, and other homemade treats along with 3 made-to-order chef stations preparing your very own pasta, crepes, and omelets.
Coverage made possible by participating in a sponsored visit.
Steve Mirsky
3 Stories Guest House
Steve Mirsky
Don
Steve Mirsky
A Swordfish Steak Indistinguishable in Appearance from a Lamb Chop
Steve Mirsky
Tuna Tartare Triangles Served at Fresh Salt