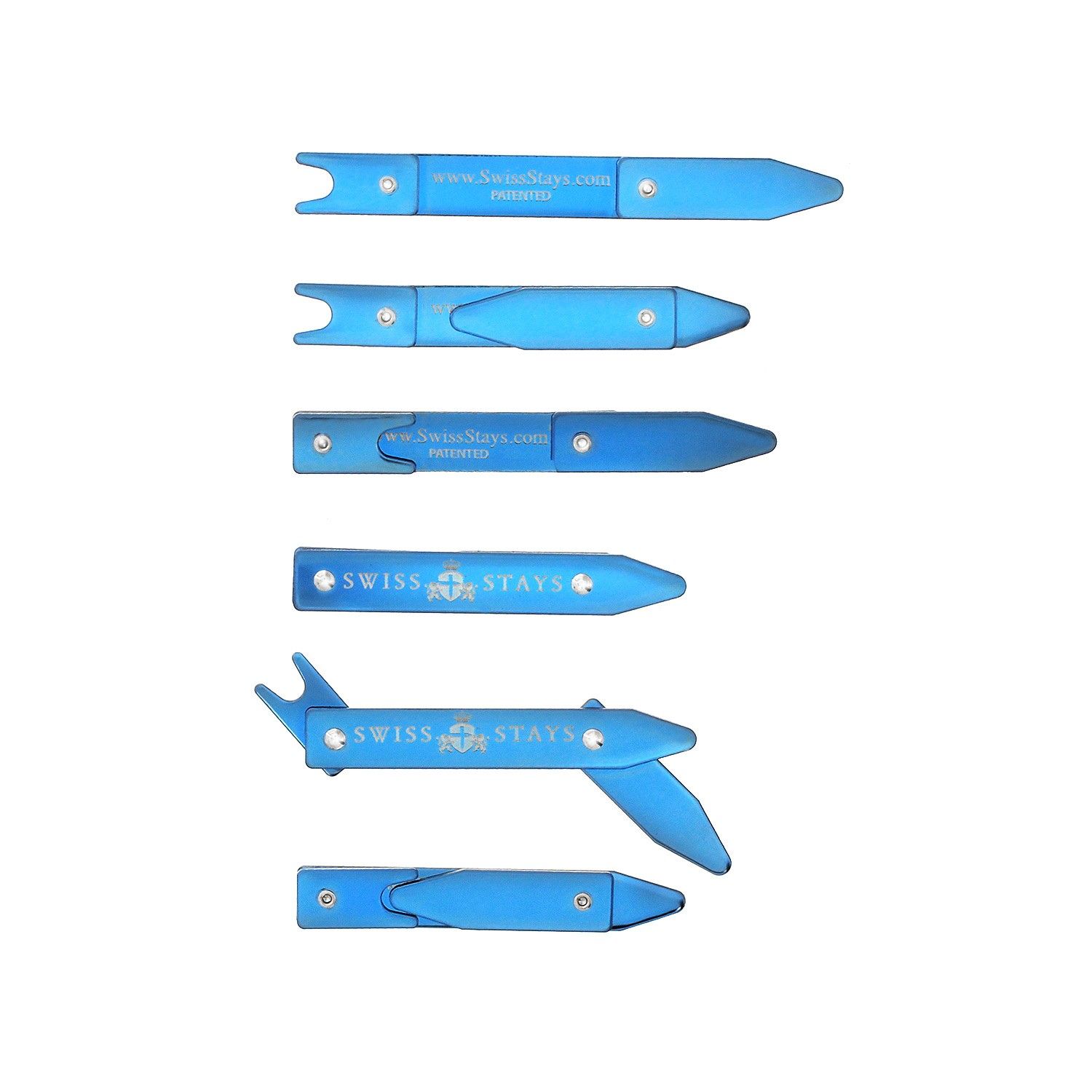 SwissStays
Looking for that perfect gift for your sweetie this Valentine's Day? Look further than the usual cologne or chocolate with these stylish gifts for him from around the world.
Swiss Stays Collar Stays
Stiffen up his collar this Valentine's Day with Swiss Stays, the chic, adjustable, durable collar stays for men. Available in 4 different materials, the pack of 6 will fit all 24 different styles of shirt collars on the market. For the ultimate V-day gift set, a Sterling Silver leather gift will be sure to impress. Created by custom clothier and founder of Astor & Black, David Schottenstein, Swiss Stays is the quintessential accessory most men didn't even know they were missing. Available at StiffStays.com (PVC $8; Stainless Steel $20; Brass $30; and Titanium $50. Gift Set $150).
Garden Apothecary
Garden Apothecary's Citrus Peel Bath Tea is a perfect gift for him to pamper himself this Valentine's Day. The organic tangerine, bitter orange peel and lemon scent is subtle and great for the skin and hydrating.
Founder, Jennifer Lee Segale, has a back ground in professional botany, and she started farming on the California coast in 1999 and started a landscape design company based in the San Francisco Bay Area. She does plant research for her product line in Central America that focuses mostly on healing botanicals. www.GardenApothecary.com
Randolph Designer Eyewear
Since 1972 Randolf Eyewear has been producing classic sunglass styles in the USA. The flagship Aviators were originally built for the U.S. Military and surpass rigid spec standards. Worn by pilots, tastemakers and those that demand boutique luxury. Looking for the best of the best? Check out the 23k gold Aviators. www.randolphusa.com
Mantry
For the foodie in your life, consider the gift of New York-based American Artisan Food-of-the-Month Club. Short for "Modern Man Pantry", Mantry searches the US for the best food and drinks like hotcakes mix stone-ground in Nebraska, birch syrup hand harvested in Alaska, award-winning bison jerky from the hills of Montana and BBQ sauce crafted in the backwoods of Alabama. Mantry.com
Garden Apothecary
Garden Apothecary Citrus Bath Tea
Randolph Aviators
Randolph Aviators
Mantry.com
Mantry Food-of-the-Month Club