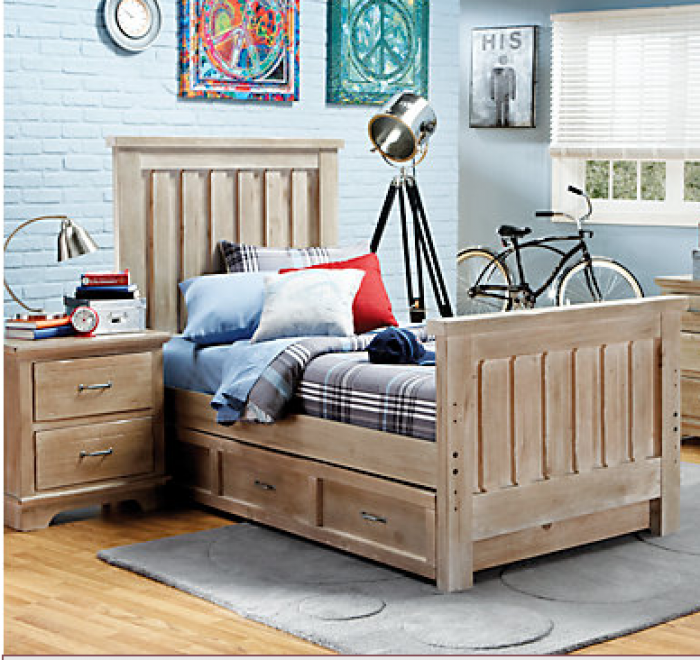 So, you are thinking of giving your son's bedroom a makeover, but are stumped on what to do this time around. There are plenty of themes to choose from, right? But, perhaps you are looking for something more unique, instead of the standard boy's theme we have seen for years.
I am a self-confessed home and DIY type-show junkie. And, I have good intentions of showcasing my creativity throughout my house, someday at least. But, even though I haven't always put my ideas to fruition, my intentions are good. I recently created a wonderful retreat for our master suite, and proud of it. And, I have a strong desire to give my son an incredible bedroom that he won't want to leave…that's not the reason though, really.
Even though I haven't done the work yet, I have come up with the ideas and will share them with you, in hopes that it will inspire you to use them, or come up with your own.
#1 To the Moon and Back
I have thought of combining my son's love of flight, with our favorite saying to each other…"Love you, to the moon and back". Now, some of these ideas could be done by me…and my husband, of course. However, I'm not too proud to admit that I would have to hire some of it out as well.
The easy part would be to do the walls in a night scene, with dark walls, stars, and the moon. I have considered either painting the stars and moon, or hanging glow-in-the-dark pieces to appear as if he is sleeping outside at night.
As for the bedding, I am sure there are comforters that could tie in with a space theme, although I haven't searched yet. But, if not, a solid theme would work just fine, especially if you have a busy and colorful décor.
Now, my big creative idea for the room is to have a dresser custom made in the shape of a rocket ship. This is where I would need to hire some work out, as I am not that talented.
#2 Let's Play Ball
If your little champ is a football fan, it would be easy to showcase his love of the sport in his room. Go to the official NFL website http://www.nfl.com/ to get information on his favorite team and players. This will help you in deciding the color scheme, and possibly décor.
Here are some ideas in how you can turn your son's NFL bedroom, into a unique NFL bedroom:
The Walls – paint a mural on the wall, of either a stadium, the end zone, scoreboard, or a player
The Flooring – turn the floor into a field, by laying inexpensive green carpet and painting the lines of a field
The Ceiling – paint fighter jets flying over in salute formation, just as they do for special games
I think there is so much you can do with this theme to make it unique and special for him… especially with some type of football wall mural. It doesn't have to be every wall, but it also doesn't have to be just one either.
#3 Going to Camp
Do you have a budding scout on your hands, one who likes to camp and enjoy all the outdoor activities? How about turning his bedroom into an outdoor cabin, or tent?
In addition to all the wonderful pieces you can use as artwork, such as fishing gear and hiking posters, you can also drape fabric to create a tent-like atmosphere. This could be done either partially over the bed, or the entire room.
If you do just over the bed, then paint the ceiling to be the sky, with glow-in-the-dark stars and moon. Have the walls painted with outdoor scenery such as trees, rivers and mountains. Also, use fishing tackle boxes as storage, rather than lining up traditional bins on shelves.
To top it off, hang fishing nets to store toys.
#4 Draw Your Own Conclusion
Now, for the little artists out there…great ideas for them too! I have a little artist in my home and have given this one a lot of thought. Turning his bedroom into an art studio would put him on cloud 9, but me… on cleanup duty. So, I'm going to wait until he's a bit older.
However, the ideas that I came up with are painting at least one wall chalkboard paint, so he can draw on the walls all he wants, and another with multiple 'bulletin boards' so he can hang his art… however and whenever he wants. This will give him a blank canvas that he can use over and over again to create and display his art.
Of course, art is more than just drawing, so I will have an activity center with various crafts and supplies. Also, I plan on buying simple objects, such as the lamp shade, trash basket, and laundry hamper that he can draw on, to have it to his liking.
And finally, I will have several folders in a bookcase so he can create his own portfolios of art.
In Closing
I find it's best to take a child's personality and enhance it within their bedroom. The rest of the house you can have it your way. So, for the bedroom, let their personality shine.

About the Author:
Sophie Evans is a freelance writer, who has written on various topics she was inspired by browsing through the Internet. Her latest series on boy's bedrooms was drafted after visiting the website www.menshideaway.com. Sophie lives in Balboa Beach, California, with her husband Rick and their two children. As a self-admitted Starbucks junkie, she can sometimes be found there working on her latest project while sipping on a latte. Sophie also enjoys Disneyland.