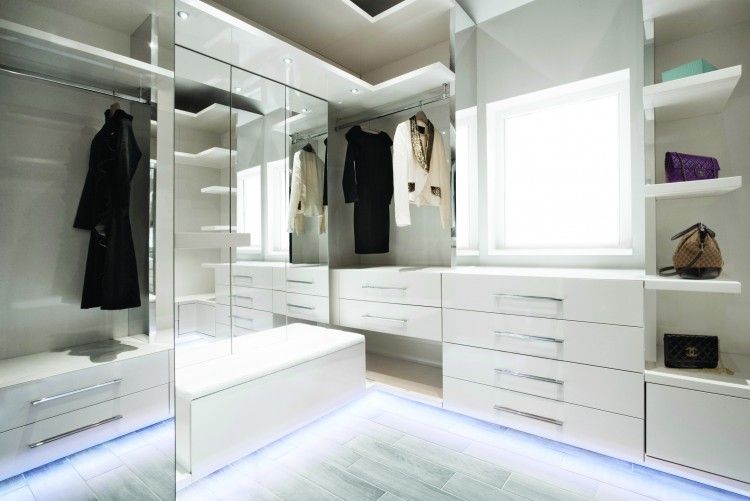 http://www.wyndhamdesign.com/w
Every fashionista's lusted after must-have, a walk-in wardrobe is a dream addition to any home, offering spacious, stylish, yet oh-so-practical storage solutions for your precious cargo of clothes candy. Here are some dazzling designs to inspire you to create your very own on trend idyll in your humble abode.
Minimalist Chic
This stunning custom-made design from London-based bespoke furniture maker Wyndham is the ultimate in contemporary cool. As a colour choice, minimalist white not only looks effortlessly elegant, it is a great hue to opt for when working with a lesser than average size space. Coupled with the use of mirrors and carefully considered lighting, this will not only offer the illusion of a bigger room, but will also provide you with a fabulous area to get ready, morning or night! When considering your design, make sure you factor in generous hanging space to show off your beautiful long dresses and shirts (just make sure you steam iron them first)and plenty of shelf space for glamorous accessories.   
Kid's Stuff
Any parent will know that it's quite staggering how many clothes a child actually possesses, so choosing the right storage solution is a must. This custom-designed child's closet by Closet Factory offers ease of access, where everything has its place, meaning you can get your child up and dressed with minimum fuss. Also, as your child grows, it'll make it easier for them to learn how to dress themselves and will also teach them how to keep their clothes neat and tidy… result! 
Modular Living
Modular shelves and movable units, such as shown here, can be adapted to most living spaces. If you're planning a design for a small room, the absence of frames gives the illusion of more space. All your precious fashion is laid out before you in a compact but super-accessible at-a-glance selection. If you really need to save on space, make sure you incorporate units such as pull-out trouser and shoe rails. And the best thing is, when you move house all this can come with you too!  
Dress to Perfection
Remember, before you embark on designing any project like this it's important to decide on the right design to suit your lifestyle. These areas often double up as a fabulous dressing room. If you can afford the space, maybe you should plan an area for seating so you sit down to put your shoes on? Mirror lingerers may also like to create a built-in dressing table/make-up area, or if you're an 'up and out' type the emphasis will be on good-looking and efficient storage so that you can dress quickly and smartly.
Go with the grain
Maximise your vertical space and ensure you have planned enough hanging space for his and hers, with different sections for hanging long and short clothes (although one side may slightly take over the other!). It's advisable to do this before you add any drawers, as you can almost always add more of these but rarely will you be able to add hanging space. If you don't opt for seating, you could have a centre island unit for jewellery, accessories and maybe a lamp. Pictured is the Oasis walk-in wardrobe in veneer oak and cherry.  
http://www.flickr.com/photos/c
Kids closet
http://www.flickr.com/photos/j
Modular
http://www.flickr.com/photos/n
Walk-in wardrobe
http://www.flickr.com/photos/m
Oasis Walk in wardrobe