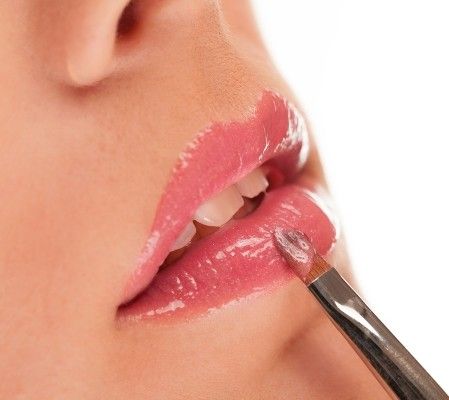 shutterstock.com
Facts about Thin Lips:
Have you ever dreamt to get fuller pout similar to celebs? Most people wishes to get fuller, kissable lips. The thin lips are great concern among women; these degrade the look of your face. As we grow in years, the collagen fibers under our lips reduce and this leads to dry chapped lips. The lips begin thinning which can cause muscle contraction that might lead to wrinkling around the mouth.
Another cause for thin lips includes radiation exposure. The sun rays equally affect your lip skin and make it more prone to wrinkling. This makes it dry thereby lead to collagen depletion which affect the health of lips.
There are many ways you can achieve fuller pout that would enrich appearance of your face. There are many natural remedies that help you to achieve fuller lips. Applying cinnamon oil can help to swell you lips and make them plump naturally. Using peppermint also penetrates into deep layers of skin to give you temporary pout. These methods have temporary effects that do not last longer.
Natural lip plumpers are safe products that work to give you fuller lips for longer duration. Before we check out some of the best lip plumpers let us discuss some of the special ingredients in these products.
Specialist Ingredients in Lip Plumpers:
The specialist ingredients that treat lips to make them plumped include: cinnamon oil, vitamin E, jojoba oil, chili extract, hyaluronic acid, benzyl nicotinate and peptides.
1. Cinnamon: This helps stimulate the production of collagen under lip skin. It helps to recover from thin and dry lips thereby give you bigger lips.
2. Vitamin E: This is a natural moisturizer that prevents the lips from drying. This prevents formation of flakes on surface of lips.
3. Jojoba oil: It has god moisturizing property that maintains the softness of lips. This prevents the lips from drying and thinning.
4. Chili extract: This helps in expanding the tissues underneath the lips. It swells the lips and gives them naturally plumped effects.
5. Hyaluronic acid: This helps improve the hydration levels of lips. It protects the skin from harmful sun rays thereby prevent it from drying. This helps attract water from air and environment thereby provide natural moisturizing to lips. It gives you smooth, younger looking lips.
6. Benzyl nicotinate: This causes dilation of blood vessels which boosts healthy flow. This makes your lips to appear naturally reddish. It also helps to swell the lips and also works better to reduce the fine line appearance in surrounding regions.
7. Peptides: These boost the collagen and elastin production beneath the lips. This reduces the aging signs and gives you healthy youthful appearance.
The Best Lip Plumpers Products of 2013:
1. Maxolip: This product is affordable and powerful to provide you fuller, bigger pout. It is manufactured by Dermagevity Skincare Company, and targets to treat the thin lips. The official website has many user testimonials that show the positive outcome on using this product. The ingredient list has been clearly mentioned on the website. You can use this product as your desire. The product helps to increase the blood flow and give you reddish and plumped lips.
2. Idol lips: The product contains proven formulation that moisturizes your lips and makes it soft. The official website lacks information about how the product works. It contains ingredients that boost production of natural oils. This helps to give you smooth and healthy lips.
3. Lip fusion: This product claims to give you fuller lips on regular usage. It provides your lip with natural hydration and plumping effects. This product goes well along with or without lipstick. There are no lip fusion side-effects like stinging. The full list of ingredients is not provided on its official website.
4. Lip inflation: Sally Hansen has manufactured lip inflation which treats the thin lips. It helps give you fuller lips due to presence of cinnamon and ginger. The product is less expensive and effective to plump lips.
5. Maybelline New York: This product is effective to raise the volume of lips. The product comes in different hues to choose from. Some people have felt mild tingling after using this product. The product contains ingredients that give your lips natural shine.
Some of the Top 5 lip plumper s products have been reviewed above. Read reviews on each of these lip plumpers to compare between the key features and pick the best one.
Best lip plumpers of 2013 - 2014 has been reviewed. These seem to be better alternative to the expensive cosmetic surgery to uplift your lips and get kissable pout. It is recommended to go through different sources on internet and do little analysis on each product. Compare between the products and choose the best suitable ones to get bigger, fuller and kissable pout.