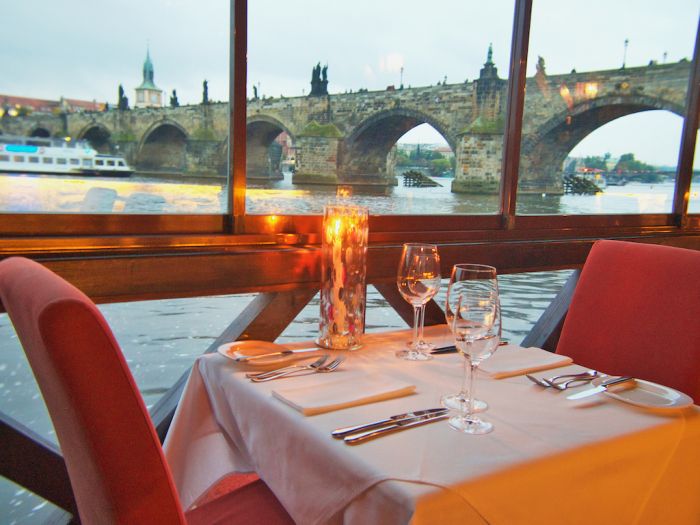 Photos Credit: Columbia Hillen
For years, food in Prague endured a poor reputation of being stolid and stodgy. Despite doughy dumplings and boiled meats symbolizing the city's (and nation's) culinary diversity, a veritable revolution has taken place and now a multitude of restaurants offer fine-dining experiences with innovative surprises. Here are a few of the best restaurants in the Czech Republic's capital to savor: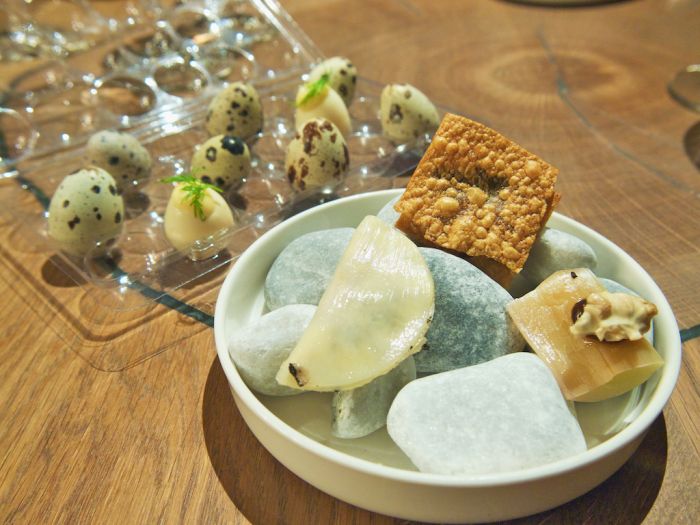 Avant-garde: La Degustation Bohême Bourgeoise
Much to our delight, we were seated beside the kitchen which was illuminated brightly by three hanging lights making it seem as if it was a surgical operating table, an image enhanced by servers all wearing white gloves. Run by general manager, Tomáš Brosche, and executive chef, Oldřich Sahajdák, a six course tasting menu offers surprises galore. The first surprise was found in its stylish presentation in a mysterious, sealed black envelope. Intrigue continued with creative presentation of generous amuse bouche, a transparent box with deviled quail eggs and a bowl filled with smooth stones upon which lie a bite-size wonton filled with celery and truffle, a slice of leek with walnut and an onion cracker with jam.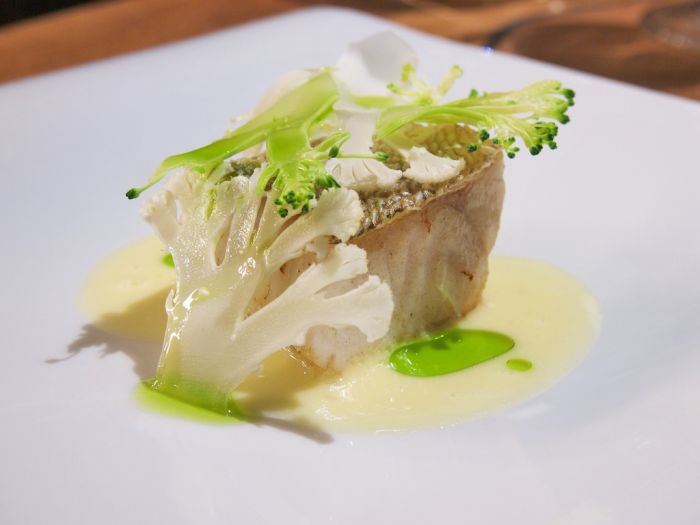 The dishes that followed were bold and inspired, including a vegetarian dish comprised of three different kinds of tomatoes presented as a broth complete with roasted mustard seeds, scoops of cucumber and thyme ice cream. Another interesting dish was the south Bohemian pike perch, or zander, with its soft, white flesh, slightly broiled, decorated with shavings of broccoli and cauliflower. The presentation created a miniature forest around the fish, alongside a white asparagus and horseradish sauce.
In terms of drinks, we decided upon the innovative option of having every course paired with different homemade natural juices instead of wines. The beverages began with a refreshing gooseberry juice served with the tomatoes dish and a rhubarb served with the fish dish. Other juices included leek, apple and lovage served with a beef heart dish, as well as currant juice served with the sheep cheese, arnica, potatoes and rowanberries that rounded off a dining experience with a difference.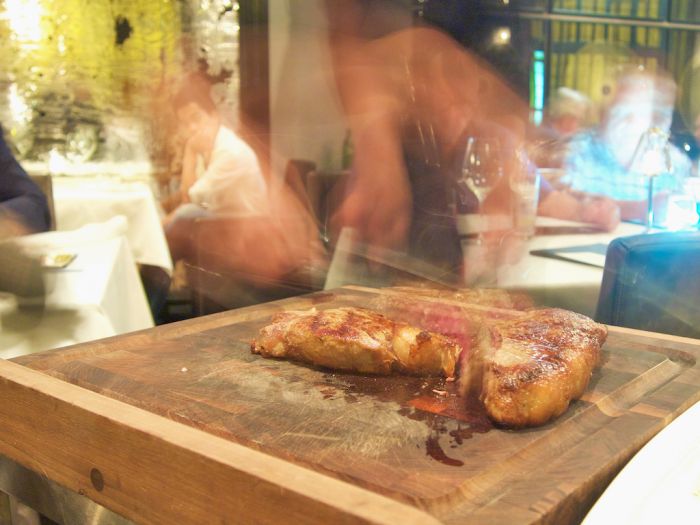 All-American: George Prime Steak, The Emblem Hotel
Situated on the ground floor of this Art Deco style, 5-star hotel ( which is a stone's throw from Old Town Square and City Hall), this is one of Prague's best steakhouses. Directed by executive Chef Martin Hnilicka and sous chef Adam Sommer, the restaurant is suave and dimly-lit, and is reached by entering through an intimate bar area. By day, the restaurant hosts both buffet and à la carte breakfasts. By night, it's an attractive, cozy dinner venue with windows looking on to the quiet street and interior walls adorned by large, framed abstract art, one resembling a length of elongated tinfoil.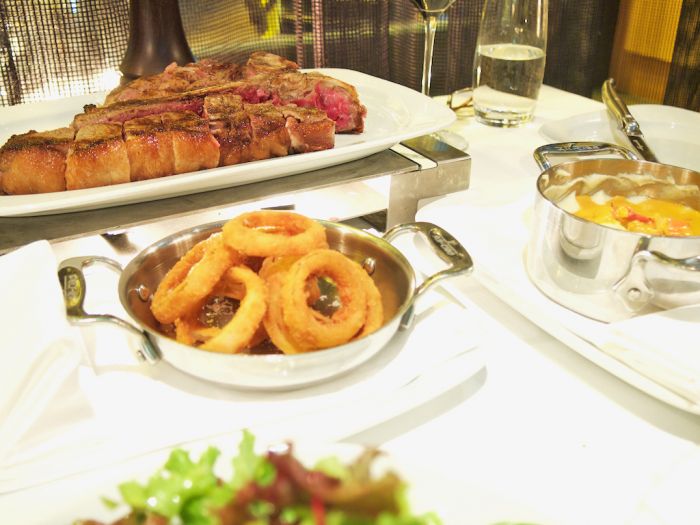 While the overwhelming emphasis is on hefty cuts of meat, starters do include Asian-flavored, pan-fried Maryland blue crab cakes with lobster butter and spicy sesame sauces, as well as a wholesome herb and lemon-crusted roasted veal bone marrow with caramelized onion jam, served on the bone. As for meat cuts, the full range is offered, from eye-watering rib-eyes to filet mignons and strip steaks, including a 34-ounce porterhouse for two, all sourced from the US. Topping the list of succulent desserts is Baked Alaska, consisting of hazelnut sponge cake, chocolate ganache, raspberry sorbet, vanilla ice-cream and Italian-style meringue, all flambéed with Grand Marnier. Emphasizing its American roots, the wine selection is around 85 percent Californian, with diverse grape varieties that include one with my favorite title, 'Writer's Block' from the Kamen Estate.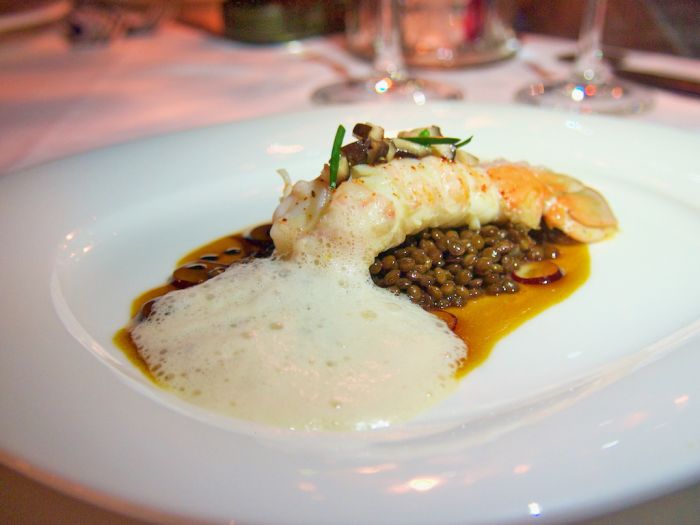 Classic With A View: Kampa Park Restaurant
When facing a wondrous view from a waterside table directly across from Prague's historic Charles Bridge with boats gliding gently along the Vltava River, does the quality of the food really matter? As any gourmet diner will tell you, it does. Kampa Park Restaurant delivers in spades, especially with the tasting menu of Kampa Group executive Chef, Marek Raditsch. Previous celebrity guests such as Gary Kasparov, Hilary Clinton and Bruce Willis, not to mention the King of Sweden, cant all be wrong about this place.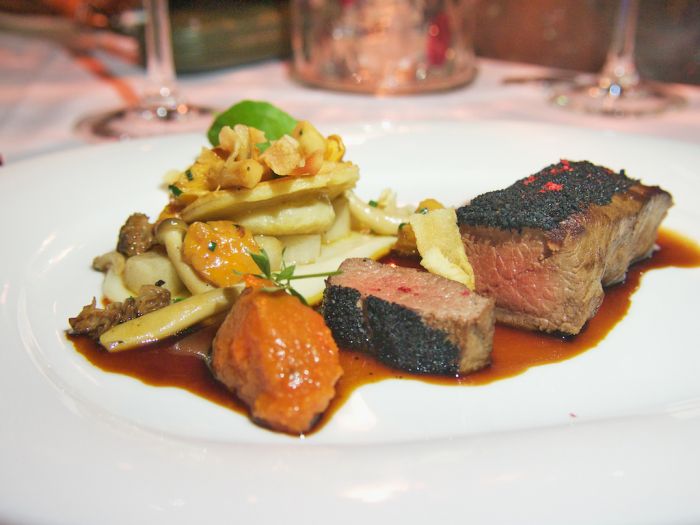 The chef's six course surf-and-turf tasting menu begins with löjrom caviar on a spoon followed by langoustine bisque with corn mousse and dill oil, a finger of shellfish nestling on a bed of lentils, sprinkled with grape juice and covered in a vegetable foam. Seared foie gras is next up, presented on a brioche with a sharp rhubarb compot. Cooking octopus often represents an interesting challenge for a kitchen. Done wrong, it comes out hard, rubbery and rather indigestible. Here the grilled octopus was soft, yet firm, with porcini risotto adding a woody flavor, both accompanied by salisify, sugar snap peas and brown butter foam. The next course consisted of a hearty saddle of sika deer with ragout of mushrooms and Jerusalem artichoke was spiced up with a galangal and lemongrass demi-glace. Dessert came in the form of strawberry cappuccino with vanilla ice-cream, walnuts, meringue and forest berries. The other element in gaging a restaurant's quality is its diversity of its wines. Here the sommelier Petr Hubacek's pairings were wide-ranging, including a rioja from Spain, a muscat from France, a pinot grigio from Italy and a chardonnay from the Czech Republic.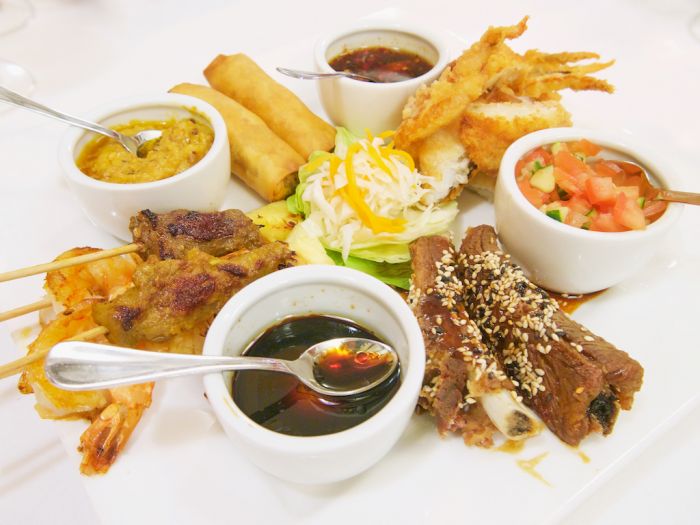 Asian: Rickshaw, Corinthia Hotel
Here you can enjoy eastern Asian dishes from Vietnam, Laos, Thailand, China, Indonesia, Malaysia and Singapore. My advice: start with the generous 'Golden Platter' for two, a scented mix of tapas-style meats and seafood including crab, shrimp cakes, spring rolls with duck, beef satay, barbecued ribs and spicy octopus salad, all served with chilli and lime sauces. Follow that with one of the soups, specifically either the spicy Thai tom yam kung with prawns, galangal, red chilli and mushrooms or the less spicy tom kha kai, a chicken broth with coconut milk, galangal, lemon grass, kaffir lime and coriander. As for main courses, curry lovers might prefer the phad hoi consisting of stir-fried scallops and lobster with yellow curry powder, spring onion, egg and chilli, while carnivores might opt for the Indonesian beef rending, stir-fried beef in coconut cream with onions, garlic, bay leaves, cinnamon, galangal, ginger, and lemongrass. Of course, there's always one of the chef's specialties available, such as the phad khi mao, slices of stir-fried beef with chilli, coriander, lemon grass and oyster sauce. You'll have great fun choosing.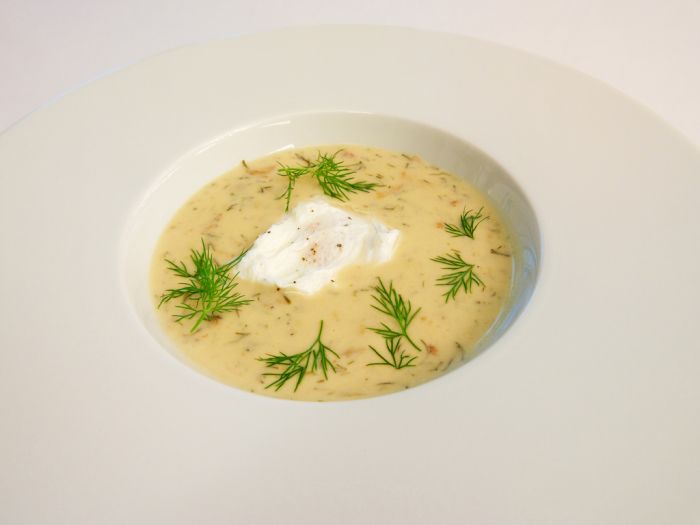 Traditional: Coda, Aria Hotel
For traditional Czech food in an elegant setting, try this luxurious restaurant under the guidance of executive Chef David Šašek in the 5-star Aria Hotel in the heart of old Prague in Lesser Town, (Malá Strana), close to Prague Castle. Start with kulajda soup which is comprised of dried wild mushrooms—finding them is a national hobby in the Czech Republic—with dill and poached quail's egg. Then try the tender roasted duck with sauerkraut and Carlsbad potato dumplings and fried onion. Desserts continue the dumpling theme, this time strawberry-flavored with sour cream and fruit ragout.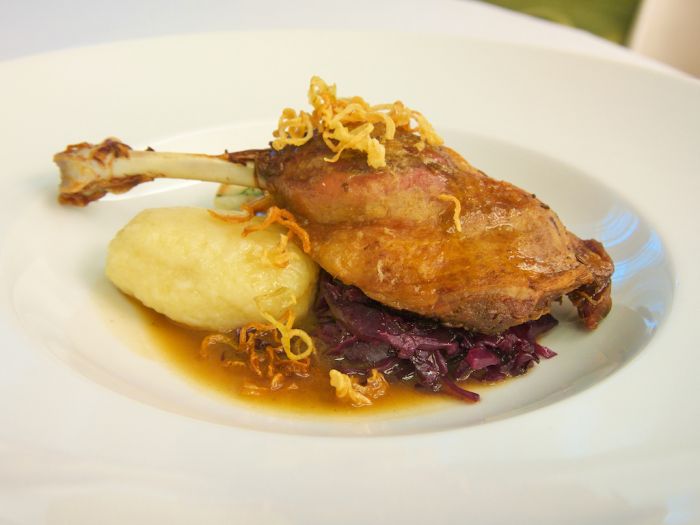 If you prefer standard classics from the international a la carte menu, you'll find grilled octopus with smoked red pepper sauce and fava beans as well as roasted rabbit saddle with wild mushroom ragout as starters, and mains such as filet mignon with Portobello mushrooms, grilled tuna loin, roasted organic chicken breast and grilled lamb chops. Live piano music helps entertain guests every Tuesday through Saturday. Seating options include an elegant Art Deco interior or the rooftop terrace with fine views over the city.