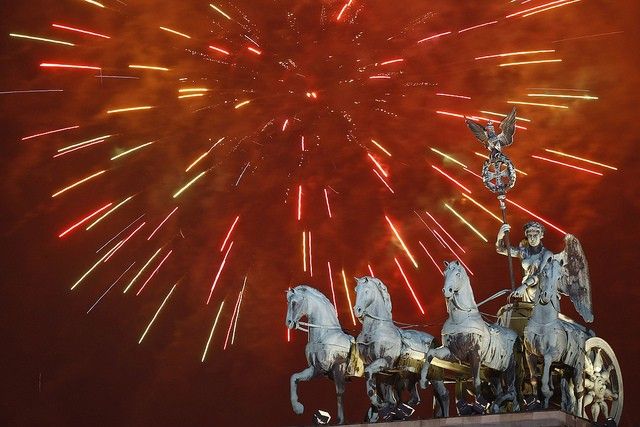 Beacon Radio
New Year's Eve only comes once a year, so why not make the most of it by ditching your usual yearly celebrations for something truly extraordinary in one of Europe's many vibrant cities? These are just five of the hottest New Year's Eve destinations.
1) Edinburgh
When it comes to New Year's Eve, fewer parties are more renowned than the Hogmanay Street Party in the Scottish capital. If you think that most places don't spend enough time celebrating the end of one year and the beginning of the next Edinburgh is the destination for you, as the party starts on 30 December and finishes on 2 January. Make sure to learn the words to Auld Lang Syne, a traditionally Scottish song that is sung at the stroke of midnight, and prepare for the sound of blasting bagpipes to ensure a thoroughly Scottish celebration.
2) Paris
For a romantic New Year's celebration there's perhaps no better destination than the city of love – Paris. Even the typically Christmas tradition of kissing under the mistletoe is saved for New Year's Eve in France, making Paris an extra special destination for lovers looking to ring in the new year. And while the sight of the Eiffel Tower is always impressive, on 31 December the midnight light show and spectacular firework display make it unbelievably magical. You don't need to station yourself at the Tower itself for a good night though – many people prefer to line the Champs-Elysees to ring in the New Year. Wherever you decide to spend the last minutes of this year – and the first minutes of next – make sure you save some of your energy. Dancers, floats and bands take centre stage for the joyful Grande Parade de Paris, which tours the city on New Year's Day.
3) Amsterdam
One of the great things about public holidays in the Netherlands' biggest city is the fact you can easily walk about and enjoy street parties that you won't even have heard of – and New Year's Eve is certainly no exception. Whether you find yourself in one of the main public squares such as Dam Square or along the city's beautiful canals (many of which form a designated UNESCO World Heritage Site), you'll be surrounded by thousands of other revellers determined to have a good time
4) London
The English capital, and home of Greenwich Mean Time, easily ranks alongside the world's top locations for New Year's Eve parties. Lining the South Bank and witnessing one of the planet's most enchanting fireworks show light up the Thames with the stunning Houses of Parliament and Big Ben as a backdrop simply has to be experienced at some point in your life. Want to avoid the crowds that are inevitable at such a world-famous occasion? There's no better way than to take to the Thames itself to celebrate the stroke of midnight.
5) Berlin
If you want a New Year's Eve party with plenty of delicious food, fantastic beer and around a million other people celebrating with you then look no further, Berlin is here. On New Year's Eve there's only one place to head for in the German capital: the Brandenburg Gate. On 31 December the world-famous landmark becomes the gateway to the 'Party Mile' where you can enjoy world-class DJs and mesmerising light shows as well as performing artists that will keep you out far later than you might have planned.
If you're thinking about travelling Europe during the winter period, make sure you time it over New Year and find one of these cities to visit on the night. If you're a less confident traveller note that plenty of tour companies offer special trips around this time and they're sure to take you to the hottest places. So there really is no excuse not to experience a fantastic European New Year!
Image credit: Beacon Radio