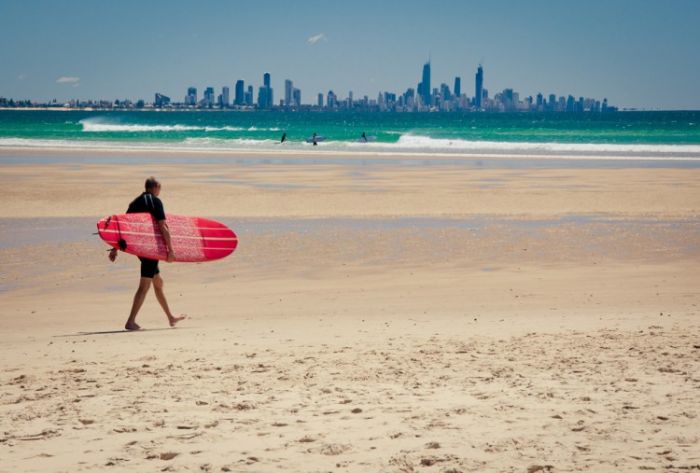 Wikipedia
In the winter months, nothing can boost your spirits like a getaway to a warm, beautiful beach. Every year thousands of travelers refill spiritual reserves and put some color back in their faces at beach destinations, where they mentally and physically benefit from sunshine and scenic surroundings. It is also a great opportunity to spend quality time with loved ones, relaxing on the sand and at resort spas.
However, keep in mind that beaches vary and beach vacations come in different flavors. There are beach resorts, beaches renowned for their surfing, party beaches, quiet and picturesque beaches suited for peaceful retreats and long walks, beaches close to home and beaches halfway around the world.
'Best' is a highly subjective word, but below are top choices for each of five different styles of beach holiday:
North American beach resort: Little Palm Island—Little Torch Key, Florida
The Little Palm Island resort is an exclusive holiday spot tucked away in Little Torch Key, located in the lower Florida Keys. This private and isolated five-star island resort is accessible only by boat or seaplane.
The island is absolutely beautiful. Crushed-seashell pathways and 250 Jamaican coconut palms create a sense that you're someplace in the South Pacific.
Think four-post beds, outdoor showers, fine dining. Bungalows in British colonial décor have no phones, televisions or even clocks, and are designed as such, to help you take the ethos of "leave it all behind" to the extreme.
Little Palm Island is pricey ($900 a night for a double), but you can save more on your trip by booking flights to Florida rather than Tahiti.
Exotic locale beach resort: Maroma Resort, Yucatan, Mexican Riveria
The Maroma Resort is located on the Yucatan Peninsula in Mexico, 30 miles south of Cancun.
The resort is 'like stepping into a postcard' according to one well-known travel writer. White stucco buildings with terraces were hand-crafted by one family of Mayan masons. Inside, walls are decorated with hand-loomed Mexican tapestries. Staff, spa facilities, the setting, the architecture, and the food are all top-notch and feel authentically Mexican.
Maroma is pet friendly! The General Manager of Maroma wrote this ridiculously endearing message to a guest who expressed gratitude for the resort's dog-friendly policy:
"Thank you so much for taking the time to write such a lovely review! Family is the base of Mexican culture, and Maroma aptly extends this tradition to guests' four-legged friends. To celebrate man's best friend, we have renovated our Pet Amenities to please both the owners and the furry family members."
Of course, all good things come at a price, and that does hold true for Maroma, so a trip here will require you to save up quite a bit of money! Try taking a trip in autumn, to experience the view of both the sun and the moon simultaneously from the Mirador tower at Maroma.
Surfing: The Gold Coast, Queensland, Australia
The coastal city of Gold Coast is located in Queensland, on the east coast of Australia.
The Gold Coast grew significantly when the famous Surfer's Paradise hotel opened in 1920, and enthusiasts flock from all over the world just for the surfing conditions on the Gold Coast's 57-kilometer-long stretch of beaches. These include The Spit, Broadbeach, South Stradbroke Island, and many others.
Being a popular holiday destination, it helps if you can spend some time finding the right hotel and booking it well in advance. A conveniently located accommodation is a must to enjoy the Gold Coast experience!
Mermaid Beach is just off 'the main drag' and offers a magnificent beachfront and surf break, as well as seasonal apartment rental and hotels. It's close to Pacific Fair, one of Australia's biggest shopping complexes, and in addition to world-class surf Mermaid Beach offers golf and hiking in the national park.
Party Beach: Nissi Beach, Ayia Napa, Cyprus
Nissi Beach is located on the southeast corner of Cyprus. Among the best-known and wildest party spots in the Mediterranean, Nissi Beach regularly hosts rowdy foam parties, and attracts a boisterous crowd that loves to drink and dance to the tunes of A-list DJs.
You'll likely need serious stamina to keep up with the party crowd here (if you're not familiar with 'foam parties', well hey–this is the place to find out what that means) but there are plenty of things to do at Nissi Beach other than partying all night. Water-skiing, windsurfing, pedal boating and even bungee jumping are available, and there are public beach volleyball courts.
Summers on the beach can get a bit too warm, going up to 40 degrees too occasionally. If you're visiting the beach during this time, make sure you take necessary precautions to protect yourself from the scorching heat.
On the beach itself, sun loungers and umbrellas are available for rent and a beach bar is nearby for 'refreshments'. Grab a piece of sand well-back from the bar if you aren't a fan of Mediterranean pop music.
Secluded/natural beach: Molokai, Hawaii
Molokai, or the Friendly Isle, is one of the islands in Hawaii, located east of O'ahu and north ofLānaʻi.A 25-minute flight from Honolulu, Molokai, often called Hawaii's "real" island, is largely free from the excesses of tourism found in other parts of Hawaii. There isn't a singletraffic light on the island, and no building taller than a palm tree may be built! It's policy.
Many resort beaches rake their sand every morning to rid it of footprints. On Molokai, the absence of footprints around you in the white sand is, well, the real thing—unspoiled pristine beaches surround the island, which still resembles the Hawaii Capt. Cook first laid eyes on. Spend a night on (or at least take a day trip to) Molokai to experience the true essence of Hawaii minus the 'Hawaiian vacation' fanfare.
There aren't too many accommodation options to choose from at Molokai. However, if you're an adventure lover, you can even camp in your own tent on the island's beaches.