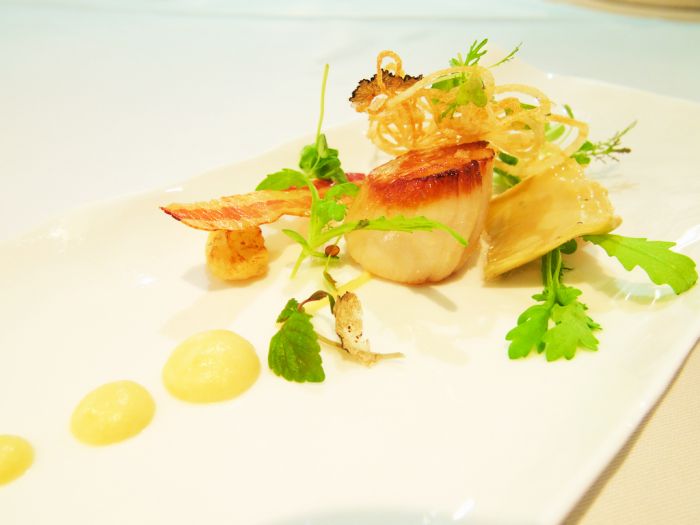 Photos Credit: Columbia Hillen
Jersey, the largest of the British Channel Islands (situated between the UK and France), may be small, but its impressive diversity of cuisine belies its size. Here are a few of the restaurant highlights on the island: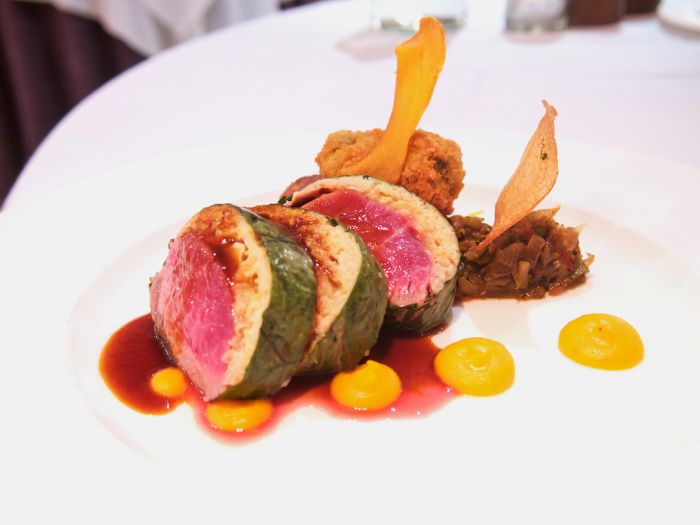 'The Restaurant' at Longueville Manor
Reflecting the essence of island life, the special 'Discovery' menu under the direction of Chef Andrew Baird at Longueville Manor's elegant restaurant offers the best from both land and sea. This exciting gourmet journey combines local, fresh produce and ingredients. Expect hand-dived north coast scallops, lobster, and lamb, with the exotic flavors of lemongrass, coconut and truffle to add a subtle touch of haute cuisine. Ample proof of culinary skill is exhibited in the starter of scallops. Soft as a peach, each piece came with a grilled 'hat' and was harmonious both visually and taste-wise with thin slices of pancetta balanced on small titbits of roasted cauliflower and artichoke. Don't miss out on the succulent lamb loin with lightly-curried Jersey crab, wild garlic, butternut squash and aubergine, presented as a roulade of pink pieces of meat wrapped in slivers of crab. The restaurant offers two ambient choices, one is more intimate with dark, sculpted wall wood-panels and bare stonewalls lit by flickering candles, creating a romantic touch.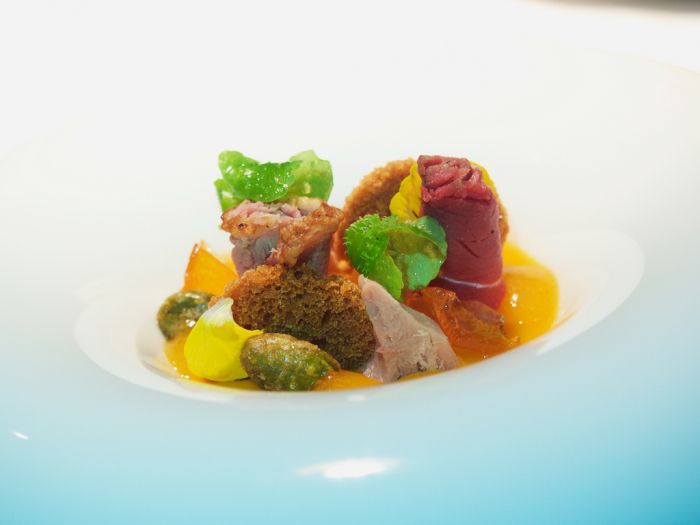 'Bohemia' at The Club Hotel & Spa
First there's the tableware, which appear like magical vessels. Not just 'canvas for food,' their intricate shapes, patterns and textures make them an integral element of a holistic dining experience here. Over a nine-course tasting menu prepared by Michelin-star Chef Steve Smith, no two are the same. Some dishes are so white, the food seems to float off the table in a non-gravitational force field. As for the food, prepare for a surprising blend of ingredients.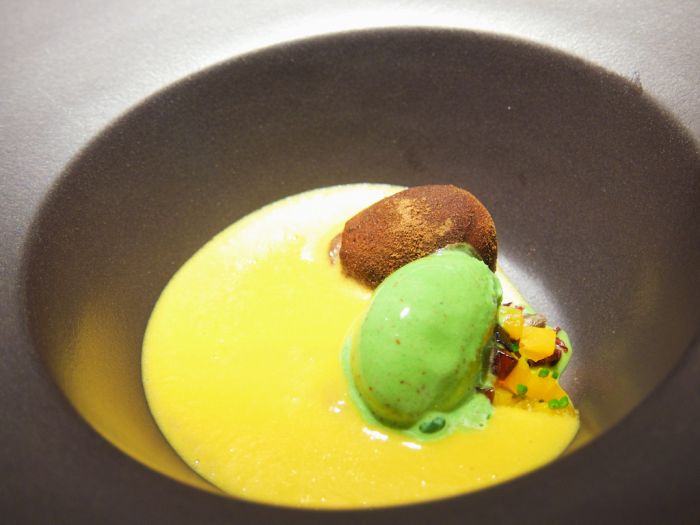 A combination of foie gras with sea buckthorn, kumquat, duck salad, and pistachio might not be everyone's idea of complementary flavors, but the richness of the foie gras is lightened by the bitter-sweetness of the kumquat, enhanced by the sea buckthorn and rounded-off by the nutty pistachio. In the Waldorf salad, the apple comes as a sorbet, the celery as a panna cotta. The butternut and parmesan dish is served in a what resembles a black hat, nestled side-by-side with a poached quail egg veiled in mushroom powder and an oval of green nasturtium-flavored ice-cream, both bathing in liquid parmesan. The restaurant's contemporary, spare design helps focus attention on the food, and rightly so.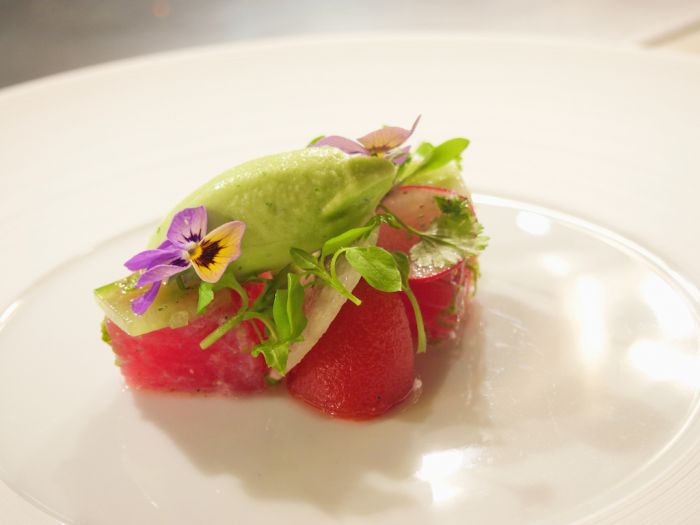 Named after a species of abalone often used in food preparation on the Channel Islands, this Shaun Rankin restaurant lies in the center of the island's capital, Saint Helier. It obviously reflects the talent and confidence of the two-Michelin star, celebrity TV chef. If you're a foodie junkie, grab a table near the open kitchen and immerse yourself in both the show and the flavors, especially during a leisurely, seven-course tasting menu.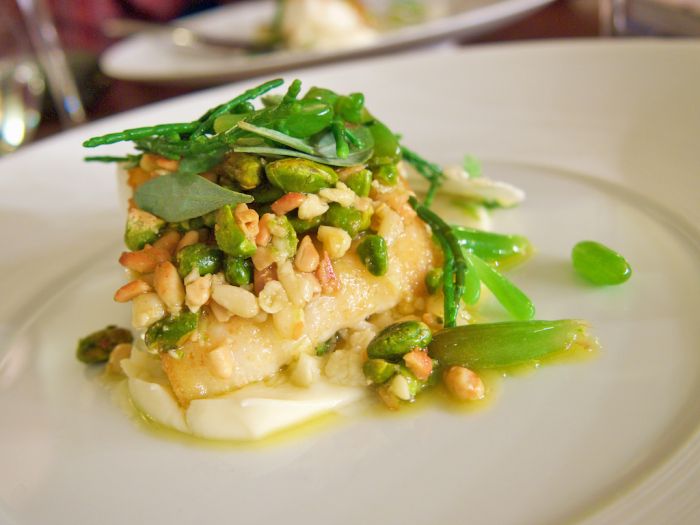 Rankin renounces fancy food titles, preferring taste to tell his story. Expect no-nonsense dishes named simply 'tuna,' 'scallops,' 'turbot,' 'venison' and 'camembert.' Complexity comes on the plate: tuna tartare with a Bloody Mary jelly, cucumber sorbet and avocado puree; turbot filet, soft yet firm, covered in a sprinkling of pistachio nuts and draped in sea plants such as samphire and purslane, making it seem as if the fish is still in its natural habitat; venison with ginger-flavored quinoa and smoked chocolate tortellini sweetened with Medjool dates.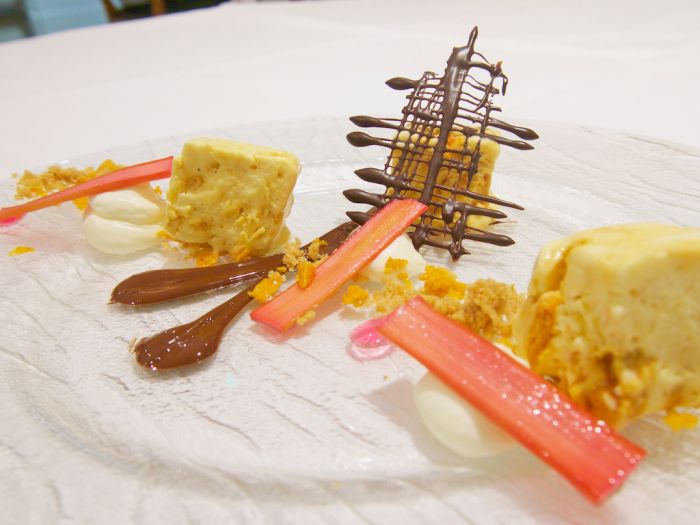 'The Grill' at L'Horizon Hotel & Spa
A 15-minute taxi ride west of St. Helier, this gem of a restaurant is nestled within the cozy L'Horizon Beach Hotel & Spa facing the broad expanse of St. Brelade's Bay. Designed around a cinema theme with framed photos of well-known performers decorating the walls, it has gained a reputation for the quality of its seafood dishes. Wanting to take Chef Andrew Soddy by surprise, we ordered starters of Jersey brie with figs, pickled walnuts with grilled focaccia, and rabbit with olive and pine nuts terrine. He didn't disappoint. A main dish worth savoring is the roast pork belly and pork filet served with La Mare estate apple brandy puree and smoked paprika cream. As for dessert, the honeycomb parfait is made of local honey, with champagne-poached rhubarb, vanilla Chantilly and ginger crumbs. It makes a perfect end to a delectable evening.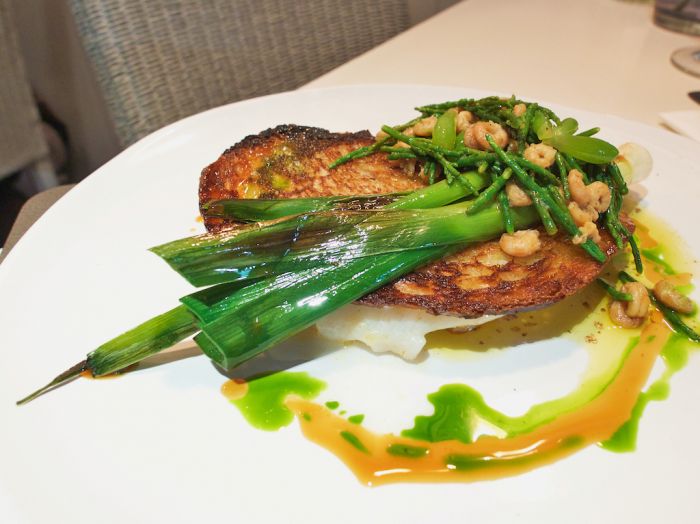 Fish-design wallpaper and a giant hanging clock greet one upon entering this restaurant in the heart of Saint Helier. A wooden floor, simple bistro-style tables and chairs and dim lighting create a cozy setting with a hint of chic. Having gained immense culinary experience in his family's popular eatery on St. Brelade's Bay and a stint in London, Chef Joseph Baker decided to 'go it alone' with his own restaurant. Flavors are a blend of British and Mediterranean, the menu succinct yet varied with delights from both land and sea. Scallops were a wonderful surprise, not served classically with artichoke and pancetta, but creatively with sea purslane, dukkah and homemade date jam. The sweetness of the dates combined with the nuttiness of dukkah and the sea-saltiness of purslane induced a perfect fusion of flavors. This is a good place to try truly 'breaded fish,' especially fresh brill from the turbot family. Grilled and bedded under a thin slice of sourdough bread, it has a curtain of young leeks, sea vegetables and tiny brown shrimps with a dash of chicken jus. You'd be amiss if you left No. 10 without trying Baker's interpretation of French toast, which is comprised of delicate homemade brioche soaked in caramelized vanilla, and Sauternes baked with whipped mascarpone cheese and lemon confit.