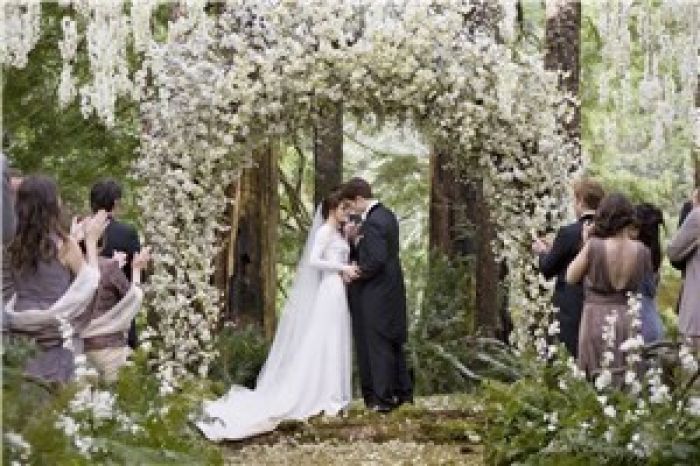 Weddings are considered as very important occasions in an individual's life. This is because they are a milestone symbolizing the transition of an individual from one phase of life to another. It is therefore important that this event should be well planned out so as to be memorable and successful. In order to make a wedding memorable, a couple must be ready to step out of the conventional wedding comfort zone and go for luxurious wedding ideas. If you are planning on tying the knot soon, the following is an overview of 5 luxurious wedding ideas you will love

Crystal and floral chandelier tree
In most weddings, flowers form an integral part of the decoration with the main piece being a huge bouquet of flowers in most cases mounted on a vase and draped with ribbons. Going against the norm and creating an exquisite decoration centerpiece is considered as one of the best luxurious wedding ideas.
A great way through which this can be achieved is through the creation of a crystal and floral chandelier tree. The centre piece should basically feature hundreds of floral chandeliers mounted on a tree (preferably fabricated from metal) with crystal pieces being positioned within the tree. The illumination from the chandelier and reflections by the crystal pieces can form a luxurious centre piece.

Floral draperies
Floral draperies are another great idea for a luxurious wedding. Floral draperies basically incorporates the use of flowers to create a garden theme within an indoor setting. This idea is perfect especially for weddings that might be taking place during the winter or in area with cold climatic conditions.
This luxurious idea basically encompasses draping of flowers from the ceiling and running ivy up the walls. However, it can be quite expensive due to the amount of flowers required to make a large room look like a garden.

A pearl wedding
Pearl weddings are another great luxury wedding idea. Pearls are considered as one of the most common beauty accessories, but there is no reason why they should not be part of a wedding theme. In a pearl wedding, the bride and bridesmaids basically accessorize primarily using pearls. For instance, they could wear sandals, necklaces, earrings and even bangles accessorized with pearls.

Beach weddings
Having a beach weeding is another memorable luxurious wedding idea for a couple. Beach weddings offer the perfect setting for photographs and are also considered as being one of the romantic settings on which a wedding can be held. To make the wedding more memorable, the wedding could be held at an exotic destination.

Vintage wedding
Going against the norm and going for a vintage theme for a wedding is another great wedding idea. When doing this, everything within the wedding should e vintage, the location, mode of transport and even dressing.

All these memories must be captured on camera and as such, wedding photography is a must. For individuals residing in Perth, acquiring the services of wedding photographers in Perth is highly recommended. There are many Perth wedding photography companies from which an individual can choose from