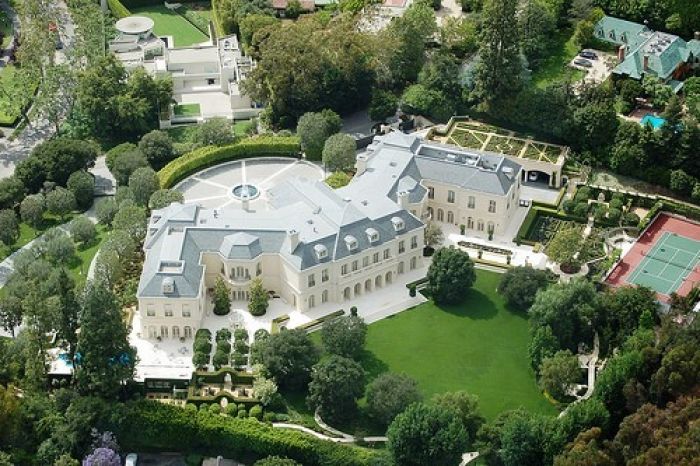 Flickr: Atwater Village Newbie
A million dollars sounds like a lot of money. But not to these guys, in fact, to them it sounds more like chump change. When you've reached A-list celebrity status, it must become hard to keep yourself satisfied. Either that, or they're trying to satisfy more people than just themselves, as it seems with cases like Aaron Spelling and Bill Gates, whose houses simply offer more than any family could ever possibly need. Lets take a look at some of the most expensive and luxurious celebrity houses in the country.
1. Aaron Spelling
Though Aaron Spelling himself has passed away, his mansion still gets to top this list due to its whopping price of $150 million. The late American film and television producer's home has four garages, three kitchens, a skating rink, an orchard, a bowling alley, three rooms for gift wrapping, a gym, a swimming pool, and of course, a tennis court. Apparently, Aaron and his wife never found any shortage of use for the rooms, even though neither of them could tell you how many actually exist in the house (well over 100).
2. Bill Gates
Valued at $147.5 million, just under Aaron Spelling's, Bill Gates' home lies in Medina, Washington. With 66,000 square feet, the house allows visitors to wear a pin that they can use to control different settings inside the house, such as temperature, music, and lighting. He has servers for the entire estate, a bowling alley, a library, and a pool. Mr. Gates certainly wants his visitors to feel comfortable and enjoy themselves at his house.
3. Billy Joel
Right after checking out of addiction treatment, Billy Joel dropped over $14 million on an outrageous 303,310 square foot Miami Beach mansion. To give you an idea of the inside, it has a bathroom made entirely of onyx, and another out of European limestone. It's even got a hand-carved fireplace. The home sits on La Gorce Island, where other celebrities like Cher, Lil Wayne, Ricky Martin, and Shakira have stayed at some point. It very recently went ont he market, and sold for the same price the musician originally bought it for.
4. Will Smith
Will Smith likes extravagance. His home comes with its own zip code. While that may not exactly be necessary, it doesn't change how impressive it is. A massive gate leads to a long, winding road which takes you up to the mansion. In Calabasas, California sits the $20 million refurbished castle which has its own lake, basketball court, tennis court, and golf course. At 25,000 square feet, it may not prove itself the biggest house on this list, but it certainly has one of the more interesting "circuitous" designs, with a floor plan which leads to no dead ends.
5. Ozzy Osbourne
The guy may raise some questions, but him and his family certainly do have one awesome house. Priced at $10 million with a good 10,953 square feet, the Osbournes have done well for themselves on their two-acre property. They've got six bedrooms, ten bathrooms (one for each of them and their guests), and a swimming pool. Hopefully it helps calm them down, and decreases the yelling from time to time.
To keep up the mortgage on these houses, most of these people need to spend more on a monthly mortgage payment than most people pay for the price of their entire home. Maybe it's a little greedy, but at least some of the more extravagant homes offer comfort to guests and visitors.
Flickr: Matthewpiat
Bill Gate's House