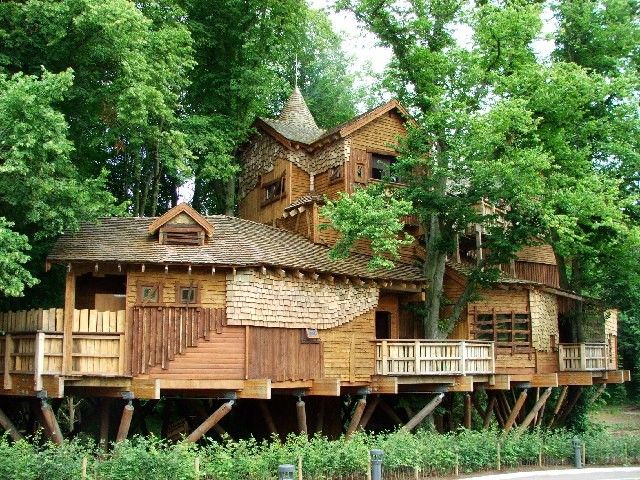 http://en.wikipedia.org/wiki/T
With heaps of programmes on TV these days about getting married, and the sheer number of other people's weddings we're all getting invited to, it's getting increasingly difficult to make your big day stand out from all the others. That's why we've put together some inspiration to help you pick a unique and luxurious venue that you and your guests will remember forever…
In a treehouse
This may not seem the height of luxury but trust us, it is. You will be able to wow your guests with this fairytale tree-top venue adjacent to Alnwick Castle (Hogwarts in the Harry Potter films) in Northumberland. Accessed by rope bridges and wooden walkways, the enchanting Treehouse Restaurant with its cosy log fire is sure to ignite a sense of magic in you and your guests. It's one of two beautiful wedding locations at The Alnwick Garden, and sure to make yours the wedding that all your guests talk about for a long time afterwards.
Back to school
It may not sound like your dream venue, but don't worry, we're not talking about your local comp. We're talking about the historic and affluent environs of Bromsgrove School in Worcestershire, founded in 1553 and first recorded in 1476. For academic types, it's a nice alternative to traditional venues, with ample room for guests to explore its beautiful grounds, and plenty of scope to unleash your creativity if you opt for an elegant marquee.
In a Neoclassical temple
The stunning Temple of Apollo at Stourhead in Somerset makes the perfect romantic backdrop to a wedding. It featured in the latest big-screen adaptation of Jane Austen's Pride and Prejudice and it can play a starring role in your big day, too. Described by Horace Walpole as "one of the most picturesque scenes in the world", the opulent National Trust setting is sure to be a big hit with your guests.
In a museum
While you can't have a Mummy walk you down the aisle, the Great North Museum in Newcastle is certainly an original and luxurious wedding venue. All of the exhibits are licensed so you can cut your cake with a whale, tie the knot beneath a T-Rex and have your first dance beneath the beautiful planetarium. If you want a wedding that will go down in history then the Great North Museum is worth looking at.
On board a ship
Make like a real celebrity and tie the knot at sea! Get an extravagant nautical theme going by hosting your nuptial celebration on board the HMS President in London, a former Royal Navy ship now permanently moored on the banks of the River Thames, at Embankment. Situated right in the midst of some of London's most luxurious and iconic landmarks, including the London Eye and St Paul's Cathedral, this breathtaking venue is a must for a lavish wedding to remember forever.
Have you got any luxury wedding locations that are a bit unique our readers might like? We'd love to know so let us know in the comments below…
http://www.bromsgrove-school.c
Marquee at Bromsgrove School
http://www.flickr.com/photos/r
Stourhead?s Temple of Apollo
http://www.twmuseums.org.uk/gr
Great North Museum Hancock
http://www.flickr.com/photos/i
HMS President