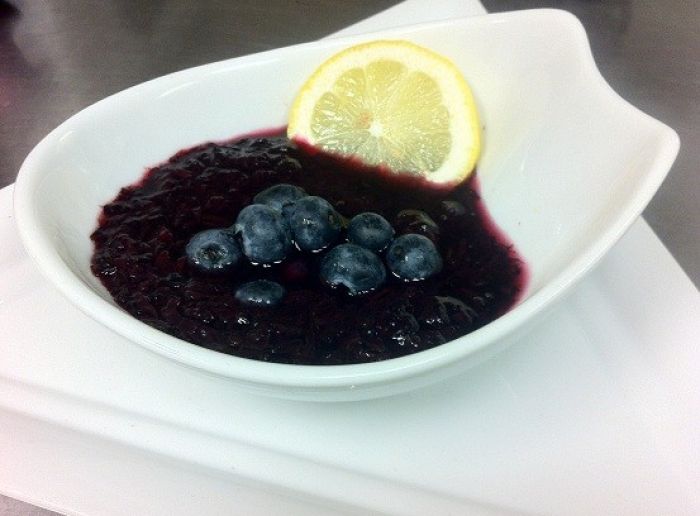 Extra Virgin Restaurant
July is National Blueberry Month, which makes it a great time for reminding ourselves of the many great ways they can be consumed. It's also a great time to be reminded of the myriad reasons for making them a regular part of one's diet. The more you know about these powerful little berries, the more you will want them to become a bigger part of your family's life.
"Blueberries have been loved in this country since the beginning, really," explains Chef Scott Jenkins, the executive chef at Arlington-based Extra Virgin restaurant. "They are delicious, versatile and healthy, so what's not to love about a blueberry?"
According to the North American Blueberry Council, blueberries are a native American species. We produce roughly 90 percent of the world's blueberries, making this country the leader in blueberry production. While blueberries are grown in over 30 states, with the harvest running from mid-April through October, the harvest peak is July.
Blueberries, according to the Academy of Nutrition and Dietetics, are one of the fruits with the highest amount of antioxidants, which are important in helping to fight aging, cancer and heart disease. They are also high in dietary fiber, as well as Vitamins A and C. Although they ripen in warmer months, they can easily be frozen and used throughout the year. For the best results, freeze them unwashed, in a single layer, in freezer bags. When you are ready to use them, take out just what you need and wash them.
Here are five ways that you can incorporate getting more blueberries into your diet:
1.    Baked goods. Blueberries are great in pancakes, muffins and pies, whether for breakfast or dessert.
2.    Sauces. Create your own sauce for pancakes and waffles, or use them in a savory sauce for your meat dishes.
3.    Add-ons. Top a salad with blueberries or add them to grains, such as couscous or quinoa.
4.    Dried. Blueberries that have been dried make a great addition to trail mix.
5.    Soups and smoothies. Drinking blueberries is also a tasty way to get their benefits. Add them to soups, smoothies and fresh juices.
"Blueberries are sometimes overlooked, but they shouldn't be," adds Chef Jenkins. "They can add a lot to your dishes, and they offer a lot of health benefits. Using them is a win-win!"
Extra Virgin has an olive-oil-inspired menu and décor, and specializes in modern Italian cuisine. The restaurant, which is located in Arlington, which hosts a variety of live entertainment acts, featuring jazz music, and offers late-night dining. The restaurant Options include such specialties as wood-fired pizzas, pastas, meat, poultry, and seafood, as well as vegetarian options. The restaurant offers lunch specials, as well as new weekly menu specialties.
Try Chef Jenkin's Special Chilled Blueberry Soup
Ingredients:
2 pints fresh blueberries, washed
1 fresh squeezed lemon
? cup wildflower honey
1 tsp ginger, fresh puree
2 tablespoons green apple balsamic vinegar
1 tablespoon brown sugar
2 quarts soda water
Use a blender to puree the fresh ginger. Leave the ginger in the blender and add blueberries, honey, lemon juice, sugar, balsamic, and soda water. Blend together and chill. Serve garnished with a slice of lemon.