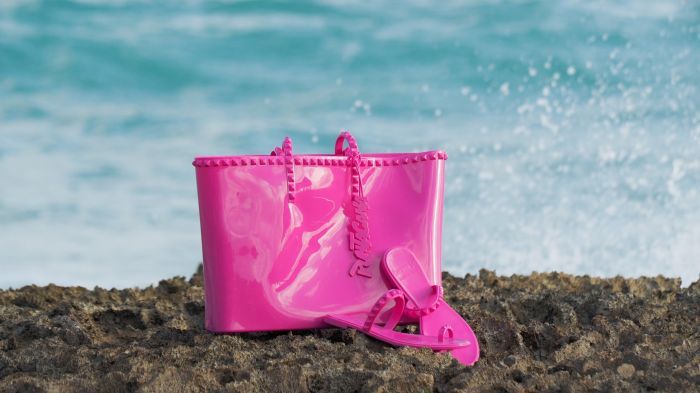 Photo Credit: Carmen Sol
The summer months may be coming to an end, but there's still plenty of time to head to your favorite beach town for a long weekend to soak up some rays and relax. Beach travel is much more enjoyable when you pack right—meaning that you bring along essentials that are practical but also fun and stylish. Here are a few items you shouldn't hop on that ferry or head out on a road trip without:
Small, Waterproof Bluetooth Speaker
Music on the beach is a must, but you don't want to get your home speaker wet or sandy. Enter the Altec Lansing Baby Boom—it's waterproof, shockproof, snowproof and it even floats. The speaker, which is super convenient, connects via Bluetooth to your phone and has six hours of battery life. It's nice and small, lightweight and can be clipped to your beach bag, so there's no reason to leave it behind.
Easy-to-Transport Beach Chair
It may not seem like the biggest packing decision you make, but if you're traveling via ferry or in a packed car, make sure you pack a beach chair that is both functional and easy to transport. The Big Surf with SunShade is a great option, as it folds flat and has a carry handle. Better yet, it has a sun shade that also folds flat, which is key for both SPF 50 sun protection and the perfect amount of shade for reading your favorite book or magazine. The chair also has a hidden slide-out table with a holder for your drink, so say goodbye to putting your phone, sunglasses or snacks in the sand or buried in your beach bag. You can also find convenient backpack beach chairs at Bed Bath & Beyond, such as the Ostrich-On-Your-Back Reclining Beach Chair, which has five positions, including flat, which allows you to lay on your stomach with support for your face.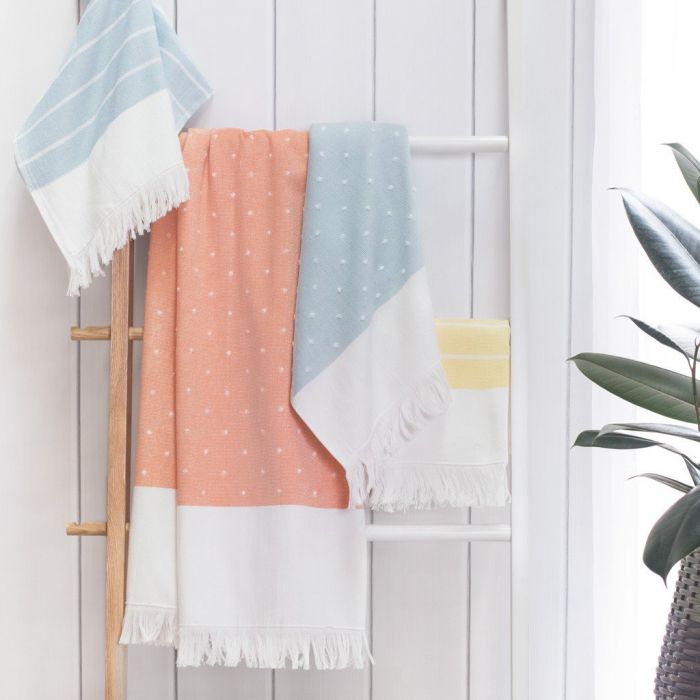 Photo Credit: Crane & Canopy
Compact Beach Blanket
Towels take up lots of room, so leave them behind on your next beach weekend and opt for an oversized bath towel in fabrics that work well in sand. Crane & Canopy's Fouta Towels are lightweight, absorbent and quick-drying. They're so pretty that you'll want to use them at home, and lucky for you, there are washcloths, hand cloths and bath towels to go with it. Another great option is an Extra-Large Waffle Weave Bath Sheet from Gilden Tree, which sand shakes right off of. The flat weave makes them fold down nicely and they're much larger than your standard hotel towel.
Lightweight Cooler
Go with a cooler that has wheels and doesn't take up much room when you store it at home, which is why the soft exterior is key. Try Coleman's 42-Can Soft Rolling Cooler, which will not only store your drinks for a day at the beach, but also snacks, magazines and other essentials in the interior and exterior pockets. The wheels will make it easy to roll onto a ferry or from your Airbnb to the beach.
Photo Credit: The Beach Glass
A Refreshing Beverage and Beach-Friendly Cups
How many times have you put a drink in the sand, only to find it tipped over or full of sand before you even get to enjoy it? Avoid that by grabbing a set of drinkware from The Beach Glass. These acrylic, BPA-free cups stick right into the sand and hold themselves upright. They're machine-washable and won't crack or break. Choose from lots of different colors and consider getting the serving tray that will make carrying drinks from the house to the beach painless. And then for your drinks, skip the glass while still enjoying your favorite wine thanks to Stella Rosa Pink, a semi-sparkling wine that comes in 8.5 ounce aluminum bottles.
Comfortable, Lightweight Sandals
Shoes are tricky because they take up lots of precious space. And if you pack the wrong ones, they'll make your bag heavier than necessary. Bring along a pair of rubber sandals that look dressier than regular old flip flops, such as Teva's Mush Mandalyn Wedge Ola 2, which have a wedge and come in black, which will go with anything. Then throw in one dressier pair of either flats or wedges in a neutral or metallic color and you'll be good to go.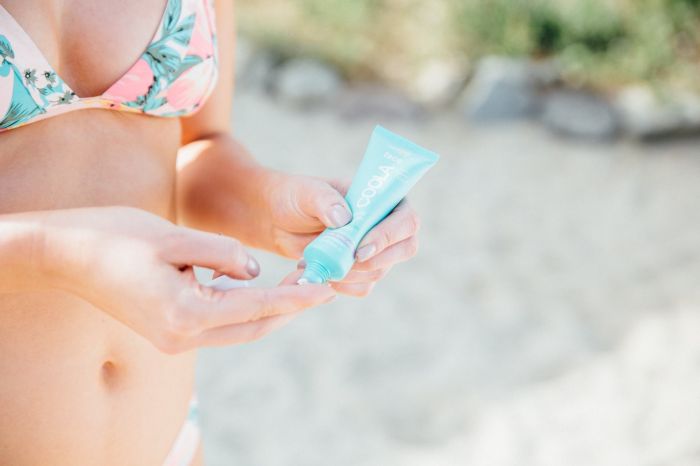 Photo Credit: Coola Suncare
Stylish and Practical Accessories
First, pack a few different pairs of sunglasses as accessories. They're lightweight and will refresh your look, and you can find polarized designer options from the Privé Revaux Collection. They have everything from metallic aviators to more classic and trendy styles, so there's something for everyone. For bags, start with your favorite large beach bag, then put other bags, such as your cross-body and clutch, inside. Think practically and bring bags that serve more than one function. Carmen Sol's Angelica Jelly Tote and Julian Jelly Clutch are the perfect combo of style and practicality, as they come in lots of colors and are made of high-quality Italian PVC that makes them water-resistant. Plus you can get matching Maria Jelly Sandals that will take you from the beach or pool to wherever the night takes you.
Better-for-You Sunscreens
We all know that protecting your skin from the sun is a must, so treat yourself and use the good stuff. Coola's Face SPF 30 Cucumber Moisturizer is a non-greasy, antioxidant-infused formula that has a refreshing scent. And new from Supergoop! is their 100% Mineral Sunscreen Mist SPF 30, which is water-resistant up to 80 minutes in a non-aerosol mist.