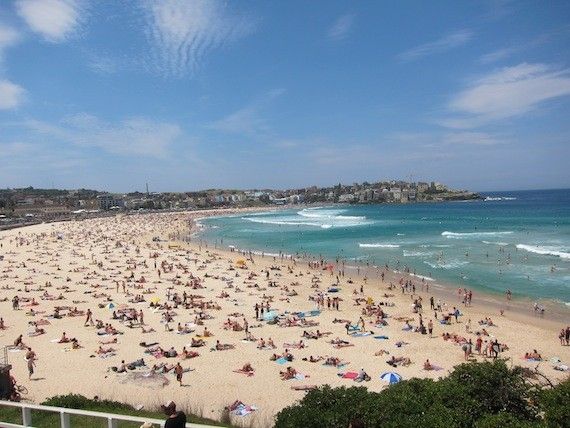 Jennifer Garcia-Alonso
Recently, my husband and I traded in almost all of our frequent flier miles on Etihad Airlines to fly from our current home in Abu Dhabi, United Arab Emirates, to Sydney, Australia. The 14-hour flight seemed to take forever, but it was much shorter than it would have been from our usual home on the East Coast of the United States. And it was well worth the long trip.
We arrived to glorious springtime in Sydney, and the sparkling harbor, the glistening Harbor Bridge, and the shining Sydney Opera House lived up to their famous pictures. They are truly stunning. But despite the wealth of sights to explore, this trip wasn't really about seeing and doing it all. It was about taking a break from the fast pace of my work-related travel (long days and nights of scouting in an effort to bring the best of the best to our site readers) in favor of strolling, eating, seeing, and doing at a more leisurely pace.
We chose Establishment Hotel as our Sydney home. The hotel's 31 rooms each offer iPads stocked with a selection of complimentary movies that can be seamlessly displayed on your TV, free Wi-Fi, Bulgari toiletries, rain showers, a convenient downtown location, and preferred access to some of the most sought-after bars and clubs in the city. At just over half the price of many of the highest-end properties in the city (Four Seasons and Shangri-La, among others), our decision to stay there was a no brainer.
While in Sydney, we took advantage of the vibrant dining and wine bar scene. Our favorites included hot-rod Italian wine bar Mille Vini and Bourke Street Bakery (for flat whites and rhubarb tarts), both in Surry Hills. We also dug the stellar sushi in tiny, trendy sushi e downtown. Beyond eating, we immersed ourselves in the boutique shopping along Oxford Street in Paddington and roamed the beaches at both Bondi and Manly.
After a few nights in Sydney, we made our way to Melbourne, a city known, in part, for its food and design culture. This time we stayed at the well-located and business-friendly Park Hyatt. Highlights included lunch at Cumulus (don't miss the asparagus), the fresh jams and jellies at Babka, hot chocolate at Koko Black, and a nightcap with the incognito in-crowd on the well-worn leather couches at Melbourne Supper Club. Yes, yes, it is true that this trip was largely about eating, drinking, and loafing, but isn't that what vacation's about?
Jennifer Garcia-Alonso
Establishment Hotel: Sydney
Jennifer Garcia-Alonso
Sydney Harbour
Jennifer Garcia-Alonso
Gin Garden at Establishment Hotel: Sydney
Jennifer Garcia-Alonso
Cumulus: Melbourne
Jennifer Garcia-Alonso
Park Hyatt: Melbourne