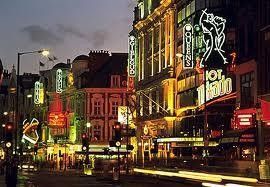 britannica.com
Looking for a fun night out on the town during your travels? London's theatre and dining community has put together a terrific package deal for those who like to add a little entertainment to their dining experience or visa versa. You'll be able to chose from pre or post dinners and a miltitude of shows that are available for you to see. All shows and dinners are conveniently located within minutes of each other.
Since there is such a large selection of package prices , there is always a deal just perfect for everyone's fancy. Choose from classic shows that have been around for years or new and contemporary shows that are now thrilling audience goers. The choices are abounding (too many to list). Trust me you'l have a hard time picking one. Who knows maybe you'll just have to go back and experience it all over again with a different choice of venues.
The good news is you will be able to choose your menu prior to your exciting evening on the town. All tickets are held at the theatre of your choice, which means you can book right up to the last minute. Or if you prefer you can book online in advance. There are no booking fees charges for this package deal.
Now all you have to do is choose the show you've been waiting to see, enjoy a fabulous dinner, and then tell all your friends about it when you get home. Enjoy your evening!
You might also be interested in:
rosl.org.uk