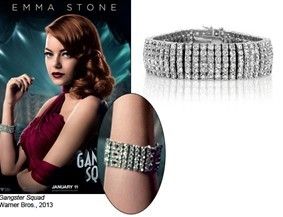 The movie 'Gangster Squad" is set in the backdrop of the 40s era. With Emma Stone as the sultry vixen, her old Hollywood fashion is something every woman can't help but be envious about.  The trend she showed in the movie, from full-blast glam to quiet elegance is subject to envy.

But nothing could ever compare to her collection of pearl and diamond jewelries. If only you can have all these shining jewelries for yourself. Now, let's look at the famous jewelries Emma featured in the film and see how you can get them, at a lesser price.

Bracelet

In the film, Emma stone portrayed a glamorous vixen who's fond of wearing couture dresses and luxurious jewelries. Expensive diamond pieces can be seen in many parts of the movie, like her stunning diamond bracelet in the picture.

Be as sparkly as Emma Stone in the movie. Wear this CZ tennis bracelet from Emitations. It's surely not as pricey, but just as glamorous as the one in the film. You can wear this to complement your corporate attire, or pair it with your best party dress for a night out with girlfriends.

Chandelier Earrings

Emma Stone is nothing else but ravishing in the 'Gangster Squad' movie. She was all posh and glam, may it be with her endless array of silk dresses or extravagant diamond jewelries. The chandelier earrings that she's seen sporting in many scenes are also note-worthy. It showed the typical 40s jewelry style, all sparkly and flashy.

These fancy dangle CZ earrings from Emitations will have you looking like the 1940s glam in no time. Pair them with an elegant long gown for a formal evening wear and you're good to go. These luxurious earrings are also perfect as wedding accessories. You can wear clip on earrings as alternatives if you don't have pierced ears.

Necklace

Again, everything that Emma Stone portrayed in 'Gangster Squad' perfectly showcased the 1940s fashion in all its glory, from clothes to jewelries. Obviously, her character is so fond of diamonds, right from the earrings, barrettes, necklaces and bracelets that she's rarely seen without. And of course, she's all vanity in their splendor with her choice of clothes. No wonder Grace Faraday (Stone's character) was caught in a love triangle. Who could resist an elegant temptress like her?

If you are a fan of vintage jewelry, as seen in the movie, Emitations has the perfect alternative for you. The collection of CZ earrings, necklaces, bracelets and barrettes will have you looking like Grace Faraday in no time. You can wear a combination of all these sparkly accessories on a formal gathering, like weddings or cocktail parties. A long flowing silk gown will complete the look. Don't be surprised if you become an instant head-turner in the party!

Barretes

Barretes are great hair accessories for an extra-dramatic look. It accentuates the face with its unique appeal, just like Emma Stone in the movie. It also shows the perfect curve of the neck without having to wear the hair up.

Barretes were all the rave in the 40s and 50s. Look ultra chic with these fancy yet affordable barrettes from Emitations. Wear your hair in a side sweep fashion Emma Stone style for a romantic look. Create soft waves for added drama.

Emma Stone in 'Gangster Style' movie is how every woman should be, minus the love triangle of course. She's all style, confidence and wit. Want to ooze with sex appeal? It's all in the attitude, girl! Your secret…confidence! Wear your clothes with poise, accessorize well without going overboard. Hold your head up, and be proud you're a woman. Now, try to see if you can wow a hot stud!