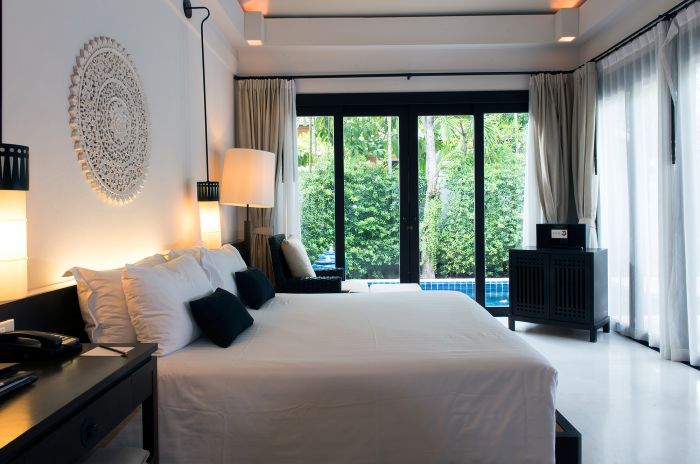 shutterstock.com
As homeowners, we tend to spend most of our energy decorating rooms like the kitchen, living room, and master bedroom. And while these are certainly important responsibilities, you can't forget about guest bedrooms. If you want to make guests feel appreciated and comfortable, it's imperative that you class up your guest bedroom in order to make it a strong representation of your home. Here are a few ideas.
Choose the Right Bedding
Since the bed is obviously the focal point of the room, it's essential that it has appropriate bedding for the purpose. White or light linens are always a hit and reminiscent of a hotel room. In addition, piles of decorative pillows give the bed a homey, comfortable feel while also dressing up the look. It's also smart to have one heavier and one lighter linen on the bed to meet various sleeping preferences.
Provide Commonly Forgotten Toiletries and Amenities
We all know how easy it is to forget things like a toothbrush, shampoo, and razor when traveling. Give extra sophistication to your guest bedroom by providing a few of these commonly forgotten amenities (unopened) in a basket on the dresser or in the guest bathroom. Complementary robes and slippers also create a nice, homey touch.
Ensure Sufficient Lighting
Lighting has more bearing on a room's appeal than many people realize. Natural lighting is great during the day, but guests should have an option to shut it out with blackout curtains if they want to sleep in or take a nap during the day. In addition, ensure that light bulbs are fresh, and if it feels a little dim in the room, add a lamp or two to provide the option for more light.
Provide Light Refreshments
A coffee and refreshment stand is an extremely welcome sight in the morning. In addition, a mini fridge stocked with the perfect nightcap can make a guest feel at home. The only problem with adding a mini fridge is that it often looks cheap and tacky. The solution is finding a small refrigerator with a glossy finish that can be neatly hidden under a table or inside a large cupboard.
Purchase a Nice Luggage Stand
Make things easier on guests by either purchasing a quality luggage stand or setting out a small table that can double as a luggage rack. After a long day of travel, it's always nice to have a flat place to lay your luggage and be able to unpack without too many obstacles.
Dress Up the Bedside Table
The most comfortable of guest bedrooms will ensure that everything is at the guest's fingertips by providing a bedside table with everything they might need. With a lamp, alarm clock, outlets, reading material, remote, and fresh flowers placed on the bedside table, you can replicate that hotel feeling of utter comfort and convenience.
Develop a Seating Area
This is especially important if your guests plan to stay for longer than one night. They'll need a place to go when they want to be alone, and a seating area in the bedroom provides a luxurious getaway.
Afford a Private Bathroom
No guest likes to share when it comes to the bathroom. If possible, provide a private bathroom either inside the room or near the room. Provide amenities like plush towels, freshly filled soap dispensers, gender-neutral shampoos and conditioners, and plenty of toilet paper.
Offer Personal Entertainment
Finally, give your guests something to do when you're otherwise occupied or they want some time to themselves. A shelf filled with magazines and books is a great place to start. If possible, add a sleek, flat-screen television to the wall and hook up cable for plenty of viewing options to make your guests' stay as relaxing as possible.