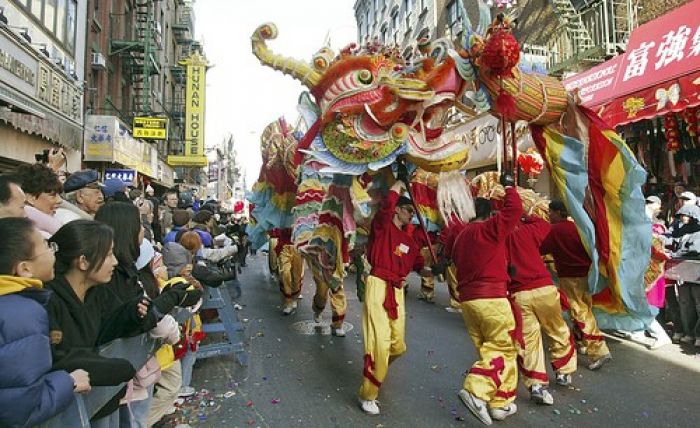 heypatrick under cc license
With the rapid growth in New York's Chinese population, there are now technically three parts of the city that are referred to as Chinatown. However, the original Chinatown, located north to Canal, Broome Street and Grand Street, east to Rutgers Street, west to Broadway, and south to the Brooklyn Bridge is still the main attraction and the area most commonly referred to as Chinatown.
The streets of Chinatown are great places to shop for all types of Asian goods and groceries. Along with the markets for you to buy product to take home, there are many appetizing options for affordable and authentic Chinese food. You will find restaurants that specialize in Cantonese cuisine, dim sum, seafood, and congee. Some of the top restaurants include:
· Jing Fong – a Hong Style dim sum restaurant where the best option is to bring your ticket up to the circulating dim sum carts.
· Ping's Seafood – serves fresh seafood and excellent dim sum; the lines can be long, but it is worth the wait.
· NY Noodletown – one of the late night staples of Chinatown, this restaurant stays open until 3 a.m. and has many delicious offerings.
· The Grand Sichuan – the perfect Chinatown choice for Sichuan cuisine; some of the best spicy dishes in town can be found here.
· Green Bo Restaurant – this place specializes in Shanghai cuisine; the soup dumplings are one of the must try dishes.
Along with the great cuisine, there are also several attractions worth checking out in Chinatown. These attractions include the Museum of the Chinese in the Americas, the Edward Mooney House, the Mahayana Buddhist Temple, the Church of the Transfiguration, Columbus Park, Five Points, and Chatham Square.
While the main attractions of Chinatown are between Smith Street and Pagoda Street, that have been setup specifically for tourists, the workaday part of Chinatown extends much further. The dominant dialect in the area is Cantonese and many of the Chinese residents do not actually speak English at all.
If you take the time to wander the streets and get to know the area, it is easy to see why Chinatown is a shopper's mecca. You will be able to find basically anything that you can imagine with Canal Street offering the most diversity. New hotels have sprung up on the fringes of Chinatown and SOHO that allow easy access into all of the great shops and restaurants.
For more info on accommodation, visit: http://www.hotel.info/en/barcelona/hotels-68021/