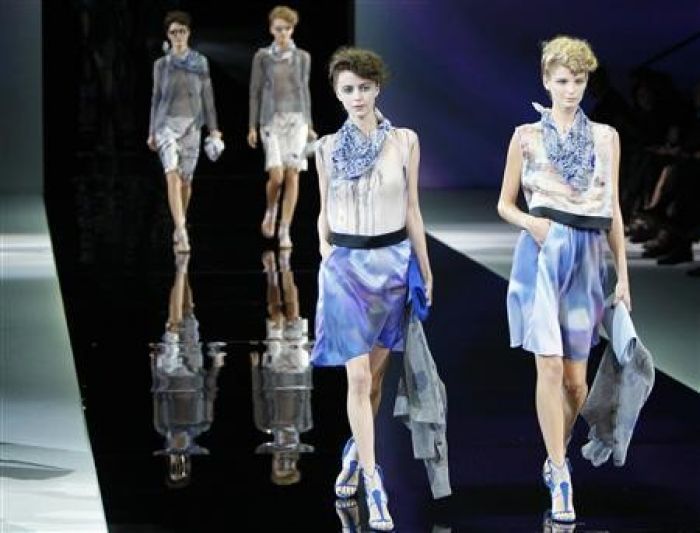 Alessandro Garofalo/REUTERS
Fashion Week in Milan, Italy, came to an end earlier this week. And, as usual, the event was chock-full of stunning designs and some of the most aesthetically creative fabric work imaginable. From young designers to Parisian collections, these articles offer a good understanding of the variety of fashions at the event.
1. The Paris collections begin today: I travel out to catch Dries Van Noten tomorrow, alongside Gareth Pugh and Marco Zanini's latest collection for the house of Rochas. Rumour has it that this will be his last before moving to the house of Schiaparelli. Nevertheless, today I have space to breathe and think back over the final flurry of the Italian collections.
Marni experienced a power-cut just before their spring show. It didn't bode well for this, the first womenswear collection presented in a new space, a move presumably engendered by Renzo Rosso's stake in the business. Luckily the venue was filled with natural light, as Consuelo Castiglioni's collection paraded through in silence. Read More from The Independent
2. Diaphanous dresses, nautical prints and angular tailoring drew Milan fashion week to a close on Monday after six days of catwalks and campaigning to promote the city's fashion industry as a bright spot in a gloomy local economy.
Veteran Italian designer Giorgio Armani presented sharp blazers, fitted shorts and floaty floral kaftans, topping off the show with flowing translucent dresses and large mortar board-style hats in fuchsia, black and bright blue.
The collection was imagined for a woman who is "a bit less constrained by the everyday... a woman who lives a life of her own", the designer told reporters backstage after the show. Read More from Reuters
3. MILAN (AP) — The Milan masters displayed their customary discipline, but it was the fresh perspectives of up-and-coming young designers that energized this round of Milan Fashion Week: Uma Wang's hauntingly fresh looks, Fausto Puglisi's vibrant edgy couture and Marco de Vincenzo's romantic optical illusions.
Milan designers — fierce defenders of their own creative independence — are finding common cause in backing newcomers: fresh energy also is good for the collective. Giorgio Armani lent his space to Italian-Haitian designer Stella Jean and Dolce&Gabbana have given retail exposure to Puglisi, who hails from their beloved Sicily.
"It's the week of youth," Milan Fashion Chamber president Mario Boselli said ahead of Wang's show Monday, the last day of Milan Fashion Week. "Youth brings a certain energy."
Milan may have made its name with body-hugging tailoring, but the main design language this round was more relaxed, about draping the body in soft materials that subtly reveal the shape. Read More at USA TODAY