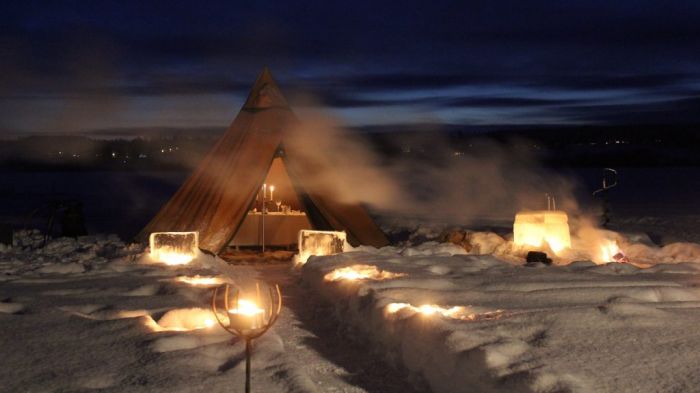 Jacada Travel
Luxury tour operator Jacada Travel creates off-the-beaten-path, bespoke itineraries for adventurous travelers. One of their latest itineraries, the "Sami Herder Culture and Local Foraging in Lapland" experience, is a winter itinerary in Sweden for travelers who want to get a really in-depth look into the local life of the area.
Visitors will spend days foraging for food and engaging with the local Sami herders – some of the only nomadic people still living in Europe. They'll also get the chance to sit down and eat with the family, hear their stories, and get an insight into their daily lives. This trip a special experience and a wonderful way to switch off and connect with nature and environmental surroundings.
Here is an in-depth look into Jacada's example itinerary of this experience:
Day 1
Arrive at Luleå airport to be greeted by a Jacada Travel guide and transfer to the Treehotel, stopping at the World Heritage Gammelstad Church Village for a quick tour.
The Treehotel offers a unique hotel experience: tree-rooms with contemporary design in the middle of unspoiled nature. Here, guests can forget about the time constraints of everyday life, enjoy the serenity and rejuvenate in a sophisticated, yet familiar environment.
Dinner consists of an exclusive three-course dinner with a selection of local dishes in a private room at the Treehotel restaurant. Following dinner, guests will join their guide for a Northern Lights spotting and photography tour. The guide will give plenty of tips and pointers on how to photograph the northern lights.
Day 2
Meet Eva Gunnare, a culture guide, food connoisseur and specialist in local wild herbs and berries. Originally from Stockholm, Eva came to Lapland and fell in love with it, deciding to stay permanently. She's spent a lot of time with the local Sami herders and knows their cuisine well. She will lead a short walk through the beautiful pine and the birch forest to the meadows surrounding the Treehotel, discovering the flavors of the surroundings. Following the walk, Eva will serve some homemade treats made from her foraged treasures.
In the evening, guests will enjoy a Treehotel Ice dining experience. They will be taken by snowmobile and sled down to the river where a teepee tent awaits. Here, a delicious dinner will be served with hopefully more glimpses of the Northern Lights.
Day 3
After breakfast, guests will begin their journey into the world of the Sami, staying at Sapmi Nature Camp as the base. Sápmi Nature Camp is a newly opened, high-end, sustainable and small-scale camp operated by Lennart Pittja, who grew up in a reindeer herding family in Unna Tjerusj Sami community. His brother is still a full-time herder, and visitors will get to meet him and the whole family. This is grazing land that has been used by Unna Tjerusj for thousands of years.
Day 4
Following breakfast, visitors will embark on a rare excursion into the daily life of the local reindeer herders and meet Lennart's family.
Lennart's brother Kenneth has the main responsibility for the day to day reindeer herding, so on this day, visitors will be taken on a drive to the reindeer herd where they will find Kenneth and his family. Kenneth and his family are some of the only nomadic people living in Europe (it's rare to see herders in developed countries these days!) so it's very authentic in that respect.
The family has lived in the area of thousands of years, spending their days taking care of the reindeer. Visitors will learn about what life is like for them, as well as how they are navigating the challenges they face due to climate change. The family is happy to meet with visitors because they enjoy sharing their unique perspective and lifestyle with outsiders. They have a knowledge about nature which no one else has, as it goes so far back. A different perspective on nature and different approaches to life are the takeaways that people get from this experience.
Dinner this evening comes from the surrounding nature and are most often foraged, hunted or fished by Lennart himself. Local meats such as Moose or Reindeer and fish such as trout or arctic char are commonly on the menu and complemented with local berries, herbs and vegetables.
Jacada Travel