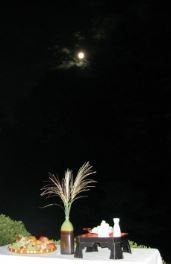 Shofuso Japanese House
There are a number of notable Eastern culture events taking place in Philadelphia this weekend. So, if you are looking for something to do that is a departure from your day to day routine, you should considering hitting up one of the following events.
You may be happy sometimes, but is that really enough? Are you tired of feeling less than pleased with your friends, family, and work life? This course will teach meditation techniques that will begin to reduce the pressure, bring light to the end of the tunnel, and bring warmth back into your relationships. Turn your heart into a jewel. Read More
Otsukimi, or moon viewing, is a traditional celebration where offerings are made to the full moon to give thanks for a good harvest.
Enjoy rustic Japanese food and sweets, sip sake, enjoy quiet music, and celebrate a successful harvest while watching the moon rise over the pine trees at this traditional, contemplative Japanese gathering. Read More
Ikebana is the Japanese art of flower arranging. Its fundamental inspiration comes from nature. In contrast to the Western approach to flower arranging, which favors a mass of flowers, Ikebana emphasizes simplicity of design and using line, space, and texture to create balanced, harmonious arrangements. Read More